Blogging is a great way to stay connected with your collectors on a regular basis. It can also help improve your search ranking with search engines like Google and Bing. FASO makes it really easy to promote your art through a blog. Here's how to get started.
1. Log into your FASO account.

2. This will bring you to the FASO Control Panel screen, from which you manage everything on your FASO website. The Control Panel is made up of different sections, including the Header Menu, Main Menu, and Side Menu.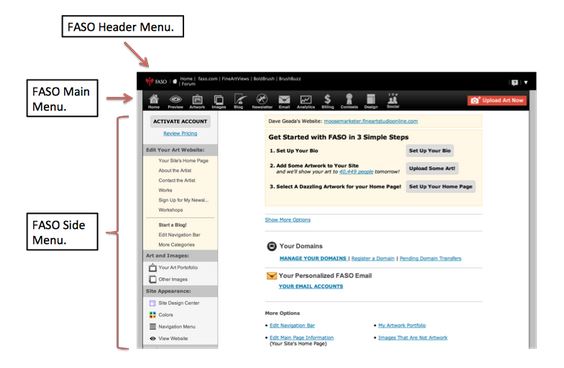 3. Click on the Blog icon in the FASO Main Menu. This will bring you to the Blog page.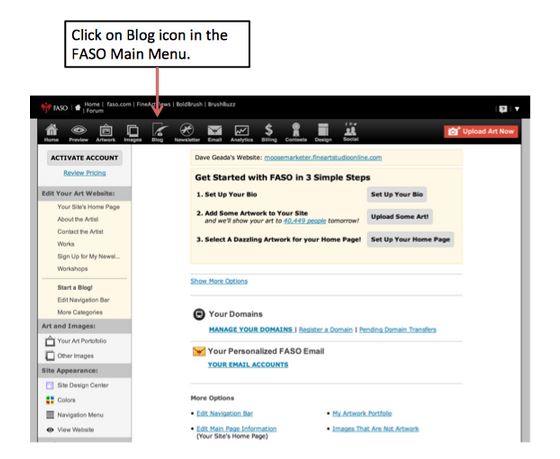 4. Click on the Start a New Blog Post button.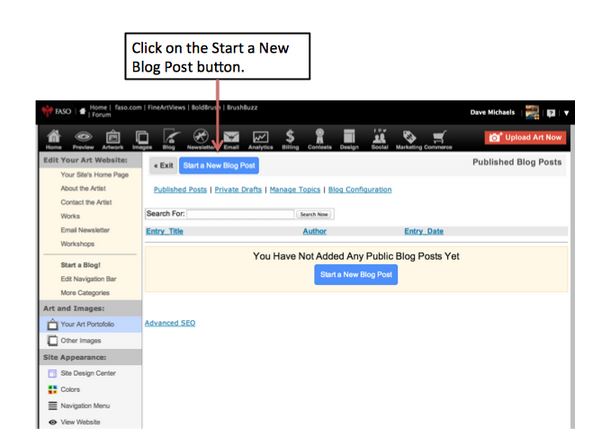 5. This will take you to the Blog Drafts page. A blog is composed of various sections. These include a Title, Text, Author, Excerpt, Date, Main Image, and Main Image Caption sections. Enter a title for your blog post in the Entry Title field.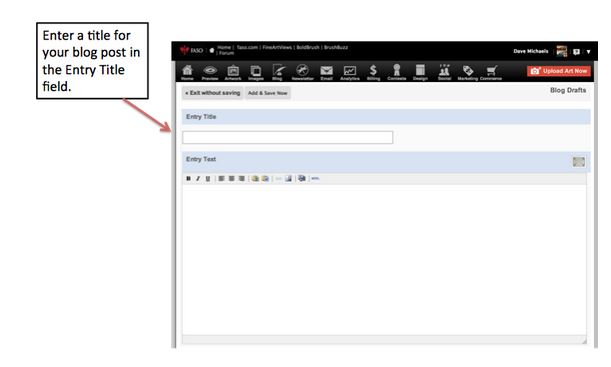 6. Enter the text of your blog post in the Entry Text field.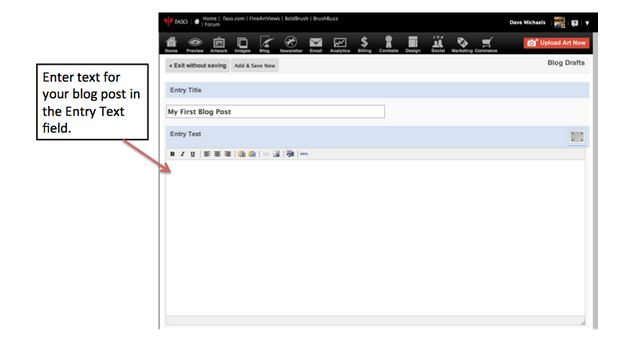 7. Enter your name in the Author field.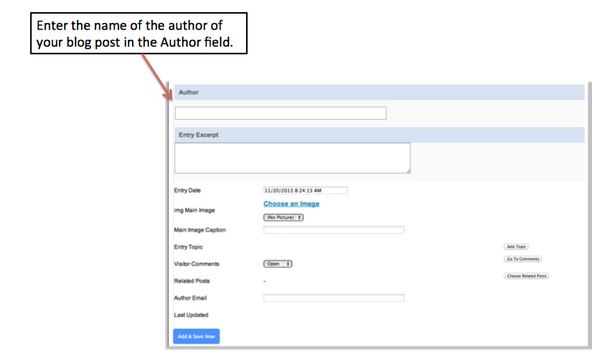 8. Enter a brief description of your blog post in the entry excerpt field. The entry excerpt is an optional feature on some templates.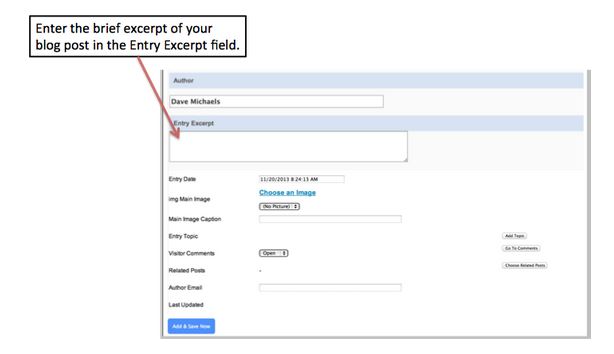 9. Select an artwork image that you would like to include in your blog post by clicking on the Main Image dropdown list.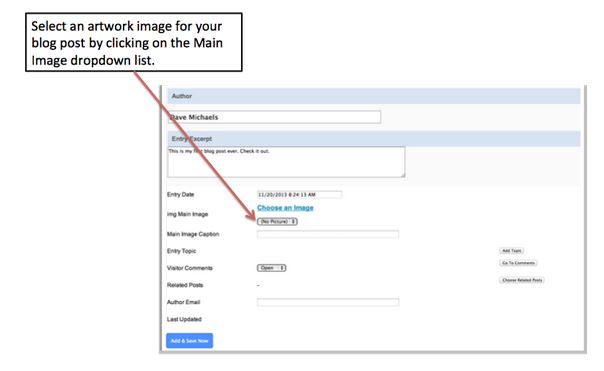 10. Next, you'll want to assign your blog an entry topic. Think of these as file folders for your blogs. On your website, on one side or the other of your blog page, you'll see an automatically edited archive of your blogs by date and by adding topics, you'll further help viewers be able to find just what they're looking for. Topics can be anything of your choosing like Landscapes, Watercolors, Works In Progress - whatever you'd like.

At first, you won't have any topics but as you add topics you'll be able to choose from previous topics or add more. You can assign as many topics to a blog post as you'd like.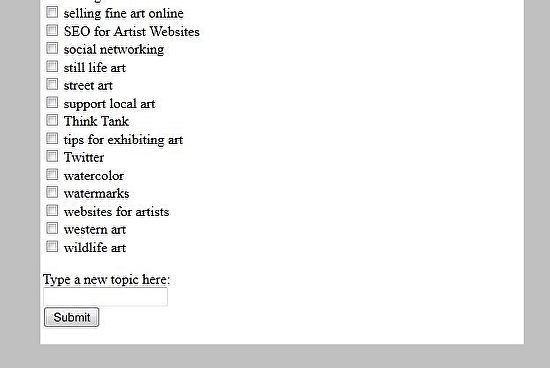 11. As you blog more and more, you'll be able to click the link that says Related Posts and choose posts that are similar in nature or are a good follow up read to your current blog post.

Click as many or as few as you'd like and hit submit (at the bottom).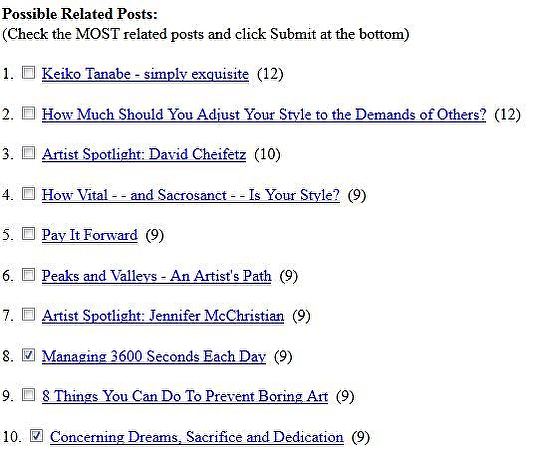 12. Enter your email address in the Author Email field.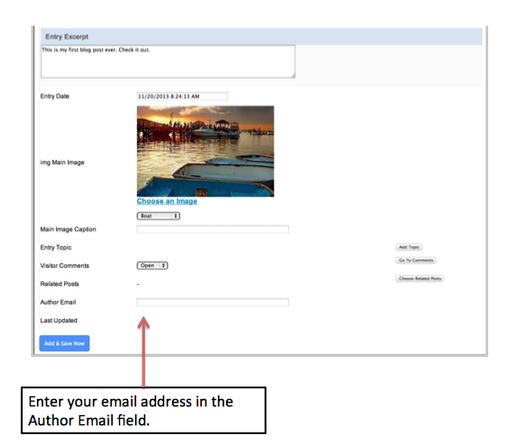 13. Click on the Add and Save Now button.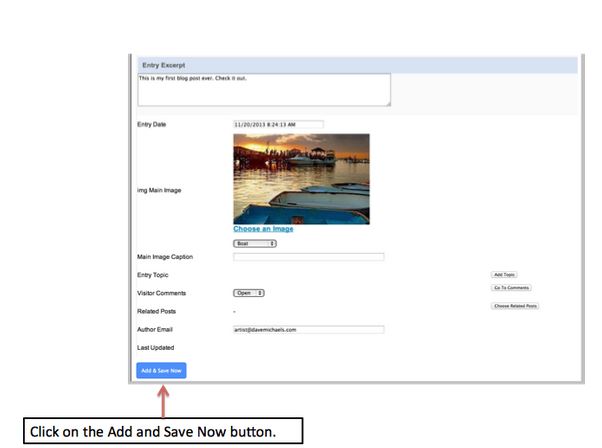 14. This will bring you to the Publish Blog Post Confirmation page. At this point, you can choose to save your blog post as a draft (in case you need to come back to it later and add more to it) or you can elect to publish the post now. If you elect to publish now, you can go ahead and skip to #15. If you've saved it as a draft, this is what you'll see:

Clicking continue will take you back to the list of all your blog drafts.
15. After all your editing and you're finally ready to hit publish, this will bring you to the Blog Post Topic page. Click on a topic option that best fits your blog message and then click on the Submit button.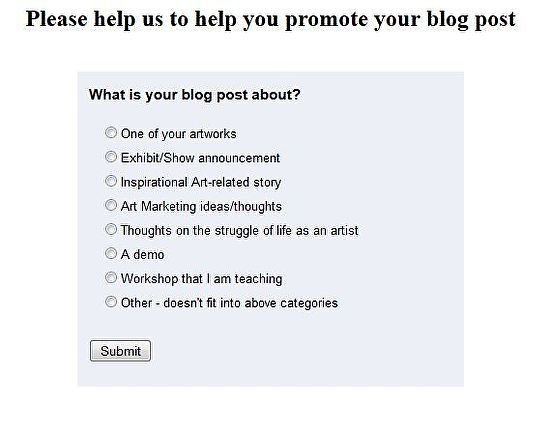 16. This will bring you to the Republish This Post to FineArtViews where you will have the option of submitting your blog post for possible publication in the FineArtViews newsletter.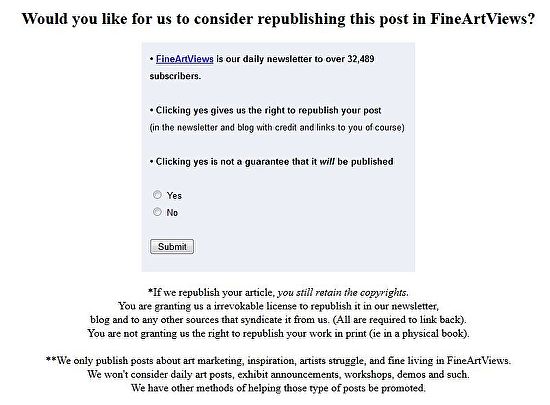 17. This will bring you to the Blog Post Publication Confirmation page. In your control panel, there's an option to link your Facebook account with your blog, giving you the option to be able to publish your blog posts to your Facebook page. If you've got it connected, you can choose to share with Facebook. If not, click the option to Continue without sharing.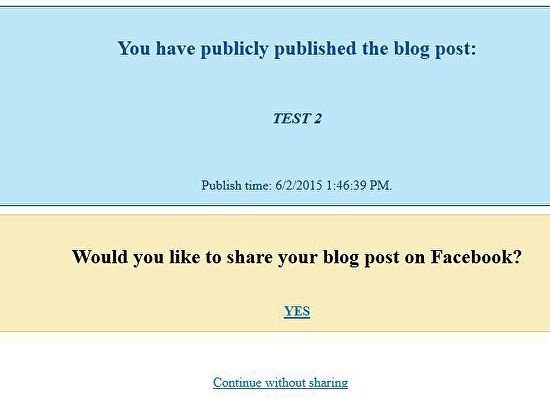 18. This will bring you to the Published Blog Post page. Click on the Preview icon in the FASO Main Menu.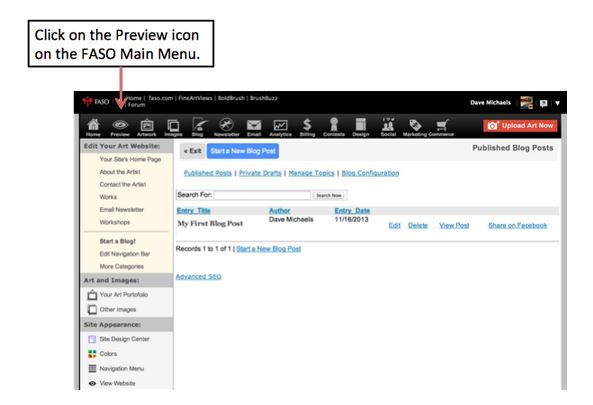 19. This will bring you to the Home page of your artist website. Click the link for your blog. Depending upon how your site is set up, it may be in your navigation row or you may have elected to set it up in the "widgets" row. Once clicked, you'll see your published blog posts.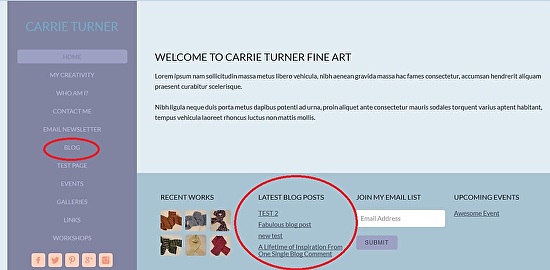 20. This will bring you to your new blog post on your artist website.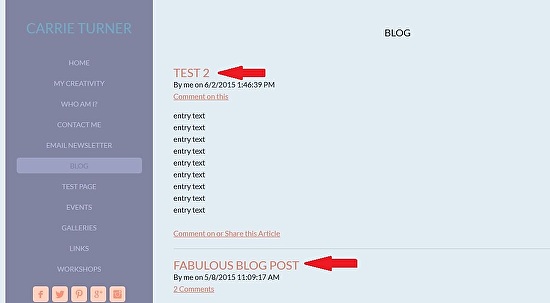 Congratulations, you have just created and published your first blog post.
Remember if you have any questions about this process, you can always feel free to reach out to our positively remarkable support team (Control panel home -> click the gear icon in the upper right corner -> click help and support and then open a ticket or give us a call). We're always happy to help you inspire the world.