FASO was originally created as a website builder for artists and, over time, it has evolved into much more, for both our wonderful customers and for all the "Fasonians" who work here. As the years passed, we've added additional products and features to our offering such as: ArtfulMail Newsletter Creator, StudioQuill Blogs, the BoldBrush Art Contest, FineArtViews Marketing Newsletters and our member forum.
Our company, Boldbrush, Inc and our flagship site, FASO, have come to stand for "inspiration through art". Art is inspiring to create, to share, and to view and we've made it our mission to inspire the world's artists, collectors and art lovers by connecting them with each other and with great art. Our goal is to provide the art community with technology that is simple to use, empowering and beautiful. And we back our technology with live support powered by people who are passionate about art, tenacious, ingenious and driven to make every interaction remarkable.
So, with these goals in mind, a little over a year ago, we embarked on a journey to connect with our customers and learn more about how you view FASO and BoldBrush. We reached out and had in-depth talks with many dozens of our customers. We interacted and made notes when taking support calls. We paid attention to what you were saying. And we're happy to report we all appear to be on the same page. "Inspiration" is the common thread that ran through all these discussions.
We often asked customers the following question: "Why did you choose FASO and why do you stay with FASO?"
And overwhelmingly, the answer revolved around inspiration and community. For example , one artist told us that FASO is her "lifeline" to the art world. She shared with us that she eagerly checks her email every morning for our newsletters, and she loves to connect with other artists in the FASO community. She was adamant that without her "daily dose of inspiration" from the FASO art community, she would be lost. Variations of this story were very, very common.
Here's where it gets interesting: at that point, we actually hadn't built any serious community tools into FASO. Yes, people can connect via email. And yes, we have a forum and blog comments. However, those aren't really a community (or so we thought). And yet, over and over, artists told us that the community and inspirational aspects of FASO were of utmost importance.
Frankly, we were amazed. We looked at each other and said, "Wow, our users are building a community and sharing with each other in spite of the fact that we really haven't given them the proper tools." So, to make long story short, we decided tobuild those tools.
We've spent the past year slowly building, testing and quietly incorporating social and community features into FASO.
And today we're proud to announce BoldBrush, our social network. The features we've built will allow you to connect with other artists, to follow each other, to "like" works of art by your favorite artists, and to receive comments and "likes" on your own works. You can comment on each other's artworks. You can also post status updates and non-artwork photographs. We've also added a direct messaging feature so you can send private messages to your FASO followers.
One of the main pieces of this new social network is the art activity stream. It is a feed of artworks and art-related activity from the artists you follow. You can currently see it by clicking the "Activity" link in the toolbar of your FASO account. However, our plan is to move the art activity stream to the home screen of your FASO account's control panel. This will not affect your FASO web site in any way. This change is ONLY inside your account when you log in to your FASO Account. We know that's a big change, so let us take a moment to explain why we are doing this.
We took a look at the FASO Account interface and we realized that as it's evolved, everything you can do from the main area of the home screen can also be accomplished from the toolbar or sidebar. In other words, the content in the main area of the current home screen is not very useful. It's just redundant duplication. And removing it doesn't make getting to any of the site management functions any more difficult.
However, think about a stream of inspiration, community, art news, art marketing ideas, stats and feedback from your own site.
Now, that seems useful to us. That sounds like what SHOULD be on your home screen.
So that's what we're going to do. Starting on March 2nd, we're going to start rolling out the new social features to users. The roll out is going to be done slowly, in stages over the course of approximately five weeks.
Here's what the new home screen will look like: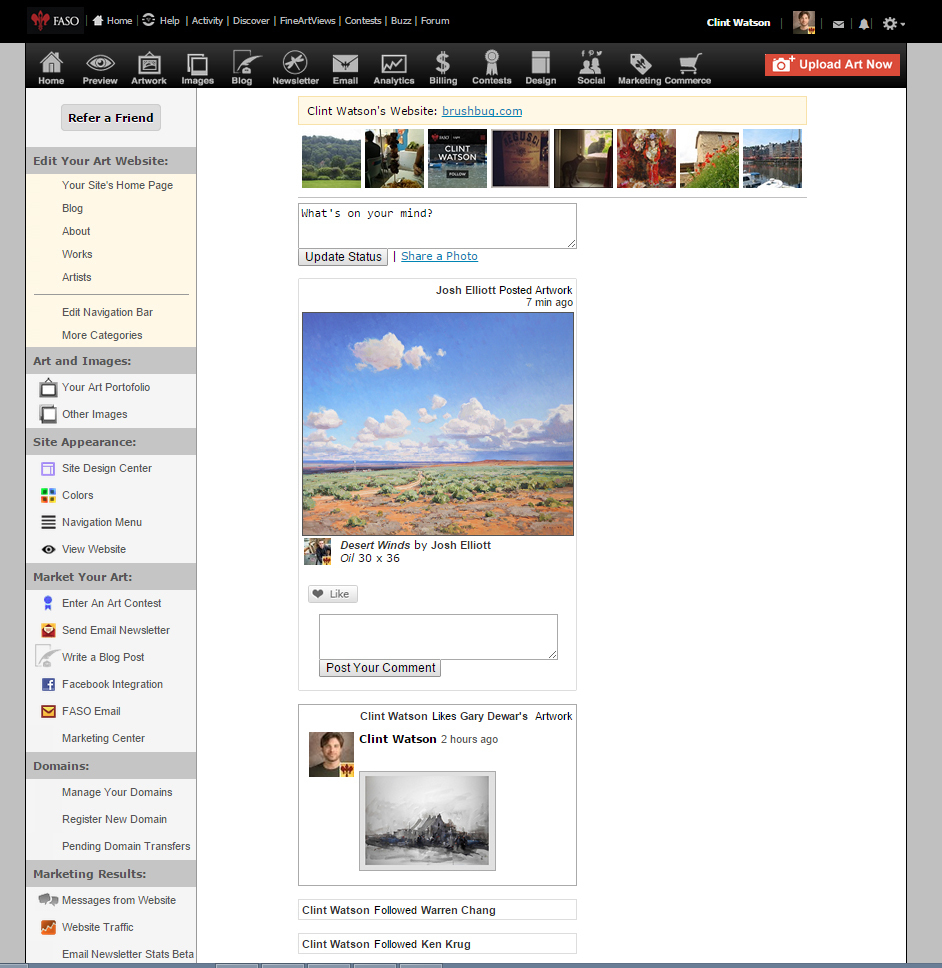 If you're excited about these changes and want to enjoy the future now by enabling the art activity stream, here's how you do it:
Click here for instructions on how to enable the Art Activity Stream
We're so excited about this addition and we think it's a great enhancement for you to augment your art marketing activities and generate more interest in your art and your website.
We've realized art needs a social networking home. While Facebook, Twitter and friends are great, we need at least one place where art and inspirational discussions don't have to compete with cute cat videos, political rants, and off-color animations. We need a social network that is all art all the time. A social network that is all about inspiration and fits with our mutually shared mission to inspire and connect the world's artists and art lovers.
So we created a new, beautiful, art-focused social network where people can actually be inspired by nothing but art.
We hope you'll Share Art and Be Inspired.
Sincerely,
Clint Watson
------------------------------------------------------------------
Editor's Note: You can view Clint's original post here.