This is our 11th post of the Getting to Know FASO's Awesome Support Team series, and today, we're learning more about artist support agent, Regina Burchett.
FASO's support team is made up (mostly) of artists who work out of their homes on an independent contract basis; many of them also FASO customers. This works out great as it allows our awesome independent agents the flexibility to pursue their own art career, pursue other opportunities, and supplement their income, while also connecting with other artists via their contract with FASO. If you'd like to learn more about this, you can read more details here.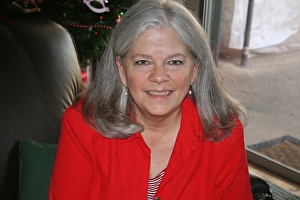 Tell us how you got started at FASO:
I started creating websites in HTML in 1997 and created my own artist website in 2000. Many of my artist friends didn't have websites, so I would add a page to my website for them so they would have a place to show their art. Later, I started creating full websites for other artists, through HTML or through art website providers. That is when I discovered FASO. They had the most professional looking sites and were the most user friendly (and friendly people!), so I could teach the artists I worked with how to easily maintain their websites themselves.
After I came to North Carolina, I moved into a new art studio and wanted a part time job, so I applied to FASO and eventually they had an opening. I love what I do - it's my perfect job!
Perfect?!? That's pretty high praise...what are some of your more favorite parts of this job?
My favorite parts of the job are getting to see art (of course) and helping artists figure out they CAN do this! Most artists I speak with think they are the only ones who don't like technology and have a difficult time with this, but it seems like the majority of artists with FASO websites start at the very same place. There is always a learning curve in the beginning - but I truly believe attitude determines outcome. You can approach this as "I hate technology" or try "this is going to be so fun!"
What are some of the things you've seen change the most since you started with FASO?
We are getting ready for more changes and more additions to the company, which I'm looking forward to. Also, I've seen continuous improvements on both the artist's side of website creation and in the tech support side, in how we can better access the information we need to assist our customers. And the new Artful Mail 2.0 format - that is very fun!
What areas do you think people are most intimidated by - not just with FASO sites, but with technology, in general?
I think people don't realize how useful, entertaining, and effective technology can be. Working on a computer, tablet or phone can be intimidating but if you take the time to learn how to do something, it is more than worth the investment of your time. In addition to creating artist's websites, I've taught basic computer classes since 1998. I've worked with people who don't know the difference between a website and an email address (like my husband). The main thing is to discuss the process in terms that make sense to most people. I don't need to impress them with geek-speak, I attempt to help them enjoy their computer and their website and the internet in general, for the fun and knowledge they can experience with it. It can be a communication tool, an art sharing partner, and a giant library with an amazing amount of knowledge just seconds away!
Excellent advice. With your experience in speaking to artists about technical issues, when you switch hats and become an artist speaking with a collector, does your website help with forging a better connection to the collector?
Definitely, because I can send a link to a collection of the type of work they might like - such as cloud paintings - or a link to a specific piece that might be of interest. They can easily purchase my art via PayPal, and I don't have the tedious task of creating a separate button for each piece like I did on my other website. And also, through my blog and newsletters, I can let current or potential collectors know about new pieces that I have just finished. Marketing our art is part of being able to continue as an artist. And my website makes that a lot easier and more productive.
Easier and more productive are always good. Any predictions for future developments?
I'm seeing changes and improvements every day. And we appreciate input from FASO users, so we can continue to improve. FASO websites are becoming more and more user friendly.
What's the most valuable piece of advice you would give FASO members?
Your art website is so important in sharing and marketing your art - take your time in setting it up, enjoy the experience, and try not to get frustrated. Call or email us if you have any questions. We do not think of any question as "stupid" - we've been there and we know some things can be very confusing about working with the computer and with websites. We want to help you create a beautiful and appealing website - and will assist you however we can!
So when you're not supporting artists, how do you spend your time?
Art, writing, reading, travel, old cars - my husband and I share all of those interests in one form or another. He is wonderful in helping me set up at art fairs, and being at my studio for art walks.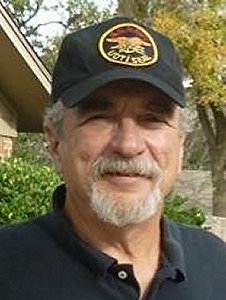 My main focus, besides my family and friends, is art. I love to paint and want to keep attempting new subjects and learning new techniques. I enjoy looking at other people's art - in person or on the computer. I teach drawing and pastel classes at my studio and give demos and workshops to art groups on painting skies, and also demos on using a computer to organize your artwork and art documents, and the use of graphic software. I have also managed websites for some of the art organizations I've belonged to, like the Piedmont Pastel Society and Carolina Artists.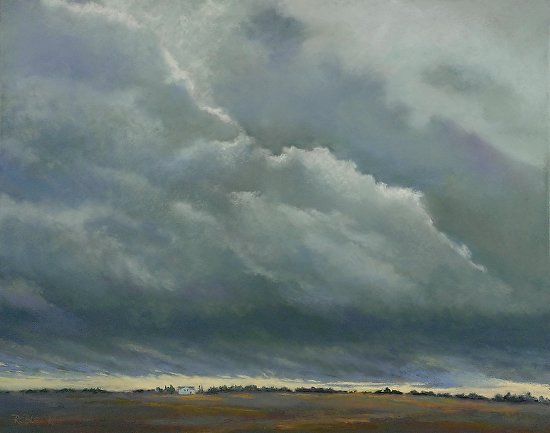 Moving East - pastel art by Regina Burchett
Specifically, what areas of your art are you wanting to expand? What techniques?
I haven't painted in oils for over a decade, and just started again. I am fortunate to have a beautiful studio in Concord, NC. The city converted an old waterworks building complex into artist's studios. There are many excellent artists there - pastel, oil, and acrylic painters, stained glass artists, woodturners and potters. We are very supportive of each other and trade off our skills - I helped another artist with computer issues and she gave me an oil painting refresher class!
Awesome! How did you get started with your art? With teaching?
My mother was an artist and my sister liked to draw. So I copied what they were doing, and that is how I got started. We lived on Guam for a while, and my mother took me to art classes with her and I got to draw and paint while we listened to classical music. I loved it!
In teaching, I started giving computer assistance to people I knew who were frustrated with computers. I also volunteered by giving a beginner's computer class at a facility that helped women get jobs. Good basic computers skills can sure give you a step up in finding a decent job. I've been giving computer lessons for sixteen years, but I've only been teaching art for about eight years.
I hear you're a great writer...
I started a novel in 1989, and continued with it in fits and starts. I re-wrote it many times and finally finished it in 2011 and published it through Kindle. I was thrilled to have finished such a major project, even though it took so long. It's a fantasy novel about an artist who has telepathy, and is titled Friends of Orion.
I've always loved to write ~ about ideas, thoughts, poems, concerns. I have folders of bits and pieces of things I've written, most of interest only to me. But I've posted some of my writings on my art website or my blog because once you've created something - whether it is a poem or a painting - it's difficult not to share it in some form.
Do you believe that it's a duty or calling or responsibility to share art with others? Is it selfish for artists to keep their work to themselves, in your opinion?
No, not at all. For whatever reason you have created something, what you decide to do with it after that is totally up to you. But if you believe you were given a gift, in order to share that thought, that feeling, that moment... with others, then I hope you will have that opportunity.
As an author, I have to think you also like to read. What types of books do you like?
I love books that are uplifting and challenging - that aren't geared toward the lowest common denominator. I enjoy mysteries, science fiction and urban fantasy because I like to think 'what if'. I like thoughtful books such as To Kill a Mockingbird and A Painted House. I especially like When She Woke by Hillary Jordan, Ender's Game by Orson Scott Card, The Time Traveler's Wife by Audrey Niffenegger, The Handmade's Tale by Margaret Atwood, and Louise Penny's series about the wonderful Chief Inspector Armand Gamache. My other favorite authors are John Grisham, Anna Quindlen, Ursula Le Guin, Alexander McCall Smith, Anne McCaffrey, David Baldacci…
That's very interesting… is the "what if" factor purely a source of relaxation - a way to "get away", if you will - or do you believe there's plenty of "what if" in the world for the observant viewer?
Just as an artist learns to see in different ways, I think the world holds miracles, magic and synchronicity if we are open to those possibilities.
Speaking of the wonders of the world, do you and Larry travel much?
Two years ago, my husband Larry and I moved from Texas to North Carolina. We've had the good fortune to travel to a variety of countries and hope to see more of the Northeast and Eastern USA now that we live in a place where it doesn't take seven hours just to get out of the state. We have been able to see many parts of the USA, Britain, Scotland, Ireland, Wales, Belgium, the Netherlands, Mexico, Canada and bits of France and Germany.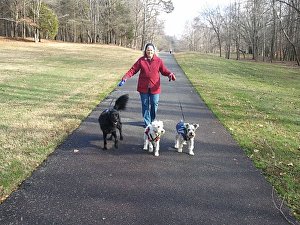 What destinations are on your future travels list?
I'd still love to go to Italy and the Scandinavian countries. I love to see the world from different viewpoints, but I want inside plumbing, too.
We're an animal loving group here at FASO. Any beloved pets?
Larry and I both love animals - we have two dogs and a cat now. Larry seems to be a magnet to homeless animals. We have a schnauzer and a flat-coated retriever he found (or rather they found him). They both were so sad and dirty when he found them, and we can't imagine life without them. My cat is almost 15 and is definitely number 1 in the household.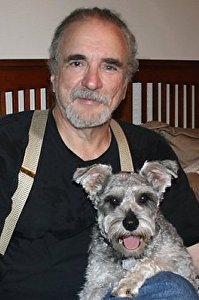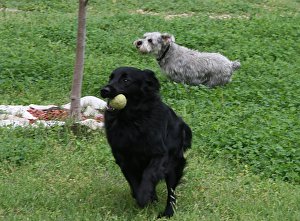 What fun stuff do you and Larry do as a couple?
We love to dance. Jitterbug, rock and roll, Texas two-step, waltz, cotton-eyed Joe, Schottish, disco, polka (not as much as Jen, of course!), cha-cha, Motown… I'd love to take dance lessons.
Any other hobbies?
I have a degree in textiles with a minor in art, and I still love to sew. I took a fabric collage class last year and it was so fun! I sew on my mom's 1948 Singer - it doesn't have any fancy stitches, so I had to finagle some of the finish work.
Oh, I love sewing, too! Do you have a preference for projects?
I like to sew anything - we have finished car upholstery on the '48 Singer and I can't count the number of dresses, aprons, shirts, robes, baby quilts … that I have sewn on that machine.
Also, we both love old cars - we have a 1949 Chrysler Windsor Convertible and a 1941 Chevrolet - and we go to a lot of 'cruise-ins' here in North Carolina. The car I had before my Chrysler was a '67 Plymouth Barracuda Convertible, white with grey interior. Had many a kid in a low-rider in Austin tell me "cool ride, lady". :-)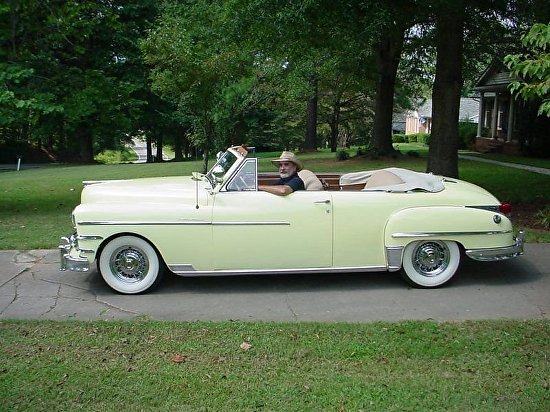 Regina, thank you so much for sharing with us so much about your life!
If you'd like to learn more about Regina or see her beautiful art, check out her website.