This is our 9th post of the Getting to Know FASO's Awesome Support Team series, and today, we're learning more about artist support agent, Susan Spohn.
FASO's support team is made up (mostly) of artists who work out of their homes on an independent contract basis; many of them also FASO customers. This works out great as it allows our awesome independent agents the flexibility to pursue their own art career, pursue other opportunities, supplement their income, while also connecting with other artists via their contract with FASO. If you'd like to learn more about this, you can read more details here.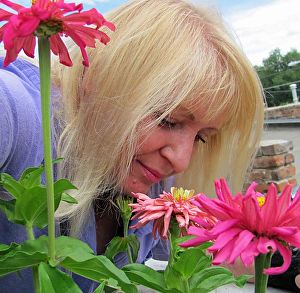 Tell us how you got started at FASO:
After a bad fall, I was unable to work. (left wrist and arm injuries and damaged knees) I was helping local folks put together their websites when Padgett asked me if I would like to work with FASO. It has become my perfect job. I love helping artists create their websites.
Are there any specific areas you like to help with more?
Clint has done a wonderful job putting together the new site design center. An artist only needs to click on suggested colors to change the appearance of their site. Of course, they can still add the six digit hex codes to add additional colors. As an artist, I love working with color, so this is fun for me.
What are some of the things you've seen change the most since you started with FASO?
There have been so many changes since I started in April of 2012. The new 3rd generation templates and the color design center are one of the most visible changes.. There are so many ways to create a contemporary FASO website. An artist can also add their custom logo and so their website will really stand out.
What do you think of the new mobile responsive templates?
Clint has again magically created the next step in viewing your website on a mobile device. I currently use the Cosmic Chameleon [Beta] on my website. These new mobile responsive templates are wonderful. They retain the colors of your website, while adjusting the images and display to fit the viewing screen.
Did you foretell the future with some things?
Hmmmm… I can barely foretell what I will have for lunch… But I am always amazed and delighted by new technical advances. I do believe interacting with technologies will become friendlier. So those who are a bit intimidated by computers now will find them easier and easier to use in the future.
What areas do you think people are most intimidated by - not just with FASO sites, but with technology, in general?
I believe most of us are intimidated by what we do not know or what is not familiar. We don't want to appear foolish. Whether it is a new technology or even a new art process. Starting something new means starting at the beginning. You are no longer in your comfort zone.
For myself, I am unfamiliar with mac computers. (I am a PC girl) So I am out of my 'comfort zone' when artists call tech support with a Mac (Apple) related FASO site problem. Macs are set up a little differently than a PC. Seems quite a few artists have Macs, so in the future, I may need to buy a used Mac. I need to become more familiar with Macs in order to help our FASO members who use Mac computers.
What were you most surprised by?
How fast technology is moving forward. From the new 3-d printers to social media sharing or syncing devices, smart phones, tablets, GPS, WiFi, and the magic of the internet -- sharing all knowledge. Many artists are non-techies. They prefer to spend most of their time creating in their studios. Becoming familiar with new technologies can be a big challenge.
Any predictions for future developments?
I predict that the 'arts' will become more important in everyone's lives. Not only fine art, but the crafts, music, theater, poetry, dance, etc… I see a trend away from big business and folks working all the time and instead focusing their lives around having quality time to build unique and happy lives.
That's a beautiful idea - any personal thoughts on how a person could get started adding the arts to their lives, if they were looking to make a change like this?
Some of this will involve setting new priorities and down-sizing, but you can start with collecting original art and hand-made crafts. This will add creative spirit and beauty to your home. Buy an original small painting or a couple new pottery pieces. You will smile every time you view them in your home. Then take a day off work, enjoy yourself by going to see local theater or a dance group. Or this weekend, find a local poetry reading group and sit in. You might listen to a street performance on the way home. You will be amazed by all the talent everywhere you go. By immersing yourself in the arts, you can raise your spirits, and enjoy more of the happy, creative side of life. The more happiness that surrounds you, the better - it is contagious.
Any hilarious work related anecdotes you care to share?
I will probably plead the 5th on this one. Most of this involves my misinterpreting something completely… and results in a note from Padgett referencing (in good humor) my blond hair.
Padgett really keeps a great eye on all of us, doesn't she? What's the most valuable piece of advice you would give FASO members?
Wow, 7,000 of my closest friends. I would advise those who are new to FASO or even those who have been with FASO a long time, to not be intimidated by their websites. Ask for help. Don't become frustrated. We all need help now and again. I believe that is what makes FASO so unique. Tech support that really cares, wants to help you, and will make suggestions. (the support ticket can become your best friend)
Or, if you need help in learning how to create and send a newsletter, call tech support and make an appointment. we can walk you through all the steps. Staying in touch with your clients is a wonderful way to generate future sales.
Great advice, for sure. Why do you suppose artists are hesitant to contact support for assistance? What would you tell them to ease their fears?
I think we have all had experiences where we call a tech support line and either have to wait on hold for 2 hours or when you reach them, sometimes a lovely accent makes it hard to easily understand them. Or perhaps, the language they use is so technical we do not understand their directions. Here at FASO we try to answer your questions as simply as possible and in a timely manner. We are normally in great spirits and I, for one, laugh a lot. When I first started using computers, I made lots of mistakes. I still make mistakes but this is how you learn.
Mistakes can definitely be great teachers. So when you're not supporting artists, how do you spend your time?
1.) Gardening- Gardeners are optimists. Despite the frosts, hail, droughts and pests always nibbling … we always believe the next season will be better.

Zinnias

Susan's garden
Gardening is one way to help create heaven on earth. Here on our tiny lot there is only room for a few small planting beds but the sidewalk garden in front of our building is often a spot that tourists stop at to take photos. We can all make the world a better place by planting vegetable gardens, a tree, flowers and shrubs.

Veggie Harvest
Fresh Veggies
Any particularly favorite flowers?
My favorite flower is the Delphinium. I used to plant beds of them. They are so glorious! Now I only have a couple delphinium plants. However, most folks here in Salida would think my favorite flowers are the marigold and sunflower. These 2 flowers self seed yearly on our property and have spread to every nook and crany.
Delphiniums

Marigolds

Sunflowers
2.) Cats - A house is not a home until you have a cat. (not to raise any hackles from dog lovers) But I have always had a cat or 2 and now 3 in my life. Besides their companionship, They remind me to have fun, laugh, take good care of myself and take lots of naps. Sally & Bambi are shelter Cats, and Charlie is a stray feral cat who adopted us one winter about 5 years ago.

Sally, Charlie, Bambi
3.) Art - I have been selling my art at art shows, shops and galleries since 1989. I first started out creating soft-sculpture pieces. Many artists who do outdoor shows may have seen my Spirit Sculptures. These images were based on ancient petroglyphs and symbols from around the world. They were made from cotton fabric that I dyed and painted, stuffed and then I sewed beads and added other adornments. I then switched over to selling my oil paintings around 2006. Today, I mainly market my art by participating in 5-8 outdoor art shows a year, sending my email newsletter, and posting on social media. Occasionally, I have showing at a local gallery.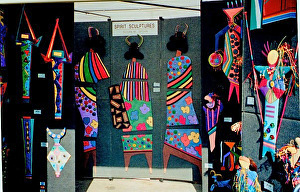 What inspired you to make the spirit sculptures?
I was searching for a way to express my interest in the inter-connectedness of humanity and our common spirituality. These petroglyphs and symbols were spread repeatedly throughout the world. I then re-created them in an artistic manner and titled them with a spiritual energy. Such as, 'The Spirit of Inner Peace' (A quietness from deep within ) , 'The Transformation Spirit' (change from a cellular level), or 'The Good Medicine Spirit' (healing in all aspects).
Do you think doing sculptures first made you, in any way, a better painter?
I believe working in a different medium brings new insights. Whether working in 3 dimensions or 2, color has always been a big focus for me.
4.) Friends - We should all make extra time to spend with friends. These friendships uplift our spirits and warm our hearts. Good friends bring out the best in each other. I am truly grateful for all my wonderful friendships. My dearest friend is Ralph, whom I've been dating for almost 18 years. He is an artist, also.
Having someone close to you that understands your passion and motivation has to be wonderful...do you and Ralph spend time together in the studio, create collaborative artworks or work together in any way?
Ralph is a glass artist. It is wonderful to have another artist in the house. We are each other's inner support circle. Because our mediums are so different, we do not spend time 'creating' a piece together. However, we are each other's sounding board. When he creates new pieces, I give him my input. And when I paint a new painting, he in turn, gives me his insights.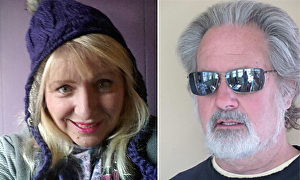 I also enjoy spending time here in Salida.

Scenes from Salida

Salida events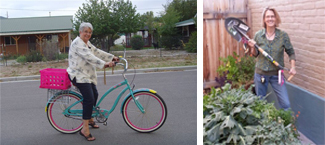 Marsha Robinett on her visit to Salida and Padgett McFeely, who also lives there.
If you could have an extra four hours per day, what would you do with that time?
4 hours every day/7 days a week - daydreaming now… the first things that come to mind…I would spend some of these days with extra time in the studio creating larger pieces. I would spend a lot of days soaking in the sunshine and meditating while I walked all about, admiring nature. And then I would spend one or two days/week volunteering or mentoring.
Any specific programs/charities that you'd volunteer for?
I have, in the past, volunteered for ArtWorks, now known as the Salida Council for the Arts. My duties involved developing and producing different events that gave more exposure and sales to local artists. Some of these events were: The Salida studio tour, Art booths at our local farmers market, The Word ( a theatrical production featuring local writers/poets), Junque Art Sale (one day sale of art supplies, art, antiques), Valley Visions- a local art exhibition at the Steamplant, Creative Mixer- a weekly get together for all artistic types to share upcoming news and mingle. In addition, I would be interested in our local mentor program that pairs disadvantaged youth with adult mentors.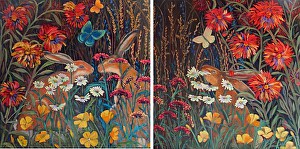 Red Dahlia Garden diptych 30 x 60,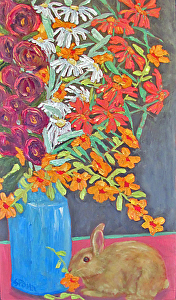 Floral Bouquet with Bunny 12 x 20
Sunflower Bouquet with Butterfly 30 x 30
Susan, it sounds like you've got a great thing going for you...we so appreciate you spending time with us today.
If you'd like to learn more about Susan, please visit her website.