In our 8th post of the Getting to Know FASO's Awesome Support Team series, we're chatting with artist support agent, Gayle Faucette Wisbon.
FASO's support team is made up (mostly) of artists who work out of their homes on an independent contract basis; many of them also FASO customers. This works out great as it allows our awesome independent agents the flexibility to pursue their own art career, pursue other opportunities, supplement their income, while also connecting with other artists via their contract with FASO. If you'd like to learn more about this, you can read more details here.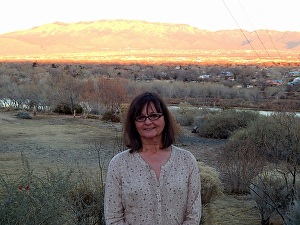 Tell us how you got started at FASO:
I started doing social media work for FASO in November 2010, working a few hours a week. In May 2011, I started working in Technical Support, in addition to the social media work. In May 2012, I retired from my UPS job of 23 years and began working only with FASO.
23 years?!? That's so impressive! So, in addition to being an artist support agent, you are part of the social media team for FASO...in your opinion, how important a role is social media in art marketing?
I think the internet and social media have made this such an exciting time for artists. Utilizing social media is a great way to share your talents. In a matter of minutes, a multitude of people can know that you are an artist, that you have a website and art to share! At the same time, we have to be careful to manage the time spent on it.
What common mistakes do you see people make in the marketing of their art?
I think the biggest mistake some artists make is using social media exclusively to market their art. For some artists, that has worked very well. However, I think it is also important to use an email newsletter. It takes time to build a subscriber list, but it is worth the time. Those are the people who are most interested in what you are doing. When you send out a newsletter, you are connecting more directly with people who appreciate what you do.
What's your best recommendation for setting forth a plan to market via social media?
My marketing plan is very simple. When I complete a new painting, the first thing I do after uploading it to my website, is send out my newsletter. Then it goes on my blog and then I share it on social media. I mainly use Facebook, but I also share on Twitter, Google Plus and Pinterest.
I do think social media is a necessity, for self-representing artists especially. My recommendation is to set up a Facebook business page for your art and keep it updated, with links to your website. Use the business page to share new artwork, sales of your work, your latest newsletter, or any events or studio news. If you use the FASO email newsletter, you can add a signup tab very easily to your Facebook page.
What are some of the things you've seen change the most since you started with FASO?
I signed up for my FASO website in 2008 and thought it was the greatest thing! I realized this was something special after making my first sale to a complete stranger, during my free trial. So many exciting changes have taken place since then, with the new Site Design Center, the Artful Mail newsletter system, the built in social media features, plus the option of having a mobile version. It just keeps getting better and better.
Did you foretell the future with some things? Any predictions for future developments?
I can't really say that I foretold the future or even have any future predictions. Changes have progressed so quickly and I find it all very exciting! I really respect our programming staff because many of these changes have been the result of giving clients what they have asked for.
Any hilarious work related anecdotes you care to share?
Nothing hilarious I can think of, but I do remember an elderly lady talking to me about her art on the phone. She told me her age and then said, with a laugh, "I better hurry the hell up!" I laughed, too, because it was unexpected and she had such a great attitude. I have not only met many talented artists through FASO, but also many genuinely nice people. I get very excited when I see a FASO artist's work in a magazine or a gallery.
We do get the opportunity to work with some amazing individuals and, believe it or not, their successes are important to us, aren't they? What's the most valuable piece of advice you would give FASO members?
My advice to FASO artists would be to get to know your Control Panel. There are so many things you can do with your site and I don't think all artists realize that. Click on each section and see what's there. If you don't understand something, let us know and we are happy to guide you through it. I still come across new things that I didn't realize were there.
If you had to guess, what do you think gets "missed" or under-utilized by FASO members?
One thing I noticed that many artists miss is the focal point data section. Each artist is listed in the FASO directory and they can add content to that listing by completing the focal point data page. This can be found in the About the Artist section of the Control Panel.
Also, there is such a variety with the new templates in the Site Design Center. The new color schemes and color palette editor make it possible to have a very unique website.
Wow...you bring up some valid points. Digging right into the control panel will certainly help users become more familiar. So when you're not helping the art world, what do you do in your free time?
I am a painter, so that's what I spend most of my time doing outside of FASO. I paint in acrylics and I really enjoy painting cactus, flowers and New Mexico scenery.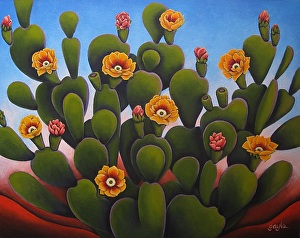 Desert Beauty
Right now, I am working on a series of scenes from around my own neighborhood. From my home, I can see the Sandia Mountains, the Rio Grande, hot air balloons and all kinds of plant life and wildlife. There is so much to paint right in my own yard!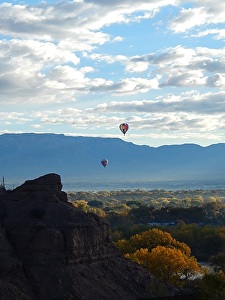 Balloons over the bluff
I also like taking pictures whenever I see something beautiful and inspiring, which is often. Many of my photos end up being used as references for my paintings.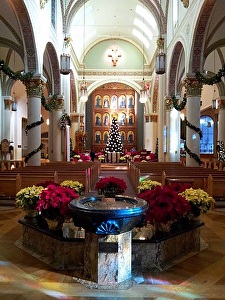 St. Francis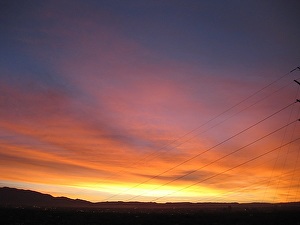 January sunrise
What catches your eye when setting up a scene?
The New Mexico sky is huge, so most of what catches my eye is there. It could be a sunrise, sunset, cloud formations, weather changes, hot air balloons and all kinds of birds.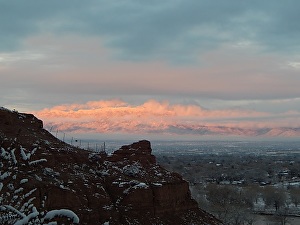 Snow, December 2013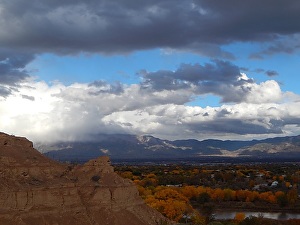 October clouds
I don't get a chance to do this often, but I do love to ride my bike through the bosque. Albuquerque has a great bike trail system, which I am just starting to explore.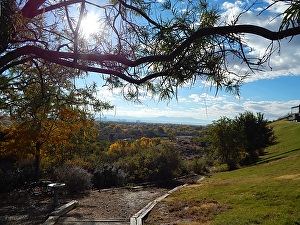 Path
Bosque? That's a type of woodlands, right? I bet it's lovely and enchanting… How long have you ridden bikes? Just a casual rider or a serious biker?
Yes, the bosque is the wooded area along the Rio Grande, with lots of cottonwood trees. They turn bright yellow in the fall and they are pretty, even in winter.
I am definitely a casual biker. I just bought one a few years ago and nothing makes you feel more like a kid again than being on a bike!
What about family time?
I also like to spend time with my children. My daughter, Ana, just returned home from a six month road trip through parts of the Midwest and Pacific Northwest. It was a great experience for her and I'm happy she did it. I'm also happy she is back safe and sound! My son, August, just graduated from the University of New Mexico. He is a DJ and music producer of electronic dance music. He has done very well with his songs being used on tv shows, commercials and movies.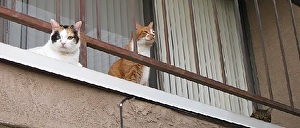 Gayle's other "children"... Cameo, Romeo, and Pepper
You must be so proud of your kids!
Besides trying out new restaurants, we like taking drives, even if it's just a different part of town. I took him to the Albuquerque International Balloon Fiesta this year, which he really enjoyed. We recently spent the day in Santa Fe, which is always fun. It's such a beautiful city and so unique. We will be taking more short trips in the months ahead.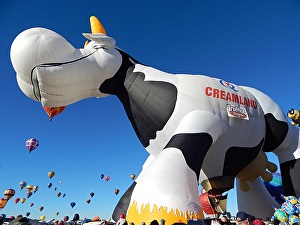 Airebell
This area also has some great places to walk, whether it's in my own neighborhood or out in the open spaces. Albuquerque has a lot of nature trails. I recently took this photo from the top of one of the extinct volcanoes on Albuquerque's west mesa.

Volcano
As breath taking as New Mexico sounds, if you could live anywhere else in the world, where would it be and why?
Hmmm, I'm not really sure. I would love to visit Italy, but I'm not sure where I would want to live. I guess what I would really like to do is live in two places! I moved to New Mexico in 1986 and have loved living here with my children, Ana and August. This is home for them. I've made some wonderful friends here and this area is the source of my painting inspiration. But I also miss living in North Carolina, where I grew up. My family is there, as well as, lifelong friends, whom I don't get to see that often. I do miss the ocean, so someplace with a beach would be nice!
Smart to keep your options open so that you could enjoy the best of two worlds!!! Gayle, I so appreciate you taking the time to talk with us today.
If you'd like to learn more about Gayle, please check out her website.