In this, our 7th post of the Getting to Know FASO's Awesome Support Team series, we're talking to artist support agent, Tami Robinett.
FASO's support team is made up (mostly) of artists who work out of their homes on an independent contract basis; many of them also FASO customers. This works out great as it allows our awesome independent agents the flexibility to pursue their own art career, pursue other opportunities, supplement their income, while also connecting with other artists via their contract with FASO. If you'd like to learn more about this, you can read more details here.
Tell us how you got started at FASO:

I was working as a Pastry Chef and found that after becoming a single parent, I needed to make a change so that I had more time for raising my son. My mother (Marsha) was working for FASO and it seemed like a good fit for me.

What are some of the things you've seen change the most since you started with FASO?

I am intrigued and impressed by the dedication of Clint and his programing staff. They continue to upgrade the templates we offer as the demands of the internet and the way it is accessed change. According to businessnewsdaily.com, "59 percent of Internet users ages 18 to 24 used smartphones and tablets to access the Internet, and 61 percent of women ages 25 to 49 said they used those devices to go online." The templates Faso offers are more than ready for this trend. This percentage is only going to grow in the future. I am proud to be associated with a company that takes this new trend seriously.

The latest Generation 3 templates Morphic Maplelicious and Cosmic Chameleon are particularly impressive. These two templates adjust the 'Regular Site' view to show all of the page when on cell phones (no need to use mobile view). Images drop down below each other, text and site colors display perfectly in 'Regular Site'. Visitors to your website can now view it in the color scheme you created. Who would have thought the cell phone would become a mini computer?

Any hilarious work related anecdotes you care to share?
No hilarious anecdotes come to mind... that I can share anyway ;-). I will say that the most rewarding thing about working for FASO is watching artists come to us who say that they don't think that they can "do this" and in a few weeks end up with a beautiful website that they are proud of. I am proud of them and I am proud to help them discover that they really can do it!

It is an awesome feeling to be helping so many discover they are capable of doing more than they imagine. You have a captive audience, what's the most valuable piece of advice you would give FASO members?

Don't be afraid to try something new! Change is not without its challenges. Do your research, pay attention to the little voice in your head and move forward. We many times think there is a plan for our lives and miss out the opportunity that is right in front of us.
Is there an instance in your life where this applies to you?

I never thought I would end up at the Culinary Institute of America and become a chef.
A friend of mine who was the head chef at a restaurant was impressed with my pies and suggested I take one in for the owners to try. I was hired on the spot. I went in and baked when the restaurant was closed with cook books under arm. I soon realized, "I'm pretty good at this" and the customers agreed.

I needed full time work so, eventually, I connected with the owner of a coffee shop and opened a small bakery. This time it was a coconut cream pie that sealed the deal. My little venture was quite a surprising success. My clientele grew and a few became personal friends. They began to encourage me to go to Culinary school. I had no obligations to stop me - but no money, either. Being curious, I did some research and contacted my first choice, The Culinary Institute of America, only to discover that tuition was $50,000 for their two year program. I buried that idea and tossed the brochures in a drawer.

To my surprise, two weeks later there was a flyer from the Culinary in my mail box announcing their annual "All American Apple Pie Contest". First Place award was a $25,000 scholarship. Now, this peeked my interest big time.

The contest entry required a photo of the pie, the recipe and two essays. From these applications, 10 were chosen to compete with each winning scholarship money. The CIA flew us out to the Culinary Institute for the weekend. The pies were baked, tasted, and judged. The winners were announced in order from 10th to 1st place after a long 'formal' lunch. When they got to 3rd place and I had still not heard my name, I began to cry from anticipation. I knew at this point the award would be at least enough to get me started. Well...guess what, I won first place. I was awarded the $25,000 scholarship.

I knew I was taking a chance with my recipe choice, a "basic double crust apple pie", when others would, no doubt, be adding a creative twist to their pies hoping they would stand out. I've always felt it takes a skilled cook to turn something basic into something excellent. That was my goal.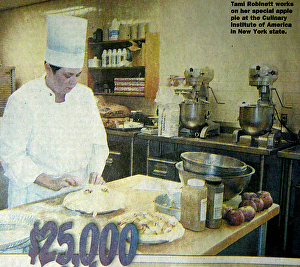 Tami working on her famous apple pie recipe.

FASO was another big change in my life. While working full time as a chef, I became a single mother and needed to have more time with my son. The restaurant industry requires long hours away from family. It simply was not working out. Mom was a tech support agent for FASO and encouraged me to apply. It was totally out of my comfort zone but I've not been known to back away from a challenge. The results of this decision have been fruitful and blessed my life. My son graduated high school a year early and is currently attending Boston University. He is enrolled in an elite honors program with a full merit scholarship. Not bad, eh?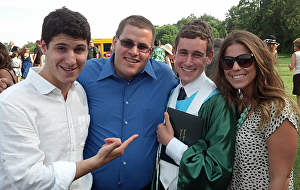 Teddy's proud day

As I said in the beginning... never resent change. Meet it head on and take the challenge. The rewards will be many.

Wow! That's an inspiring story that encourages us all (and makes us very hungry, I suspect!) What interests do you have outside of FASO?

For years, my life has consisted of making a living and raising my son. There has been little time for much else. I do enjoy cooking, (even more than baking). I'm addicted to a few chosen TV programs and although not a working chef, still collect recipes.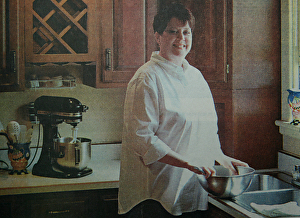 Tami in the kitchen
Is there an area of cooking that you particularly enjoy?
I hate to say this but I am not into exotic or complicated cooking. I can make a wicked good pot roast, corned beef and cabbage, or juicy roast chicken. I am a meat and potatoes girl at heart.
I also make a really nice salad and I always make my own dressing. After you start making your own salad dressing, you will never go back to pre-made again.
I have to say that my mouth is watering...any fun hobbies outside of the kitchen?

I have macrame hanging in most rooms of my home. Although a fad of the past - I find the creation process has a calming effect on my life. I even develop my own patterns and make the polymer clay beads used in the finished hangings.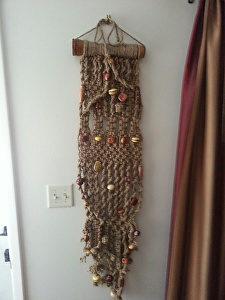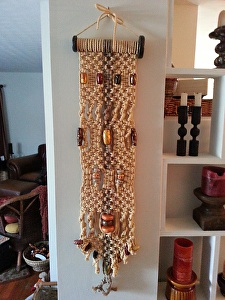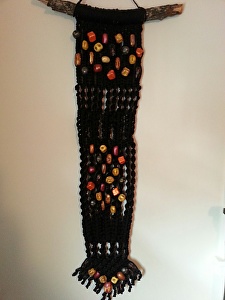 Wow! Those are beautiful. How did you get started doing macrame?
I found some old macrame books at a used book sale and thought it was really cool. I also seem to be drawn to stuff from the 70's and that is when macrame was popular.
You mentioned being into a few TV shows. Which ones?
I like Dexter, Breaking Bad, Scandal, and Master Chef.
I have Dexter in my queue on Netflix so I'll have to be sure to talk about that with you at a later date. Recently, they aired the series finale of Breaking Bad - were you surprised at the way they chose to end the show?
I thought it was brilliant! Even if you know how it ends, you should watch the series. I think you'll find it very entertaining.
I hear you made a big move recently...

With Teddy off to college, I have moved from Long Island, NY back to the Midwest to be closer to family. So, lately, I have been involved with getting my new home in order.

I just adopted a dog from the Humane Society. Mya is a 3 year old pug mix. She is just perfect, bringing me much pleasure and helping with the old 'Empty Nest Syndrome". We enjoy long daily walks together and look forward to obedience class in January.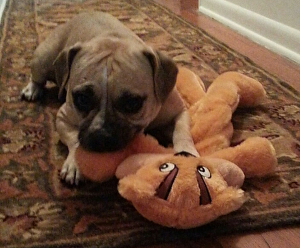 Mya

She's a cutie! Since we're famished now and wish you could cook us all something fabulous for dinner, describe the perfect meal.

I think most restaurants are over-rated and usually quite disappointing! I find the quality of the food is compromised by the need for quick service and profit. A perfect meal would have to be something that was prepared in someone's home. Juicy rib eye steak, Caesar salad, and crusty bread dunked in a premium olive oil. Simple and prepared with excellence.
Sounds delicious, when should we be there? ;-)
Tami, thank you for your time and for sharing more about yourself. It's been great getting to know you better!
As a special treat to our members, Tami has agreed to share the apple pie recipe that got her into culinary school. I know I'll be trying it out!
--------------------------------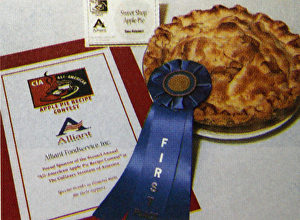 Sweet Shop Apple Pie Recipe
Flaky Pie Pastry

3 cups all-purpose flour
1 teaspoon salt
1 1/3 cups Crisco shortening
1 egg
1 tablespoon white vinegar
5 tablespoons ice cold water

Egg Wash

1 egg yolk
1 teaspoon cream

Apple filling

8 cups crisp tart apples/7-8 large apples (Granny Smith preferred)
3/4 cup brown sugar
1/4 cup granulated sugar
1/2 cup flour
1 teaspoon cinnamon
1/4 teaspoon nutmeg
1/4 teaspoon ground cloves
1/4 teaspoon salt
2 tablespoons butter

1. Flaky pie pastry: Combine flour and salt in 2-quart mixing bowl; add shortening.

2. Using fingers; break shorting into pieces by pinching into the dry mixture.

**Important tip: pieces can range in size from pea size to lima bean size and it is ok if some are even larger. If you obsess over this step, you will over-mix your pastry and it will not be flaky.

Form well in middle of mixture.

3. In small mixing bowl, combine egg, vinegar, and cold water; whisk until well combined. Pour into well in dry ingredients.

4. Fold dry mixture into wet, kneading gently at the end just a couple times to bring dough together. *Remember - don't over mix.
Divide dough into two hamburger-like patties. Wrap with plastic wrap. Refrigerate one hour or overnight.

5. Filling: Combine sugars, flour, spices, and salt in large mixing bowl. Stir well to combine.

6. Peel, core and slice apples. Add apples to sugar mixture and toss until apples are well coated. Let stand at room temperature about 30 minutes, tossing apples a couple times. You want them to get a little juicy.

7. Set oven rack at lower two-thirds of oven. Preheat oven to 400F.

8. In small dish, mix egg yolk and cream; set aside.

9. Pie assembly: Roll out pastry about 12 inches in diameter and about 1/8 inch thick. Gently fold pastry dough to half; pick up and lay on pie pan with the fold in the middle. Unfold pastry to line the pie pan. You should have a one inch overhang or more.

10. Spoon apple mixture into pie pan, mounding apples toward the center, dot with butter pieces.

11. Roll out second pastry, using the same method as before. With a small 1 inch cutter, make 3-5 cutouts in top crust. Set cutouts aside to be used later to decorate pie.

12. Brush the rim of the bottom crust with a little egg wash (a little "glue" to seal the two crusts together). Lay top crust over apples. Gently press the two crusts together around the rim of the pie pan. Using scissors, cut off excess dough. Crimp edges.

13. Brush pie with egg wash. Lay reserved cutouts on decoratively. Sprinkle with additional sugar.

14. Bake at 400F for 30 minutes. Reduce oven temperature to 350F and continue baking for 45 minutes. Cool pie completely to room temperature. Serve at room temperature or re-heat and serve warm.