As artists, the ease with which visitors can view your artwork plays a considerable role in the set up of your website. I think we can all agree that images need to be large enough that they can be examined properly but not so large that they slow down the performance of your site.
Our developers have spent a lot of time making sure that you have the best of both worlds - images that are large enough to showcase your artwork along with a website that loads these images at optimal speed. When looking at the images on your FASO site, you have three general sizes to consider: thumbnails, default view, and the zoom view. We'll review each size, where they can be found and how to make them larger, if necessary.
Thumbnails
Thumbnails are the small, square images that are generally displayed on your works or collections pages. When you upload your image to your FASO control panel, it automatically resizes your image to create a thumbnail that is 72 pixels wide.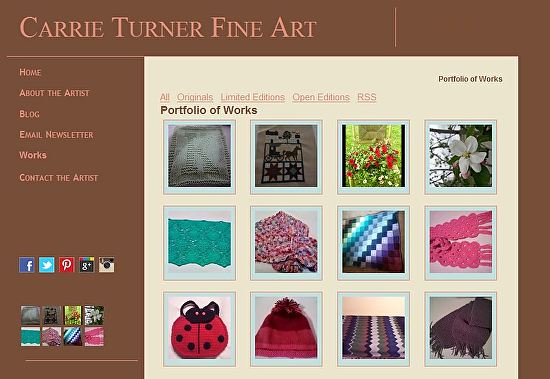 Example of thumbnails page at 72 pixels
For some, this is large enough but others prefer a larger thumbnail format. To enlarge your thumbnail view only takes a short amount of time.
1. Log in to your Control Panel
2. Click on Art Portfolio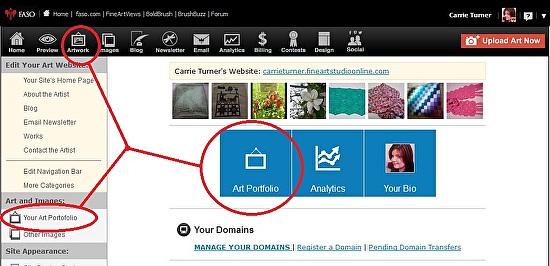 3. Click on 'Edit the works display'

4. for option 'Use Variable Size Thumbnails', change from No to Yes
5. For 'Width of Thumbnails (in pixels)', enter a value from 80-150 to designate the width in pixels that you want your thumbnails to be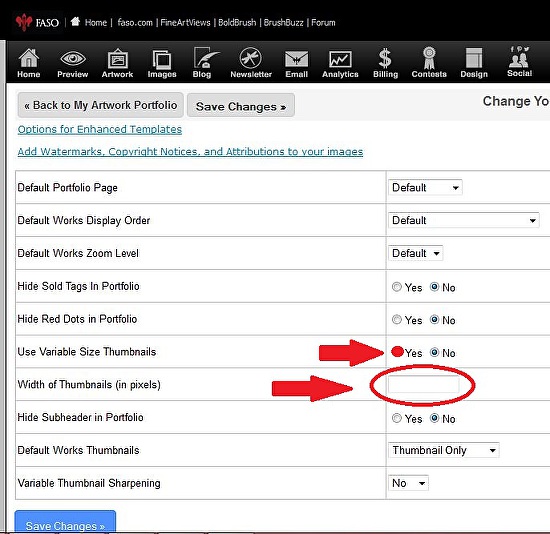 6. Save Changes
Remember, you may need to hit refresh to see the changes reflected on your website.
Default View
The next size in images that you should see on your website is the default or medium size view. This is, by default, the view that you see after you've clicked the thumbnail. It is sized at 30o pixels.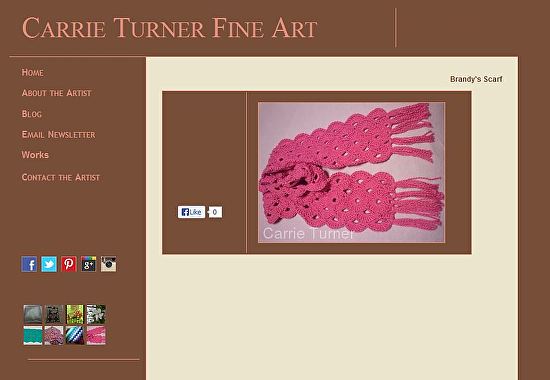 Each default view offers an option to click to a zoom view of the image. If you'd like to bypass the default view and have your images immediately display the zoom view, here's how to do that:
1. Log in to your Control Panel
2. Click on Art Portfolio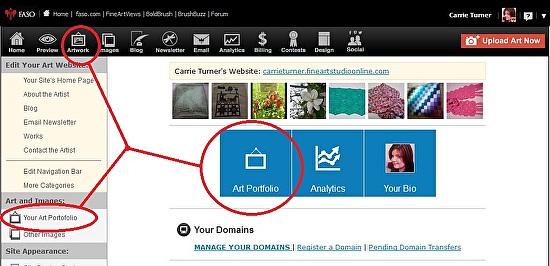 3. Click on 'Edit the works display'

4. Change Default Works Zoom Level from 'Default' to 'Large'
5. Save Changes
Zoom View
The largest view we offer is the zoom view. As previously explained, this is the image that you would see after seeing the default view. Zoom images are sized at 550 pixels.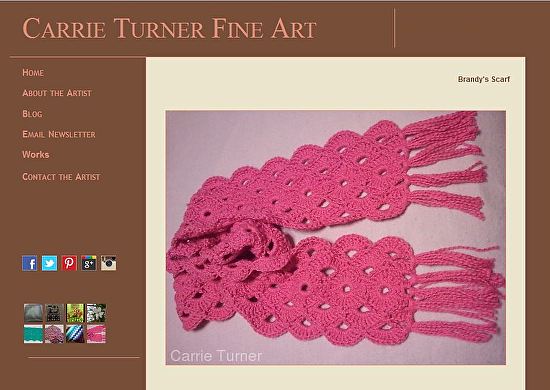 Zoom view...In the default view image, you can see that the picture of the scarf
barely comes to my social media icons. In this image, it is clearly much larger.
We do offer an option to customize the size of the zoom view. We can do a custom change for you and zoom to either:
'Extra Large size' - 1024 pixels
'Extra Extra Large' size - 2000 pixels
or any size you want (smaller than 2000px).

To make this happen, you need to have uploaded images that are large enough for your larger zoom request. If you want zoom at 1024, your images have to be at least 1024 pixels. If you want the zoom to be 750, the images you upload have to be that big. Your image size dictates how large your custom zoom view can be.


A Final Note About Image Size
There is no maximum size image that can be uploaded to your control panel. The larger your image file, the longer the upload will take.
Images must be .jpg image files, in RGB mode.
We recommend 72dpi (higher resolution images can be uploaded, though).
It's important to make sure that the images you upload are at least 550 pixels in the largest dimension. Images that are larger than this are automatically resized, as mentioned, and are accurately portrayed on your site. However, if your images are not at least 550 pixels, we cannot enlarge that image and size it like it should be - which means your images will be small on your site and unable to be viewed at full capacity.
The entire reason for having a website is so that visitors can actually SEE your artwork. Uploading images that are large enough in format and having them display at the optimal size for your art makes this not only possible, but enjoyable for the viewer. Take a moment today to look over your art portfolio and see if any of these changes can enhance the display of your artwork.