In our 6th post of the Getting to Know FASO's Awesome Support Team series, we're talking to newsletter editor and artist support agent, Carrie Turner.
FASO's support team is made up (mostly) of artists who work out of their homes on an independent contract basis; many of them also FASO customers. This works out great as it allows our awesome independent agents the flexibility to pursue their own art career, pursue other opportunities, supplement their income, while also connecting with other artists via their contract with FASO. If you'd like to learn more about this, you can read more details here.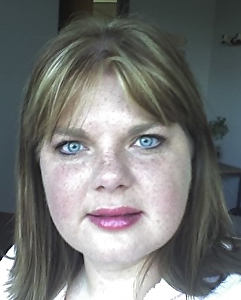 Tell us how you got started at FASO:
I was working for a small marketing company and we landed a new client that wanted us to take inbound customer service calls. Through various calls and email interactions, I got to know Clint and thought very highly of him - he was (is) wicked smart, funny as all get out, and quite honorable in the way he conducts business.
When the marketing company I was working for closed, Clint was the first call I made. We came to an agreement and I've been happy ever since.
You have offered marketing pointers that have helped me to better serve artists at FASO. With that in mind, can you explain to readers how your marketing background applies to your various roles at FASO?
Marketing is key - you have to be ready to sing your own praises to an audience that wants to hear your music.
As an artist support agent, it helped me better be able to convey how important it is for artists to blog or have a newsletter. Both features have their own merit and I would always recommend that an artist (or anyone wanting to market themselves, for that matter) have both.
Take the email newsletter, for example. When someone signs up, they're asking you to please tell them more about you and your art. That's permission marketing at its best [1]. You're not barging into their life trying to overwhelm them with information they may or may not want to hear - you're simply filling a request from them so they can learn more about you.
As editor of the newsletters, it has enabled me to help Clint not only maintain, but build upon the quality of the information we share with you. I get that the articles and ads have to be applicable to your lives and have to be something that can realistically be implemented into your art marketing program.
What are some of the things you've seen change the most since you started with FASO? Did you foretell the future with some things? What were you most surprised by? Any predictions for future developments?
There's no way to talk about changes and developments without mentioning social media. The way it's gone from "something to do" to a major component in how people market themselves and their business is crazy.
Another change I've seen is the push to make websites easily created and edited. Of course, there's still the complicated stuff but there are so many options for anyone with a message to share, whether it be a full website or something smaller, like a blog.
If I were to think about something that surprises me, I'd have to mention people's reluctance to embrace new technology...some to the point that it's almost a source of pride that they're not on the internet or don't use social media or have a website. Of course, everyone is entitled (or should be, anyway) to live their life and conduct their business as they see fit but I'll never understand the reluctance to use a tool that could inherently make your life easier and your business more successful. You don't see many carpenters bragging that they don't use nails in their business...if you get my drift.
As for future development, I see more and more of those people having to come round to accepting the value of the technology offered and making some role, however small, for it in their lives. I'm not saying that I embrace a completely technology-run lifestyle (just in case some of those movies are true), however, I do see the writing on the wall and more of life's features are being computerized and automated. With or without our approval.
Any hilarious work related anecdotes you care to share?
I don't spend as much time at the tech support desk as I used to so I don't really have any particular stories to share but I can tell you that behind the scenes, all of us (artist support agents) are really funny people. We all seem to have a gift to be able to say the right thing or share the right video on YouTube or Facebook to lift the spirits of another team member that might be a wee bit stressed on a given day.
Customer support, while rewarding, can be stressful and the reason our team is so remarkable is that we all make the effort to be supportive of one another - not only in our work lives but in our private lives, as well.
What's the most valuable piece of advice you would give FASO members?
Do the thing you're scared to do.
Self-doubt is a soul crusher and a sad one as it's not a trait we're born with - we're taught to doubt ourselves. We sit around and wait for self-doubt to disappear so we can work up the courage to live our dreams. In reality, that approach is backwards. Work up the courage and the self-doubt will disintegrate.
Do the thing you're scared to do. Totally eff it up. Success isn't doing the right thing perfectly the first time. To quote a video that I watch frequently, success is the progressive realization of a worthy goal [2]. Progressive - meaning you'll get better the more often you do it.
Can you describe how this advice applies to your life?
To put a specific example to this abstract solution, I'll tell you a story.
About three or four years ago, I faced some cold hard truths about my health and I knew I had to get my butt off the couch and get moving to get healthy. After considering my fitness options, I found myself at a local Zumba class. To say I loved it would be the understatement of the year. On the way home that night, I was so elated. I was disgustingly sweaty and had never had so much fun while exercising. I actually called my husband and told him that I'd be back even if I never lost a pound (although, I did lose weight...quite a bit of it).
Fast forward 2 ½ years. By that time, I was as hooked on Zumba as a person can be and was actually the best of friends with my instructor. She began pushing me to become an instructor myself. What? Me? Crazy funny. Long story short, my husband and other Zumba friends got in on it and after about a year of prodding, I finally admitted to why I was balking.
What held me up so long? Self-doubt. I don't "look" like the Zumba instructors you see when you go online. I still have a ways to go in my fitness journey. I didn't know if I was ever meant to lead anyone in anything...I'd always shined brightest in a support position - both in my career and in my personal life. I was the person behind the person. After many a pep talk and a ton of compliments about my skill level, I plopped down the money and signed up for instructor training.
I did the training and passed... just like everyone said I would. But that's not the end of it... you eventually have to get up in front of everyone you know and lead your own dance, in front of people who are going to know if you do it badly. I was so nervous - like, "sick to my stomach, got the most awesome set of hives you've ever seen [3], what the hell was I thinking" nervous.
Then... I did the thing I was afraid to do.
And I totally rocked it! I got tons of compliments and something in my soul clicked... this was my superpower, my way to reach the world (or at least, a small section of Broken Arrow, anyway). I'm not the best Zumba instructor in the world but I am the best Zumba instructor that Carrie Turner can be and I'm getting better every time I do it. Let me tell ya, it crushes a ton of self-doubt. Poof - just like that.[4]
So, if there's something you've dreamed of doing... do it.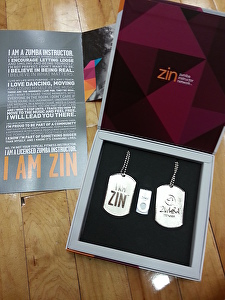 Taken the day I became a licensed Zumba instructor and ZIN member - easily one of the proudest days of my life.
Your experience with Zumba has clearly forged you into a stronger person -- or perhaps I should say, it has revealed what was already there. For example, you are very much a 'face' on the FineArtViews blog. You spearhead the FASO Featured Artists series. Can you tell readers about that series... and the goal behind it?
Simply put, the goal is to share art and FASO artists create some of the most amazing art in the world.
The FASO Featured Artists series showcases the best and most interesting artists in the hopes that the reader will love their art as much as we do. We try to showcase a wide variety of art and our only requirement is that you have a FASO website.
You prepare newsletters, work on a blog series, and so on. As you know, many artists struggle with blogging and newsletters -- often, we see questions on the FASO Forum and FineArtViews concerning how to approach blogging and newsletters in general. Do you have any blogging or newsletter suggestions that may help those artists?
Specifically speaking about the FASO blog and newsletter features, I'd say that first, you have to get over your fear of the technology behind it. The support desk is there to help you in this venture and any one of them will be excited to help you launch out into this new area of your art business.
As editor, I read/scan all FASO blogs and I see a huge spectrum of blog posts every day. Some of them are well written, grammatically correct, edited well. Some of them are full of rambly sentences and misspelled words. One is as likely to catch my attention as the other because I'm looking for a message - not your writing skills. I'm not here to grade your article like some high school English teacher. I'm reading your post because I want to know what you're trying to share with me.
Stop worrying about your writing ability. If you're particularly apprehensive of your writing skills, then simply blog your artwork. When you upload a new piece of art, we even offer that - Blog this Artwork! - simply click that and just talk about your art. A couple of sentences is better than nothing and it gets your art out there and helps you ease into being comfortable blogging.
Newsletters, on the other hand, well...they're just as important. FASO has come a long way with its newsletter feature and it's easier than ever to create and send a newsletter.
Earlier in the interview, I mentioned permission marketing and if you don't know what that is, you should read Seth's book on it. But for right now, the gist of permission marketing is that they're asking you to share your information with them (as opposed to say, the telemarketer who calls during dinner and interrupts you). Asking. For. More. Info. About. YOU!
How can you NOT share with them? It can be new art, awards, your process, things you've learned - the sky's the limit. I wouldn't get overly political or dwell on too many hot button topics, but it's your newsletter - share what you want to share.
Blogs and newsletters don't have to be miles and miles long, you don't have to do it every day (but it is important to be consistent - whatever your sending frequency), and they don't have to be full of a thousand font changes and colors.
Which brings me to another point I'd like to make, just keep it simple - let your art be the star, not your distracting background colors.
What interests do you have outside of FASO?
Obviously, I have a Zumba addiction. I go anywhere from 2 to 4 times a week and frequently attend Zumbathons on the weekends. Once I start teaching my own Zumba classes after the first of the year (2014), that number will go up.
Another thing I like to do is kettlebells. A friend of mine became a kettlebell instructor and man, friendship or no, she'll put it to you. I went in at first, not really weak but not really strong - that's all changed. She helped make me functionally strong in a relatively short amount of time.
Fitness is one of those "get out what you put in" things. And if I have to get all sweaty to get fit, I'm gonna have the most fun I can while doing it. Zumba and kettlebells fit the bill.
I also crochet and knit. I make a bunch of random things and then fob them off on my friends and co-workers, whether they want them or not. It keeps my mind working and my hands out of the potato chip bag.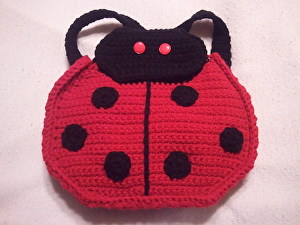 A ladybug backpack for my granddaughter, Sophie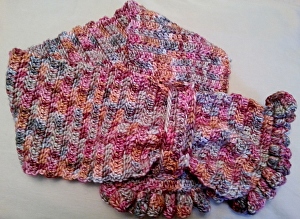 A scarf for a friend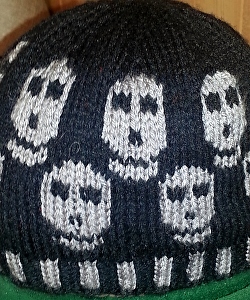 A beanie for my husband's friend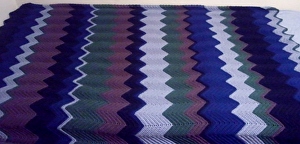 A ripple blanket for my son, Jackson
When I'm needing a break from the yarny projects, I do cross stitch. If the speed of my cross stitching were to be compared to the speed of molasses in winter, the molasses would practically be the equivalent of warp speed. But I love the finished project!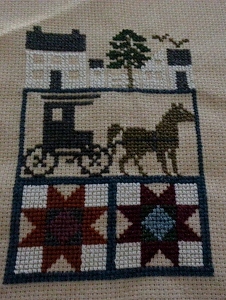 An Amish theme
I'm a voracious reader - so much so that when I sit down to read, I have to force myself to stop...one more chapter often leads to I finished this book and started a new one. I find myself equally loving "real" books and those on my Kindle.
My wife has a HUGE book collection. Needless to say, I know how addictive reading can be. What kind of books do you enjoy reading?
As for the type of books I read, it's real eclectic. I like all kinds of mysteries from regular whodunits to those OMG who comes up with this stuff serial killer mysteries, psychological thrillers and certain types of fantasy, with a little comedy thrown in. If you promise not to tell anyone, I've even been known to read a trashy romance novel when I need to destress. But that's our secret.
Hardcore readers tend to loathe television compared to the average person.... unless the show happens to have strong character development. Do you fall in that category?
I rarely watch TV as I live with 2 men who are huge fans of television shows that I can't really stand. In the efforts to keep the peace, they watch what they want and I knit or crochet or read. That way, we're still spending time together but I'm not constantly rolling my eyes into the back of my head. The only TV show that I get obsessed with is The Walking Dead. When that's on, my husband and son know that it's just best to leave me alone. :-) I also like to catch the random episode of Castle, NCIS, Duck Dynasty, and the Mentalist.
Who is your favorite character on The Walking Dead? Have you read, or do you plan to read, the comic book series?
I can't say that I have a single favorite character...except maybe Daryl! In all seriousness though, each character has been written so well that they're like real people in that they have characteristics that you love and some that you dislike. No one person is perfectly lovable and it would have been weird in this show to create someone that absolutely had no annoying or detrimental habits.
If you had rephrased the question and asked who my least favorite character was, I could have immediately said Lori or possibly Andrea. I think both of them learned from their mistakes but not until it was too late. That mirrors life a lot but in the show, they were annoying and consistently made everything worse.
I've not read the comic book series. I think I'd like to but since I've seen every TV episode multiple times, I can't really justify the purchase of the comic books. If I knew someone that had them, I might would borrow them, though.
You've mentioned an interest in psychological thrillers, fantasy novels, and named a few tv shows that are known for 'edge of your seat' scenarios, quirky humor, or have a mix of both. How does that compare to your taste in art? Do you enjoy surreal / fantasy art? Do you enjoy art that is open to psychological interpretations?
I'd say my taste in art mirrors my taste in books/TV pretty well. I range from surreal/fantasy art to hyperrealism in my personal tastes. I enjoy wondering what the artist had in mind when creating the art and I often spend a great deal of time putting my own interpretation on to the finished piece. It can become meditative on some works of art.
My all time favorite piece of art ever is Le Defi by Marina Dieul and it covers a lot of ground when appealing to my personal tastes.
I also enjoy landscapes and can appreciate a more impressionistic approach here but I'm quite picky about certain aspects of a landscape painting. Things like water, snow, architecture and light have to be dead on - otherwise, it throws the whole thing off for me.
You mentioned your husband and son... can you tell us a little about your family life?
My husband and I own a lawn and landscaping company so, of course, our yard is full of flowers. I do a lot of the deciding "where can we put this" in our flower beds and leave the dirt work and grass mowing to the boys. I will also admit that I am a fair weather gardener...in the spring, when it's all pretty, I'm totally into it. When it gets hot (I live in Oklahoma where hot means melt your face off along with ridiculous amounts of humidity), I'm over it. Luckily, my husband is practically impervious to the heat and he carries on without me until late autumn.
We bought our house last fall and when we moved in, there were no beds. Anywhere. At all. We've come a long way in a short time.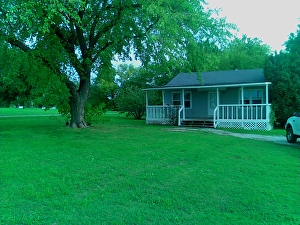 Our house - before
We've added beds in front, around the tree, along the whole fenceline, and several in the back. And that porch? In the spring and fall, I spend an inordinate amont of time out there.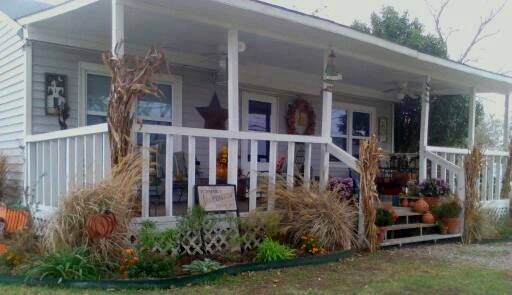 Our house about a month or so after we moved in. We've got a ton more work to do but a lifetime to get it done.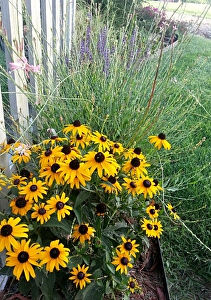 Black eyed Susans, Gaura, Speedwell along the fenceline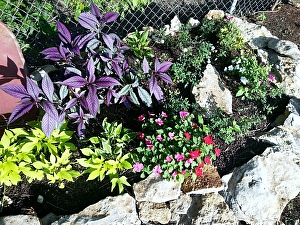 Persian Shield, miniature roses, impatiens, sweet potato vine in the back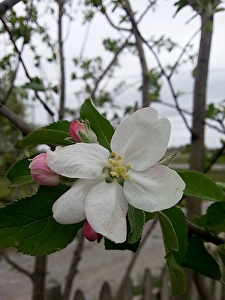 Apple blossoms from our tree along the fenceline
And of course, all my hobbies take a backseat to spending time with my family. In addition to my son, I have an older daughter that gifted me with a granddaughter about 3 ½ years ago. My son still lives at home and Joe (my son in law), Sherry, and Sophie come to visit several times a month. We basically just hang out when we're together, nothing overly exciting, but I'm never as content as when all my babies are under one roof.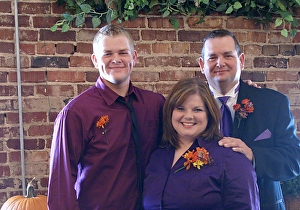 Clyde, Jackson, and me at my daughter's wedding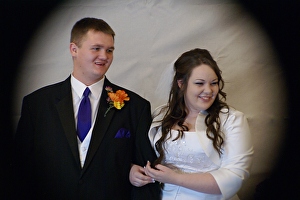 Sherry and Joe - wedding day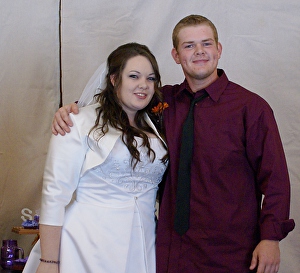 My "babies" - Sherry and Jackson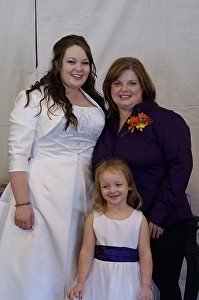 3 generations of Turner girls - Sherry, Sophie, me
Is there anything else you would like to offer about yourself?
Just this...you hear a lot of pat sayings like "xxx is a destination, enjoy the journey" or what not but, for me, I've come to realize something.
For me, there is no destination. It's ALL about the journey.
Take for example, my weight loss/get healthy journey. I could say that my destination is to be a certain weight/size. And I would focus my intention on getting there, learning all I could along the way. But I know full well that when I get there, I'll keep going. I'll want definition in my shoulders or a flatter stomach or I'll want to be able to lift more. Which means the journey keeps on. That certain spot on the scale wasn't the destination, it was just a pause in my journey. A rest stop along the way.
It should be the same with your art. You could say that your destination is about painting a certain number of paintings or making a certain amount of money but it's not true. That's just a checkmark of things accomplished. You won't stop (or shouldn't) when you get "there", you'll keep on going and your art will get better and better.
A destination is where you stop - and I hope you never stop making amazing art.
Carrie, it was great to learn more about you. I'm sure readers will enjoy learning more about you, as well. It often seems that information about staff members is secretive in this business. It is great that FASO takes time to put names and faces behind the service we all help to provide. I think we can all discover common ground with this informative series.
Footnotes:
[1] Seth Godin wrote a book called Permission Marketing : Turning Strangers Into Friends And Friends Into Customers. It's a great book that helps you market in such a way that your customers will not only understand your message but they'll ask for it.
[2] The video is by Elliott Hulse. He's a weird blend of strength coach, muscle builder and philosopher but he's extremely insightful and more often than not, his message resonates. Be warned, some of his videos are not necessarily safe for work or young ears. Also, don't be thrown off by some of his video titles - all is not what it seems with Elliott. You can view the video I'm talking about here.
[3] Previously, I'd never had hives in my life. However, it took me almost two weeks to get rid of those hives and that was with me taking a daily regimen of anti-histamines and an acid/indigestion reliever. One of the hives was almost the size of a saucer and you can still see a faint imprint of it as of this writing (4 months time difference). Apparently, I was way more stressed than I thought!
[4] I finally did "mess up" on a dance that I was leading in front of a crowd. Guess what happened... that's right. Nothing. I didn't burst into flames (or tears), the crowd didn't walk away in disgust, and I wasn't less of a person for making a mistake. I just laughed it off and picked it right up again. We're all human. Cut yourself some slack.
Photo credits:
Carrie Turner
Clyde Turner
Scott Gantz