In continuation of our series, Getting to Know FASO's Awesome Support Team, we're talking to Jen Piche.
FASO's support team is made up (mostly) of artists who work out of their homes on an independent contract basis, many of them also FASO customers. This works out great as it allows our awesome independent agents the flexibility to pursue their own art career, pursue other opportunities, and supplement their income, while also connecting with other artists via their contract with FASO. If you'd like to learn more about this, you can read more details here.
Tell us how you got started at FASO:
It was a dark and stormy night in 2009 and I had quit my 21-year stint as a photographer. I was chatting with my long-time friend, Padgett McFeely, who had taught me to hand-paint photographs with oils back in 1990. After 21 years of being a professional photographer, I was burnt out on the business end of it. Padgett was working for FASO and they needed help – this was the perfect antidote! (And now I get to work with Padgett. I'm a lucky gal.)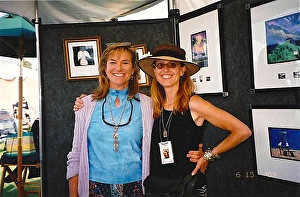 Jen and Padgett in LaJolla 2003
Padgett is a pretty great gal. What are some of the things you've seen change the most since you started with FASO? Did you foretell the future with some things? What were you most surprised by? Any predictions for future developments?
What hasn't changed since I started with FASO?
Well, what has not changed is the encouragement for us to go above and beyond in our customer support. Social media additions are constantly in flux, as well as our notes and the FAQs, as the developers work their magic and keep up with the times. There's always something afoot. I didn't predict any of it and can't say I'd dare predict the future, either. I just go with the flow and leave that techie stuff to the whiz kids like Clint.
Any hilarious work related anecdotes you care to share?
One day, I had someone call to ask me what was wrong with her printer. I don't normally don't do tech support that isn't directly FASO-related, so I really wasn't in a position to help. Funny thing is, I'd just had trouble with my own printer so I was able to troubleshoot it for her just from my experience.
Another caller asked me "are you IN here right now?" I know she thought perhaps we were screen-sharing (which we don't do and I could never do without her knowing), but it still struck me as funny. Like maybe she thought I was there with her, shrunken tiny and inside her computer at that moment. (Only the highest-level techs can do that!) ;~D
Many FASO clients are retired and didn't grow up with computers as kids do now. I can sure empathize. It's just that the clients' terminology can be so dang cute!
What's the most valuable piece of advice you would give FASO members?
I'm not much on advice, but if you insist… I often tell new FASO clients to be patient with themselves when learning to build their site. Check out our FAQs, concentrate on one thing at a time, and if you start to get overwhelmed or bang your head against the wall, stop and ask directions! (In other words, send in a support ticket.)
Any NOT FASO related advice you want to give? I'm thinking with all your worlds of experience and the person I know you to be, you have a lot to share...
Gosh, thanks Carrie! It seems the older I get, the more I realize how little I know.
I really liked what Shawn Achor said in his Ted Talk about some keys to becoming more positive ...
Every day:
* Exercise
* Do nothing for ½ hour (wait, that was another Ted Talk)
* Write down 3 new things you're grateful for plus 1 positive experience, and
* Do something nice for someone.
Oh wait, I DO have some advice: Be very nice to your FASO Artist Agents ;~D
That's great advice, especially that last one! So, when you're not helping artists make the most of their FASO site, how do you spend your free time?
Fitness - I go to Zumba, cardio, weights, step and spin classes at the gym - usually 4-6 hours a week. My hubby, Lee, is a triathlete, so I've got to try to keep up. I like cycling outdoors, too, but the traffic scares me.
FreeDiving (snorkeling deeply) - I'm only talking about relaxed, safe, snorkeling, down maybe 20-30 feet, nothing fancy. I've gone maybe 40-50 ft. but I usually stay further up because it's just for fun, not to prove anything. It feels like I'm "home" when I'm down there in that warm water.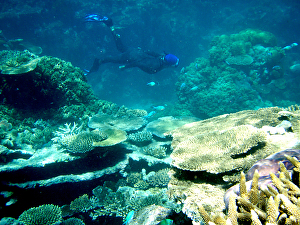 Great Barrier Reef
One of the best spots I've gone is the Cayman Islands. I've also done some freediving in Hawaii, the Yucatan, Fiji, Tobago, Baja... anywhere with warm clear water and critters. My friend Laurie made this 1.5 minute video of me in Fiji.
Kayaking - Hawaii, Mexico, a bit in California. We just tried Stand Up Paddling in Carlsbad Lagoon - fun!
Family - My best times are hanging with my husband, Lee, my teenaged son, Matthew, and our dog Tia. I also love to play with Lee's grandkids.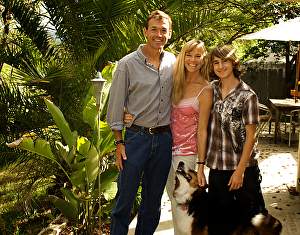 Jen, with Lee, Matthew, and Tia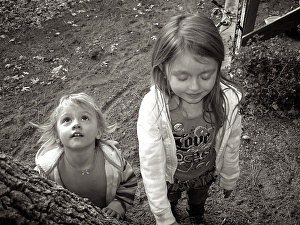 Jasmine and Kylie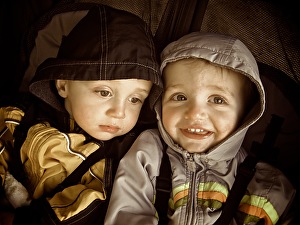 Johnny and Evin
I definitely love to spend time in the tropics - Especially Rarotonga, Aitutaki, Fiji, Cayman Brac, and Kona.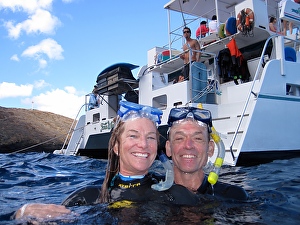 Maui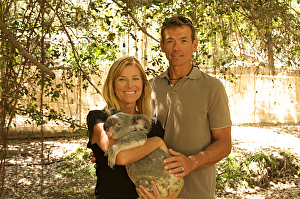 Australia
Music, including the Blues, swing, old 40's music - Eric Clapton, Dido, Ladysmith Black Mambazo, Stevie Ray Vaughn, Norah Jones, Paula Fuga, Hillbilly Moon Explosion, Pink Martini, Adele, Dire Straits, k.d. lang, Bonnie Raitt, Stevie Wonder, Big Bad Voodoo Daddy, Aretha, Ray Charles, Chet Atkins, Squirrel Nut Zippers, Jason Mraz, Big Mama Thornton, Devil Doll, Fats Waller, Koop, Denny Earnest, Leon Redbone...
Photography - Now that I'm retired from photography, I like taking photos of the birds on the pond we live on, like egrets and great blue herons, as well as the hawks. Also, photos of our grandkids. I still love travel photography, too. Back in the day, my favorite was the destination weddings - shot a beautiful wedding on Kauai and another on a little surf island in Fiji. That was way cool.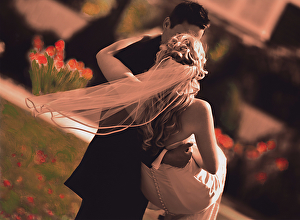 Organics - We buy mostly organic food and are into Dr. Andrew Weil's anti-inflammatory diet. We do some splurging too, like eating out or ice cream.
I'm guessing that with your concern for organics that you're a big fan of protecting the environment, too.
Yes, I'm interested in news about nature and how it's going. Icecaps melting, species being snuffed out, elephants being killed for the Chinese to buy ivory, that sort of thing. I think we need to take care of the oceans, soil, air, animals... I think it's all connected and as my friend says "everything affects everything." (Jay Asher quote.) If we stop using pesticides and other toxic stuff, I believe there'll be less cancer, plus a better planet overall, for everyone. Simple.
Reading - I just read David Sedaris' Let's Explore Diabetes with Owls - love him! Also loved Let's Pretend this Never Happened by Jenny Lawson.
Movies - Favorite all-time movie is the old cult classic, Harold and Maude. I first saw it when I was 13 and I fell in love with Maude. So irreverent, so off-beat, yet loving and full of life. My favorite quote is from Maude: "Harold, everyone has the right to make an ass out of themselves. You just can't let the world judge you too much."
Also, Waiting for Guffman and Naked Gun. Oh, and the old Tarzan movies with Johnny Weissmuller. Cheetah (the chimp) always steals the show! Lee and I like to impersonate Cheetah and even did so after our South Pacific wedding.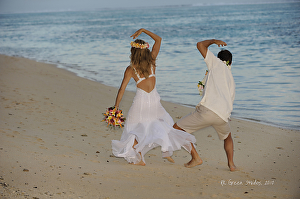 Jen and Lee - Cheetah style
Speaking Spanish - I took Spanish for a few years in college, mostly because I just loved it. It's fun being able to talk to the locals when I travel in Mexico or when I meet Spanish-speaking people. I've lost most of it by now, though.
When my parents' former caregiver and I talk, it's a ridiculous 'Spanglish' - it's pretty funny.
Friends - My bff, Joanna, and I have known one another since we were 2. She lives in our home town of Topanga Canyon (2 hours from me), and we see each other every month or 2. She's more like a sister than a friend - or perhaps an appendage I can't imagine living without. (Okay, sorry, that just made a freaky visual.)
My other closest friends are 3 women who live nearby and we get together monthly for a venting and laughter fest. We call ourselves the VBs for reasons you'll just have to guess.
Then, there's the "U.N." - 4 women of varying descents, including, African American, Filipina/Chinese, Mexican and me (Swiss/Hungarian descent). We range in age from mid-20's to high-50's, so it's extra cool that we're so compatible (at least, we think so). We Zumba together.
I also stay in touch with a lot of friends who go back 30+ years in my life. They say this all helps women to live longer, so at this rate, I'll live to 127!
Polka - I was photographing a wedding at a nearby winery years ago and noticed that one can NOT dance polka without having a good time! It is SO much fun! So we started doing a rather loose, highly-inaccurate polka at my girl parties (this was during my single days about 7 years ago) and had a blast.
Wine - My latest is Trader Joe's Green Fin Chardonnay - it's cheap, drinkable, and organic. I loved their Sugar Pie red, but it seems as soon as Lee and I fall in love with something at Trader Joe's, they discontinue it. It's a conspiracy for sure.
You're so funny! I know you have a great affinity for animals, always living with, swimming with, or otherwise interacting with them...tell us about that.
Glad you asked! I've swum with, lived with, held or ridden the following: Owls, whale sharks, tree squirrels, humpback whales, dolphins, reef sharks, water buffalo, a koala (who is not a bear), snakes, sea turtles, dogs, cats (accidentally lived with: 2 possums briefly), 1 rat, hamsters, guinea pigs, burro, pony, horse, Cape Spinytail Iguana, Bahamian iguana, bat, camels, baby orangutan. And more, of course.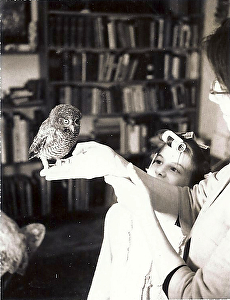 Chop Chop, Jen, and her mother, Marie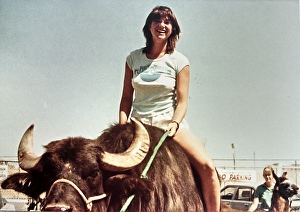 Jen on a buffalo circa 1982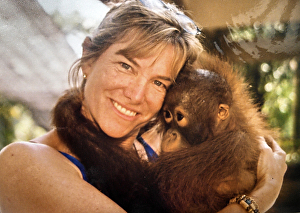 Jen and a new friend in Malaysia
In the early 80's, I worked for a communication project with 2 dolphins, Joe and Rosie, for the late eccentric scientist Dr. John Lilly. The photograph "Joe and Tom" was from those days. Years later, I hand-painted it in a class taught by Padgett McFeely and it won Best of Show at the Del Mar Fair. I was thrilled!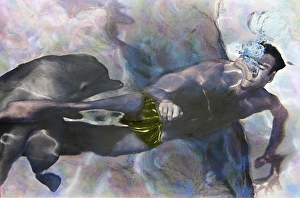 Joe and Tom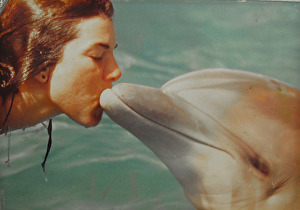 Jen and Rosie sharing a smooch
With all the traveling you've done, you sure have a handle on the exotic destinations. Describe your favorite vacation destination.
My name is Jen and I'm addicted to Fiji. Fijians are the friendliest, happiest people I've met, hands-down. The warm clear ocean, the soft air, their singing – it's simply enchanting. A few favorite spots: Matamanoa Island and the town of Savusavu. The Cook Islands are great as well – Lee & I got married on Rarotonga in 2010. It's like Hawaii 50 years ago – no high-rises, no chains or big shopping centers. Just powder-soft beaches, swaying palms and thatched roof bungalows.
Other favorites: Kona, Sabah on Borneo, the waters of the Caribbean and Holbox ("hole-bosh"), which is a sleepy little island off the northern tip of the Yucatan… I'd better stop. I'm starting to swoon.
Jen and Lee's wedding in Rarotonga
Our plan is to move to the Big Island of Hawaii in 2015, after my son graduates high school. I have always wanted to try living in the tropics and with my parents now gone, I have more freedom. Lee has lived on the Big Island and built a home there, so he's got a leg up. That is one of the things that drew us together - a common dream and we both love the ocean and the tropics. I can even keep working for FASO and be the first to take that time zone!
Well, Jen, thank you for spending time with us today! I think I can speak for most of us and say that now we all wish we had a tropical vacation in our near future!
Photo credits
Rosie Kiss: Inika Sati Spence
Wedding Photos: RKGreenStudios.com
childhood photos: Jerry Yankee (my dad)
Grandkids: Jen Piche
Great Barrier Reef: Lee Piche
Jen w/orangutan: Alice Gerschler
Buffalo: Tom Fitz