In part 4 of our Social Media Button URL series, we're explaining how to find and add your Google + URL to your FASO control panel. We covered Facebook, Twitter, and Pinterest, previously.
Adding your URLs using the FASO social media button feature enables you to have consistently sized social media buttons that complement the colors of your website.
An example of how it looks on my test site
Google + follows a format similar to Facebook in that you have a newsfeed page (home) and a profile page. The newsfeed page contains information about the people you follow and the profile page is strictly all about you.
To get started, login to your Google + account. You should automatically land on your Home page. This page has a generic URL, not your specific URL. To get to your profile page, hover over the Home button (do not click).

By hovering, you'll see a slide out of new options appear. Click the link that says Profile.

Now, you're on your profile page. The URL in the address bar should have changed from a generic URL to something more specific. Something to note, though, is that unlike Facebook and Twitter that have usernames in your URL (vanity URLs), Google has a lot of numbers instead. As you can see, my Google + URL is https://plus.google.com/112576566510739415565/posts. I've read where G+ will eventually allow personalized or vanity URLs but as of yet, they have only allowed a few verified accounts to do so as far as I can tell.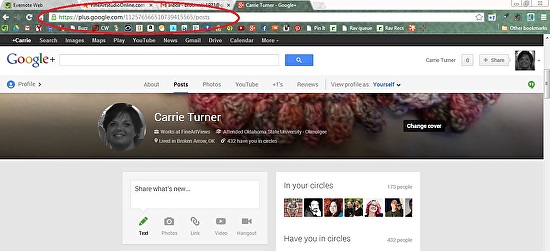 At any rate, the long URL will still work for adding a G+ social media button to your FASO website. Copy your URL and login to your FASO control panel...
After you've logged into your control panel, click the Social button in the upper navigation bar.

Next, paste your Google +URL into the corresponding space and save changes.

That's it! You've added a Google + icon to your FASO website. Now you can turn off the computer and go do something fun and hopefully, art related.
Have an awesome week!