This is our third installment in the Getting to Know FASO's Awesome Support Team series and today, we're speaking with Doug Okulewicz.
FASO's support team is made up (mostly) of artists who work out of their homes on a independent contract basis, many of them also FASO customers. This works out great as it allows our awesome independent agents the flexibility to pursue their own art career, pursue other opportunities, supplement their income, while also connecting with other artists via their contract with FASO. If you'd like to learn more about this, you can read more details here.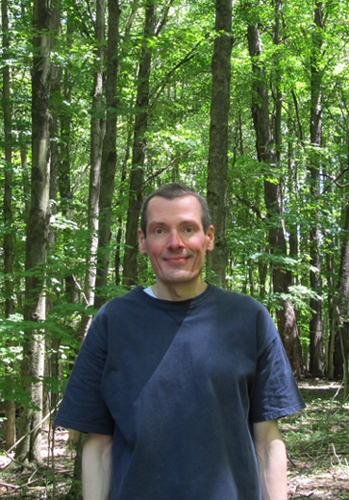 Let's start with how you came to FASO as an Independent Artist Support Agent...
I found FineArtStudioOnline in September of 2006 when I was looking for a website for my art (I'm an oil painter). I saw an ad in Artist magazine, and on the website I found a job listing that sounded interesting. I wrote to Clint and told him I was looking to transition from full-time work to part-time, in order to continue my artist career. I was working as a systems analyst (Information Technology) and had a background in computers.
Clint gave me an idea of the type of contract work he needed and we chatted a few times. The first work I did for Clint was promoting FASO at the local art shows the following summer. It was an interesting experience. Many artists I talked with seemed to be interested in a website but the follow through was disappointing especially since that work was commission based. In September of 2007 Clint offered me a contract customer support position and I've been doing that work since then.
What are some of the things you've seen change the most since you started with FASO? Did you foretell the future with some things? Any predictions for future developments?
The biggest change I've seen is the use of mobile devices.
As to foretelling the future, from my first look at FASO in 2006, I expected Clint and FASO to succeed and to grow rapidly. A website is the perfect fit for an artist, as one of the artist's main needs is to be visible. As I assessed the competitors in those days I thought FASO was the best, and I told Clint that when we were discussing work possibilities. That hasn't changed.
Regarding the future, I expect continued rapid changes in the technology, as well as more artists coming to the realization that having a website is necessary for their careers and success. I also expect continued growth for FASO, knowing that it's built on a solid foundation that's only getting better, as well as the emphasis we have on supporting our artists.
Any hilarious work related anecdotes you care to share?
No hilarious stories, but I must say that one personal benefit of working with Clint and FASO is seeing how many gifted and accomplished artists are out there. It's inspiring and intimidating at the same time. I enjoy seeing so much beautiful artwork as I work each week, and am often inspired by both the artwork as well as the text on the artist sites.
Any favorites you care to mention? or a particular style of art that you seem to like more?
Wow, now I'm on the spot. Like I said, I see outstanding work by many, many gifted artists, and definitely favor landscapes. I especially enjoy and appreciate the work of painters Kathleen Dunphy and Dennis Farris, and photographers Albert D Horner and James McGrew.
What's the most valuable piece of advice you would give FASO members?
I have 2 thoughts I'd like to share.
I believe every person has been given a gift from God, and for the artist that includes being given eyes to see and a creative nature.
If you've received that gift and you know that making your art is what you're made to do, be a good steward of that gift and never stop making your art.
You have hopes. You have dreams. You have goals.
Keep hoping! Keep dreaming! Keep setting and reaching goals!
Because with GOD all things are possible.
-----------------------------
My second piece of advice is technical, and it's about time.
Time. It flies, it's of the essence, and it waits for no man (or woman).
One way to make the most of your time when working on your FASO website is by using tabs in your browser. Did you know you can be in your Control Panel and viewing your site at the same time by using multiple tabs?
If you're not familiar with using tabs, try this - when in your FASO Control Panel, click the "Preview" icon (2nd from the left on the row of icons at the top). This will open your website in a new tab. To get back to your Control Panel so you can make changes to your site, click the tab above the browser address bar (to the left of the open tab).
The point is, you don't need to log out of your Control Panel to view your site - by using tabs you can stay in your Control Panel AND see your site simply by clicking the tab of your choice. From anywhere on the Internet, instead of clicking on a link you can right click on it instead and select 'Open Link in New Tab'. Using tabs will make you more efficient when online.
And that's part of what makes you such an awesome artist support agent...Always full of helpful ideas for our artists. So when you're not helping artists, what interests you?
I'm blessed that my home is in a beautiful wooded setting that's a 5 minute walk from a county park. I enjoy getting out there - in the winter I cross country ski and the rest of the year I run. I enjoy the exercise as well as the beauty of God's creation. The turning of the seasons is especially beautiful and glorious, and I always take my camera.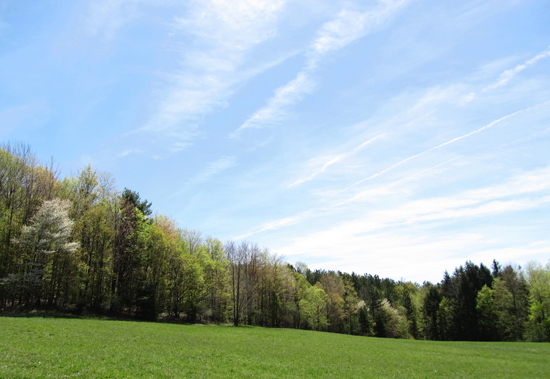 Living where you do, I bet you see some amazing wildlife, too. Please tell us about some of the more interesting critters you've come across.
It can be an adventure looking out the window. My monitor is in the back corner of the house facing four large windows and the woods. While working with FASO, I've seen a red fox cut within 5 feet of the house, a piebald deer (part albino), and had a hawk fly into a window and knock itself out. It landed on my side deck and I was able to stroke its head before it recovered and flew off.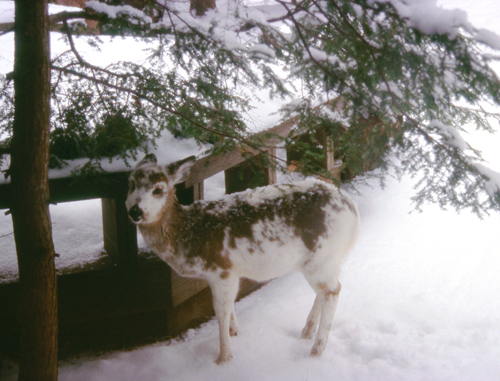 I have a hummingbird feeder, and this smart little lightweight lets me know if his feeder is empty! He knows where I work, and will zip to the back of the house and hover in the window to let me know I better get with the program and get him some juice!
Then there were the two home invasions - a bat and a red squirrel made it in through the chimney. At least the bat made it out alive.
But without question, the biggest surprise was this - night had just fallen on a Saturday in May, and something on my front deck tripped the motion sensor. I expected to see a raccoon, but when I got to the kitchen window, there was a bear! It looked right at me, less than 10 feet from my front door. We don't often see bears, and it was exciting to see such a magnificent creature.
I also enjoy cooking. Well, not so much the cooking per se but what results from it. I'm not a gourmet or chef, but I enjoy enhancing basic meals with simple ingredients to make them special. Cooking is like painting in a way - to make a good meal, you have know the basics, follow the recipe, use complementary ingredients, and be creative. It's similar to mixing your paint to get the right color and value.
Favorite type of food to cook? (i.e. Italian, Mexican, Homestyle, etc)
Yes, yes, yes, and Chinese (like most of us, I like variety). One of my favorites is linguini with parmesan, artichokes, kalamata and black olives, covered with a simple sauce of parmesan and whole milk.
Lastly, everybody collects something. One of the things I collect is landscape images, and I have an ongoing project to share this treasure of beauty. As my painting buddy Paul Hanover says about his latest painting, "it's coming along but it's got a ways to go!" The problem is my collection keeps getting bigger! The harvest of the beauty and the glory just goes on and on...
Describe the perfect day in Doug's life.
We live with more comforts than the kings of history. I count my many blessings from God each day, but of course some days are better than others.
A great day would include a special outing into the midst of the Lord's creation. I travelled a bit in the past, my favorite places are Yosemite and the Adirondack Park. And while the majesty and grandeur of these and other such places is incomparable, I still find inspiration and beauty close to home.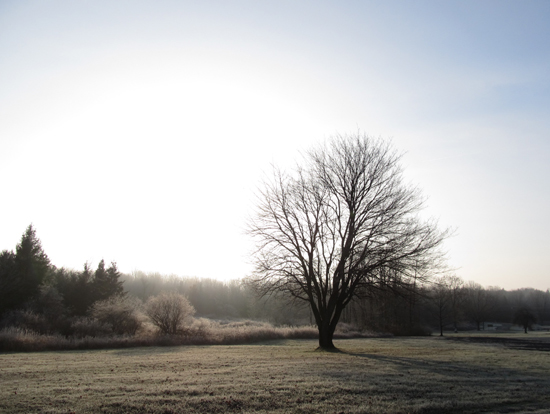 As painters and photographers know, it's all about the light. Some of you are chasing the light. Others wait for the magic hour. I've experienced what I call "the thrill of the soul" in my travels, but I also experience it close to home. You don't get it from a screen, you have to be out there in it. Sometimes on my outings to the park I see special light and stunning beauty that inspires me for days. So a great day would include the inspirational "thrill of the soul".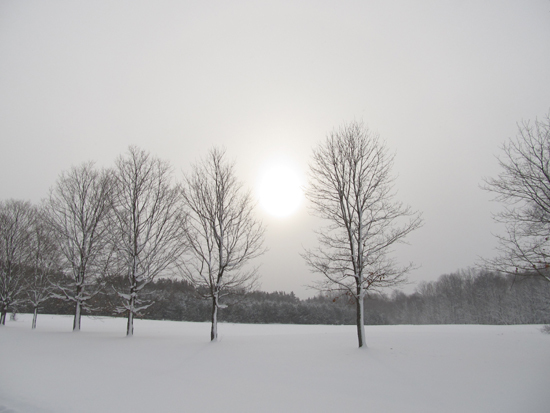 For the afternoon, some quality time at my easel. As one FASO artist wrote, "Artists don't create they recreate". And as Kareena says so well on her bio page, "I just want to paint!"
For the evening, a good dinner at home and then time with the Word.
Doug, I so appreciate you spending time with us today and sharing a peek into your awesome world.
If you'd like to learn more about Doug or view his art, please visit his website.