In our second installment of the Social Media Button URLs series, we're covering how to add your Twitter URL to your social media profile in your FASO control panel.
The social media buttons are a popular feature and users are pleased with the uniform look of the icons, as well as, how well they coordinate with the colors of each person's site. Here's an example of what they look like:

Adding the Twitter URL is not dissimilar to adding the Facebook URL so this will be a quick process - getting you back to the studio quickly. :-)
First, login to your Twitter account. The page it automatically routes you to should be a newsfeed type of page. You should be seeing tweets from the people you follow. If you're not seeing that, then click the icon at the top that says Home.
This newsfeed page will have a regular Twitter URL. This isn't the one you're looking for.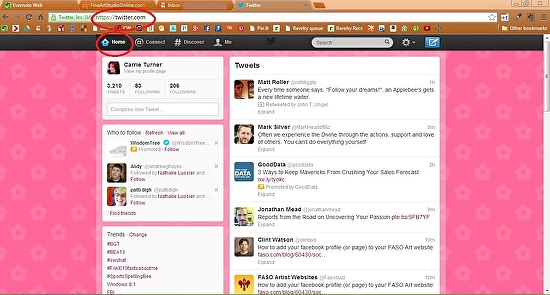 To get to the URL necessary for the social media buttons, click the icon at the top that says Me. You should be taken to a page that is specifically about you. It will have your avatar, your bio, and your tweets. Take a look at the URL in the address bar...this is your URL. For example, mine is http://twitter.com/faveditor.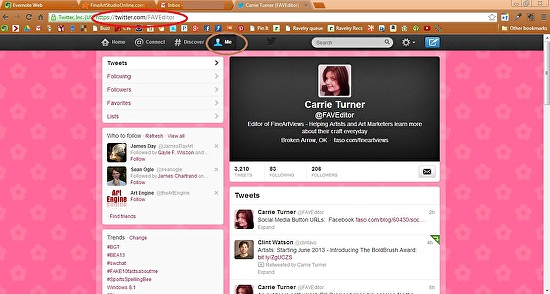 Now that you have your Twitter URL, here's how to add that to your FASO control panel:
After you've logged into your control panel, click the Social button in the upper navigation bar.

Next, paste your Twitter URL into the corresponding space and save changes.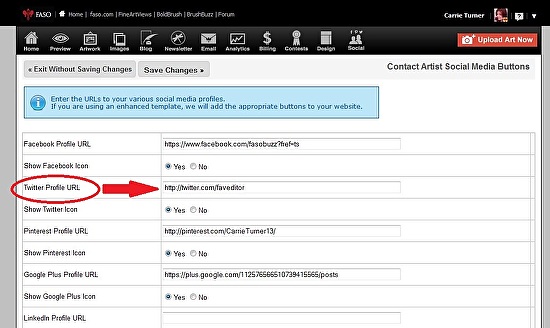 Voila! You just added a Twitter button to your website.
Connecting with your collectors via social media is a route that more and more artists are taking. We wanted to make sure that it was as easy and simple as possible for you to add this option to your website because while many things in an artist's life are hard, adding a social media button shouldn't be.
Next time, we'll cover adding your Pinterest URL. Have an amazing, creative week.