When we released our new social media profile buttons, we received rave reviews. FASO members were adding them to their sites and exploring the new ways this could be incorporated into their marketing program.
If you didn't get the opportunity to read that post, we added an option to your FASO control panel that would allow you to add icons for the more popular social media platforms to your website. They're uniform in look and are easily visible so that viewers to your site can more readily connect with you via social media.

You can add buttons for Facebook, Twitter, Pinterest, Google+, LinkedIn, Instagram and Daily Paint Works.
A few of you, however, were having a bit of difficulty finding the right URLs to use for each social media platform, so we're starting a short series showing you where to find the correct URL so that you can add it, admire it, and get back to creating awesome art!
First, we'll start off with the ever popular Facebook. While Facebook is prone to changing things, some things do stay pretty constant. Each profile (that's you) has what's called a timeline page and a newsfeed page.
Regardless of whether you have a personal Facebook page or a fan page, all this should still work out the same.
The key to doing this correctly is to make sure you're adding your timeline page URL to the social media buttons, not your newsfeed URL. Still not sure of the difference? Luckily, I've included some screen shots - you should be able to look at your page and see something pretty similar.
Here's a view of the newsfeed. This is the page that automatically displays when you log into Facebook. You can see that this page isn't about me, at all - it's about what my friends are doing. See where the URL just says http://www.facebook.com? That's NOT the URL you want.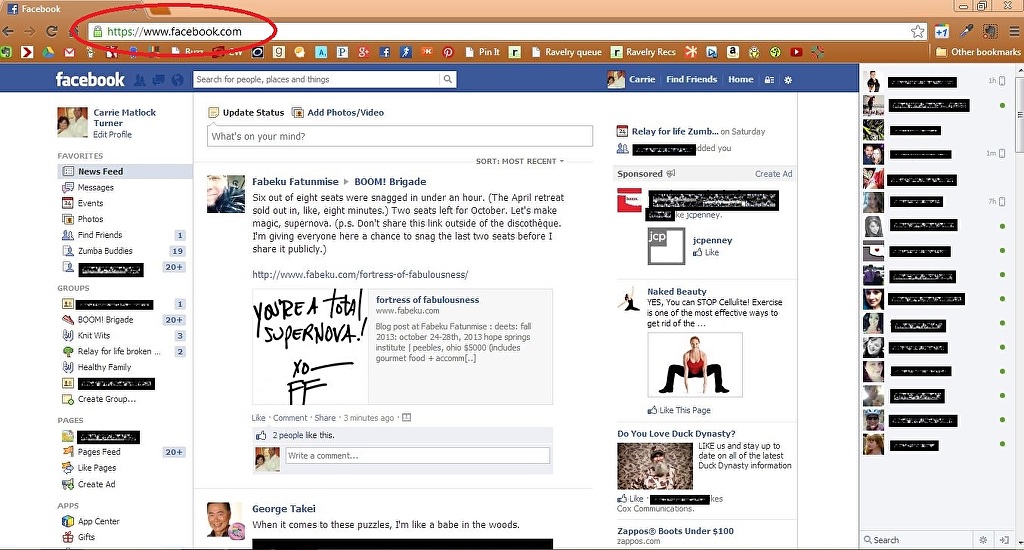 To get to your timeline page, look in the upper right of your screen. There, you'll see your picture, your name, Find Friends, and Home. Click on your name (see the red arrow in the screenshot).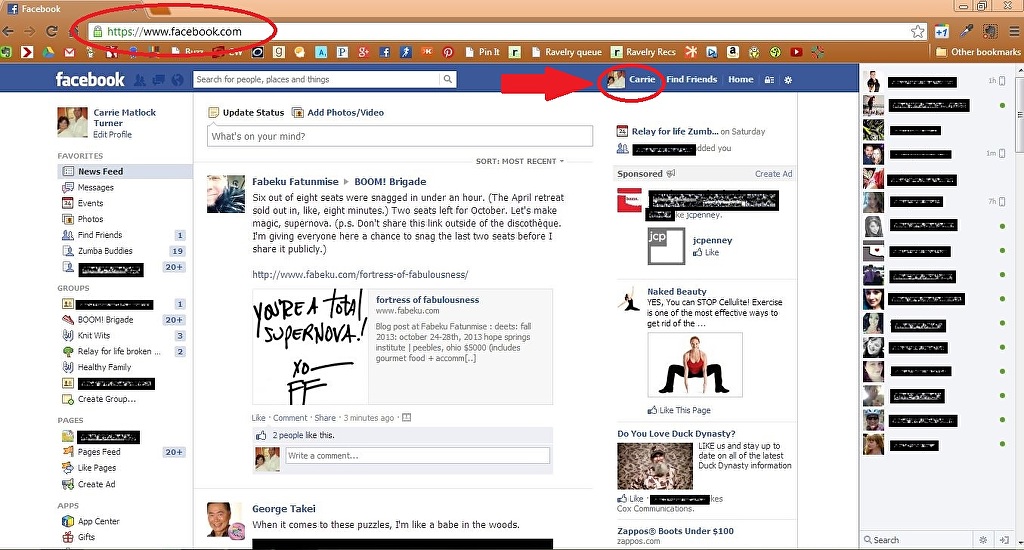 This next screen is what you're looking for... See how this page is all about me? And take a look at the URL when you're on your timeline page. It should say something like http://facebook.com/yourpersonalfacebookname. You guessed it - this IS the URL to add to the social media option in your FASO control panel.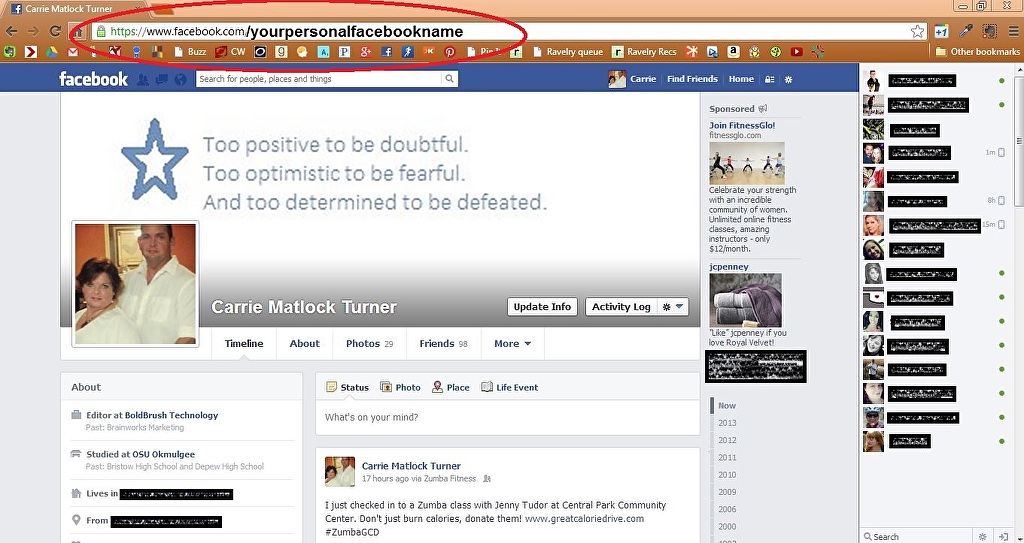 I would like to point out that each browser (Chrome, Firefox, and IE) displays a little differently so don't be alarmed if yours doesn't look exactly like my screen shot. You're just using my images as a reference to locate the URL on your page. If all else fails, just scan the top part of your screen until you see something that starts with http: and you'll have located what you're looking for. Just make sure it says your name and not http://facebook.com.
As a reminder, here's how you add the Facebook URL to your control panel:
After you've logged into your control panel, click the Social button in the upper navigation bar.

Next, paste your Facebook URL into the corresponding space and save changes.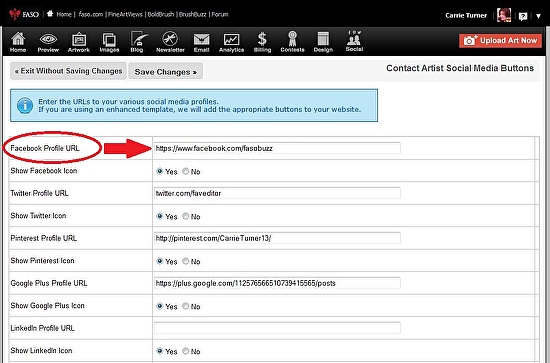 That's it - you've added your Facebook URL to your control panel and the next time you visit your website, you'll see a Facebook icon on your home page. If you have your website pulled up while you're completing this process, you may need to hit refresh to see the new icon appear.
The next time we talk about social media URLs, we'll cover Twitter. Until then, we hope you're enjoying your time in the studio.