This is our second installment in the Getting to Know FASO's Awesome Support Team series and today, we're speaking with the lovely Padgett McFeely.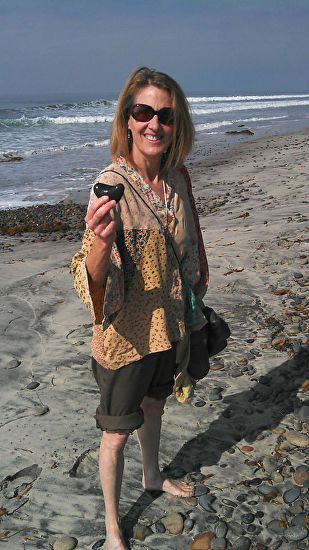 So, let's start with how you got your start at FASO...
I got my 1st phone answering machine in 1981 (...wow, I am so dating myself!) and it was a big leap in the world of technology for me. I remember that so well! And then there's also the artist friend of mine (who now works for FASO, too) that remembers me saying I would not ever have a website - look at me now. I may have come kickin' and screamin' into the digital age but I sure adapted to it well!
Having come from participating in art festivals, I was working part time for an online gallery but the gallery was struggling. At about the same time, I was assisting a friend with setting up her artist website using a (different) template based service. The other service was challenging to use and I thought, "There must be something better out there."
I subscribe to Alyson Stanfield's newsletter (having taken one of her seminars) and was reading one of her newsletters. There was a link to FineArtStudioOnline artist websites. I clicked over and was immediately impressed as I explored the website. I ended up on the "Want to work for us" page and sent in my resume. Clint Watson emailed 4 days later and within a month, he made me an offer to go full time that I could not refuse.
I like to tell people that I really ended up with this job because I had been reciting a mantra for 6 weeks - "I now have the perfect job."
The power of positive thinking is so important...and we're so glad that your manifesting skills landed you here with us! What are some of the things you've seen change the most since you started with FASO?
The world of technology and the internet changes so quickly and so radically it is hard for us 'lay people' to fathom. I am constantly impressed that Clint is able to keep up with it all. I started out simply helping artists use our online software. At the time, we were a support team of 2 and I've seen us steadily grow to a support team of 8. We're also now helping artists with their marketing: blogs, email newsletters, SEO, analytics, social media, mobile devices - you name it, the artists are needing and wanting to know more about it.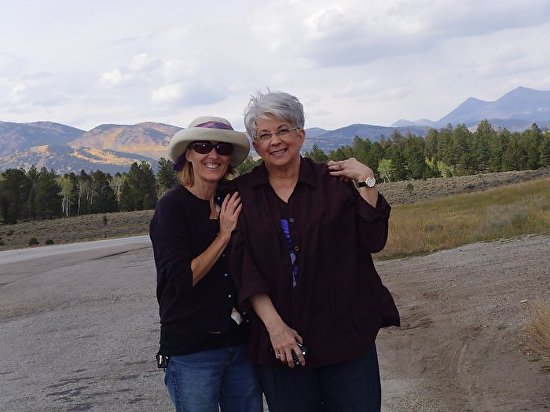 Padgett [left] and FASO team member, Marsha Robinett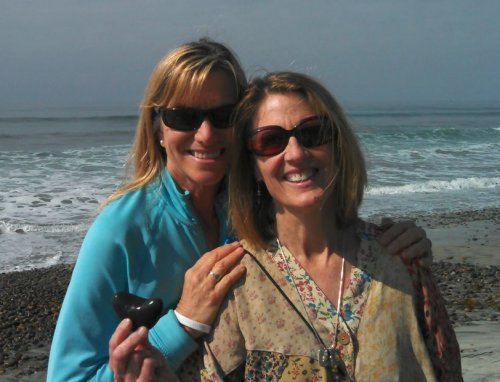 Padgett [right] and FASO team member, Jen Piche
What types of technology are you surprised that artists "take to" more readily?
I am impressed that so many artists, both young and those of us that are more 'seasoned', are taking to using mobile devices, especially tablets. One gal recently remarked on how helpful her tablet is when participating in the portrait drawing session. She will photograph the model and can easily finish her painting in the studio after the model has left. She can enlarge the eyes, for example, to get the details just right. These mobile devices are also really super for the plein air painters that want to take a photo of their artwork as they complete it and bingo, the new painting is up on their website before they have left the scene.
Any special work-related wisdom you care to share?
I like to tell people: Even though there is a great deal of info, you should treat it like a course/class you are taking that has lots of great info to learn. You work with it and learn it as time permits. :-) I look at what we are all doing within the realm of the digital age and think it is a like whole new language... and we can't expect to speak fluent Japanese in a week or two.
Kind of like eating the elephant - one bite at a time. Excellent advice! So you're saying that while it's important to get the information you need, it's also as important to not let yourself be overwhelmed by that same information?
Absolutely!
I know you greatly enjoyed teaching high school photography in New Mexico - do you find any similarities between teaching then and what you do for artists via FASO support?
Everyday. One valuable lesson I learned as a teacher is that everyone learns differently. In this business, if the artist does not understand the terms I am using, I try to come up with a different way of saying the same thing. I love that moment when the student 'gets it' - grasps the concept or the technique - and is doing it themselves. That 'ah ha' moment is priceless and it gives me a great sense of joy and accomplishment to have been a part of that moment. I love feeling proud of my students.
With that in mind, what's the most valuable piece of advice you would give FASO members?
If you want to make a successful career as an artist, you need to market yourself.
Be Kind. It can make someone's day, most likely your own!
One of my favorite quotes that continues to inspire me as an artist is:
There is a vitality, a life force, an energy, a quickening that is translated through you into action, and because there is only one of you in all time, this expression is unique. And if you block it, it will never exist through any other medium and it will be lost. The world will not have it. It is not your business to determine how good it is or how valuable nor how it compares with other expressions. It is your business to keep it yours clearly and directly, to keep the channel open.




~Martha Graham
That IS inspiring! What other types of things inspire you outside of FASO?
Reading novels, film (Turner Classic Movies), the great outdoors (walking, hiking, bike riding), CATS ( I love ALL animals).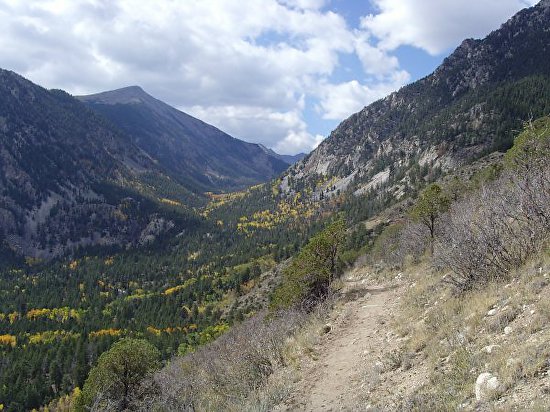 One of Padgett's breathtaking hiking destinations.
Care to share any favorite authors or books?
Kate Morton's English Gothic ghost stories, historical fictions like Daphne Kalotay's Russian Winter and Richard Bausch's, Hello to the Cannibals, Daniel Hecht's City of Masks, Tiffany Baker, Ann Patchett, too many to name.
And what type of films pique your interest?
All time favorites are African Queen, Witness for the Prosecution, Casablanca (of course!), To Kill a Mockingbird
What do you think makes a book or film great?
This question is constantly debated by film critics and the like. It cannot be answered by me in this context. I would love to discuss this question with Robert Osborne of Turner Classic Movies. All I can say for now is that it varies depending upon where I am in my personal journey. When I was younger, I appreciated films filled with angst, like Jacobs Ladder. Now, I want comedies and more light-hearted pieces. I am now enjoying wonderful animated films like Monsters, Inc, Shrek, Up, and Paranorman.
We've spoken often of the joy you find in the great outdoors. Where are some of your favorite places?
Some of my most favorite places are where I can see nature - like in Monte Vista, CO during the sandhill crane migration - wow. On a daily basis, once I have completed my tasks for the day, I can walk out of my house and, in less than a block, I am walking along the Arkansas river . I can meander behind the softball fields and down to the lake without having to be on pavement or roads. When I lived in Southern California, I was able to do the same thing - the beach was a block from my house. So water is great - I like walking by water perhaps because there are so many birds to watch...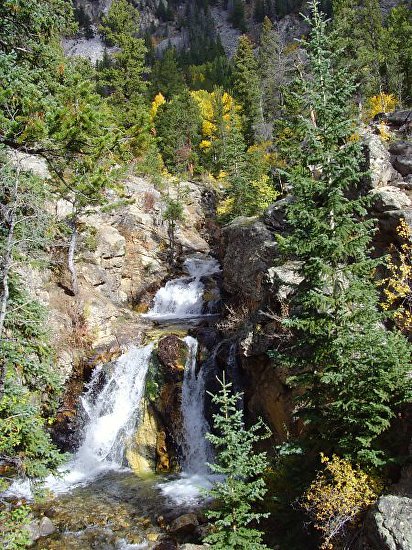 Waterfall - near Salida, CO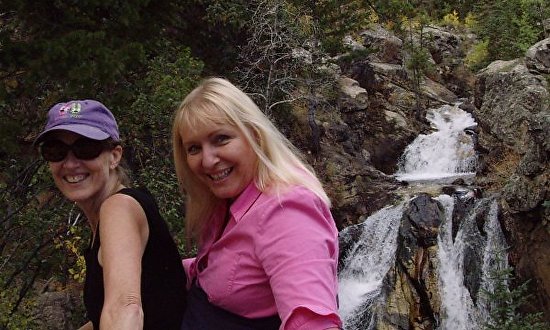 Padgett [left] and Susan Spohn [FASO team member] at the waterfall
We here at FASO know how much your fur babies mean to you...Care to share any interesting facts about the kitties?
2 of my 3 cats jump onto my shoulders from the floor. And yes, they do have their claws.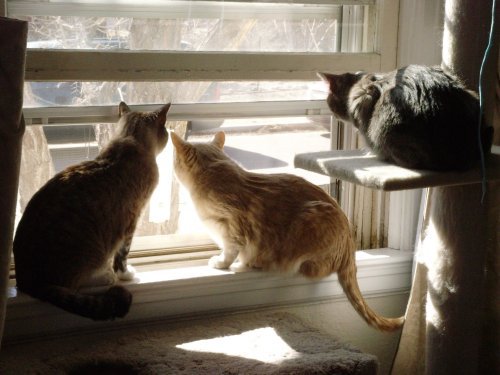 Baxter, Hazel, and Sunny - we'll leave it up to you to guess which two do the jumping!
Yikes! Good thing you love those kitties so much! They're beautiful animals!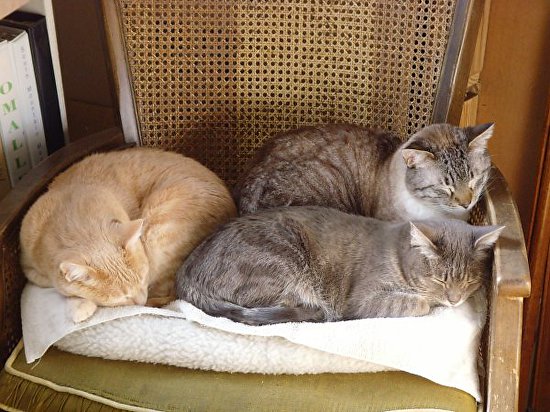 You're stranded in an airport terminal over a holiday weekend - what do you have with you to entertain yourself or what do you wish you had brought with you to stay entertained?
I have a book. I wish I had brought my film camera so I could do a series of photographs of the people I see. Even better would be having a polaroid camera to then give the polaroid photo to people after manipulating the emulsion... especially those with children that need a good distraction.
That would be an amazing series to see and a really great way to get future generations interested in photography! What has been some of your favorite photography to capture? Why?
Pooka, the beautiful Morgan horse that lived at the Make Believe Ranch north of Boulder, CO - what a great animal and story that goes along with the image.
http://padgettmcfeely.com/workszoom/114639/pooka
Morning Coffee Break - the trail riders in Zion - free horseback ride later that day http://padgettmcfeely.com/workszoom/114676/morning-coffee-break
All the photos from the ranch in southern New Mexico during their branding:
http://padgettmcfeely.com/workszoom/171313/kickin-back
The photo "Daily Bread" from my trip to Morocco.
I did a lot of self-portraits - I was always there and modeling fees were zip
http://padgettmcfeely.com/workszoom/171334/relics
Life can be routine much of the time. Every once in a blue moon a marvelous Peak Experience comes along - these photos represent peak experiences in my life.
Padgett, thank you for sharing with us your leap into technology, as well as the softer, more spiritually creative side of yourself. It's all about the balance and you seem to be doing it beautifully.
If you'd like to experience more of Padgett's creative side, please visit her website to see her amazing works of art.