Today, we start a new series called Getting to Know FASO's Awesome Support Team. Many of you have had the opportunity to interact with at least one member of FASO's positively remarkable support staff and we thought you might like to learn a bit about what makes each person on our team so awesome.
We begin our series with FASO Founder, Software Craftsman, Art Fanatic - Clint Watson.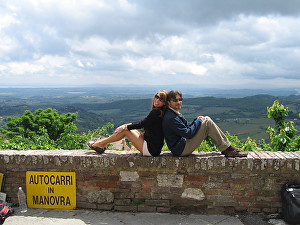 Clint Watson, FASO Founder with his wife, PJ
Let's start with the story of how FASO was born:
I "started" FASO in 2001. Not because I was planning a "startup" but because I wanted to solve a friend's problem. At the time, I owned an art gallery and, having a bit of hacker in me, had cobbled together a nice, dynamically driven art website for my gallery. This was back when such things were still somewhat novel.
Sometime in 2000, knowing that I could create websites, my artist friend, Kevin Macpherson, asked me if I would build his website. I said "no." I knew that if I became his "webmaster", he'd drive me crazy, asking for updates and changes which would, of course, be necessary.
So I said, "give me six months and I will, in my off time, create something that will allow you to update your own website."
So I hacked something together. It was, frankly, a pathetic, embarrassing little webapp. Looking back, it was about as wrong as you could do it by today's standards. But the damn thing worked. I figured it was only going to have support up to a dozen or so users (at most!), so it was certainly good enough to let a few artists update their own websites while at the same time giving me something fun to hack on in my spare time. [As we grew, we addressed the things that were done wrong and re-engineered FASO into a proper, scalable architecture.]
After a couple of months of weekend coding marathons, I showed the little app to Kevin's wife, Wanda (she's his business manager...the proverbial "artist's wife" and a damn fine artist herself, as well). I verbally walked her through how to accomplish basic tasks - uploading a piece of art, adding bio info, changing the image on the main page. And that, in a nutshell, was about all it did.
I told her in no uncertain terms, "I'm showing you the prototype to get some feedback and your ideas, this is absolutely not ready to go live."
"I understand," she assured me.
Wanda called me back the next day and said, "We're happy, we're going with you."
"What do you mean? 'you're going with me?' " (Oh No!)
"We like your website, we've switched something called 'DNS' to point our site to your server. We're going with your site."
"OK" I said. (But it's not ready!)
"How much do we pay you?" She asked.
"Oh, I don't know - it's not even really ready to go live," I answered, "....maybe Kevin can trade me a painting some time."
And that's how FASO got it's first "customer."
My friend, Kevin Macpherson, did send me a painting in trade for his website. It was a study for a larger piece that he knew I loved. In retrospect, I'm so happy things worked out that way: Kevin's painting is so much nicer to have on my wall than a first check or dollar bill. :-) You can read the longer version of this story and see Kevin's painting here: http://faso.com/code618/34149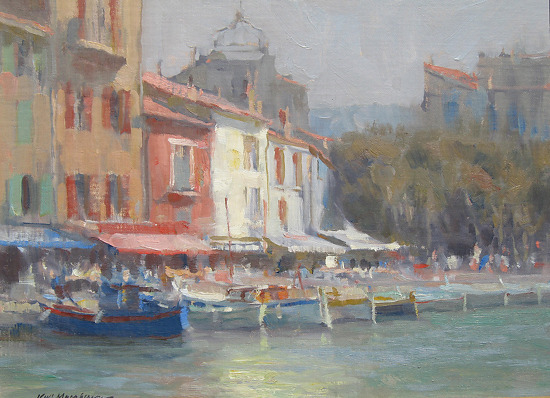 The painting Kevin Macpherson traded for his FASO site.
Of course, it turns out that a lot more than a "dozen or so" artists were interested in FASO and I made the decision to dedicate myself full time to FASO in early 2005.
What are some of the things you've seen change the most since you started FASO? Were you able to foretell the future of certain developments? What were you most surprised by? Any predictions for future developments?
The answers to these questions ended up being a bit too long to include directly in this interview. If you're interested in these questions, you can read Clint's answers on his blog at the following link: http://faso.com/clintavo/59137/changes-surprises-and-the-future.
Any hilarious work related anecdotes you care to share?
I love working with artists and enjoy their independent, creative ways of seeing the world. I always remember, for example, one of our early support tickets where an artist wrote us to tell us show was having trouble "uplifting" her paintings. I knew she meant "upload", but somehow the word "uplift" seems more appropriate for art. I helped her upload her paintings and then visited her website and let her paintings uplift me.
What's the most valuable piece of advice you would give FASO members?
Well, it's been said before, more eloquently than I can say it, but please remember: your life isn't a practice run. Don't live the life other people want you to live. Please live the life you want to live. And since it's not a practice run, and none of us know when we're going to reach the finish line, that means to live the life you want as soon as possible. Preferably every single day. For artists, specifically, I think that means, even if it's difficult, you have to be very protective of your creative time. Here's an example of what I'm talking about: http://faso.com/clintavo/48212. Your artistic ability is a special gift to you from the Creator and it's your responsibility to share that gift with the world by creating and continually improving your art. Don't let others take that away from you by infringing upon your creative time. I realize that the real world often gets in the way, and I'm not saying you'll never have to do things you don't want to do. I'm saying that it's important to be committed to set aside time each day or each week, even if it's less than you would like.
That advice is much more important than any marketing or web-guruish tip I could give you.
You obviously take this advice in your own life. Going from the gallery to FASO was a big jump. You travel, you do the things in life that clearly mean a lot to you. Any major life accomplishments that you still want to attain?
Oh gee, where to start? I'll just give you a non-exhaustive stream-of-consciousness: Expand FASO to have lasting value to it's artists and stakeholders. Create something truly revolutionary in the art world. Explore deeper into the mystery that is God and my relationship with Him. Get better at writing music (rather than just playing covers). Improve my guitar playing and cut an album. Write a non-fiction book on art marketing. Write a fiction novel. Other places to travel with my wife: see more of the USA, Northern Europe, Russia, Australia, New Zealand, Pacific Rim countries. I have a desire to create an open-source software project that will transcend the art world, attract other contributors and improve lives. Spend more time with friends. Make new friends. Learn Spanish. Learn ballroom dancing.
What interests do you have outside of FASO?
My wife - yeah it's corny to start with that, but it's true. We've been together since 1989 and we love each other more each day, but, amazingly, we still get excited to be together just like when we first met.
I think we'd all agree that's not corny, in the least. 24 years is a long time and it's not as common as it once was to see such a long lasting relationship. Any tips or advice you care to share?
Get over the idea of "finding" your "soul mate." I've never understood the idea that there's exactly one right person for every other person. Really, with 7 billion people? When you find someone you love and who loves you back, you, together become a couple and over time, and, if you do it right, you almost become a new being with a shared soul. So I guess what I'm saying is that soul mates aren't found. Soul mates are made. Remember: the grass isn't greener on the other side of the fence, it's greener where you stay and water it.
Reading - I can't even begin to explain how much I read. I love both fiction and non-fiction. I love the Amazon Kindle store and iBooks and all the indie authors that are now available.
Guitar playing...like serious guitar playing. Here are my thoughts on this subject: http://faso.com/clintavo/49202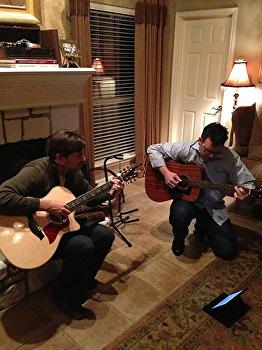 Clint [left] playing guitar with a friend.
Travelling - travelling opens your mind and your horizons. I've probably learned more from travelling than anything else, including college.
Favorite place to travel?
Hard to pick just one. But if I had to, I'd say southern Italy. The Italians understand "La Dolce Vita" better than anyone, the landscape is beautiful and the food is amazing.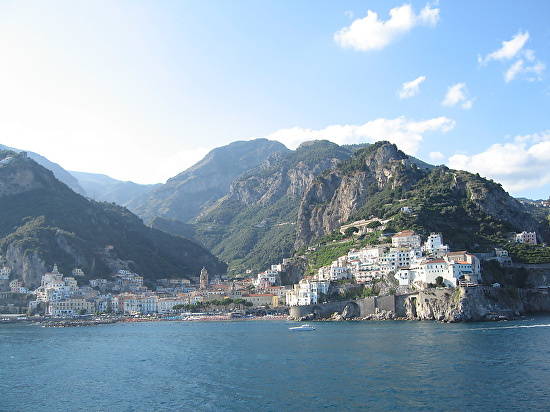 The Coastal Town of Amalfi in Southern Italy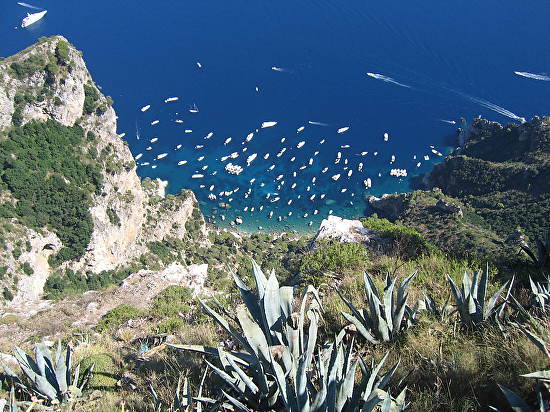 View of the water from the Isle of Capri (near the Amalfi Coast, Southern Italy)


Hacking - the word "hacking" does not mean "breaking into computers" like the general public thinks. It means to "tinker" to find innovative solutions, to try things with computer code. I like to "hack" together little programs and try things. Sometimes those things find their way into FASO, and sometimes they're just for fun. As I explained above, FASO itself started as a fun hacking project. Like Linus Pauling said, "The best way to have a good idea is to have lots of ideas."
Wine - I love pinot noirs. In order of preference, Pinots from: Oregon, California, Burgundy.
Fitness - Long walks with my wife, running, lifting weights. We like to stay in shape. It pays big dividends when travelling to be in shape and be able to do things like hike to the top of mountains, or WALK the entire Cinque Terre trail in Italy. To swim 200 yards out into the Caribbean. Remember you only live once, it's easier to make the most of it if your body lets you do the things that you want to do.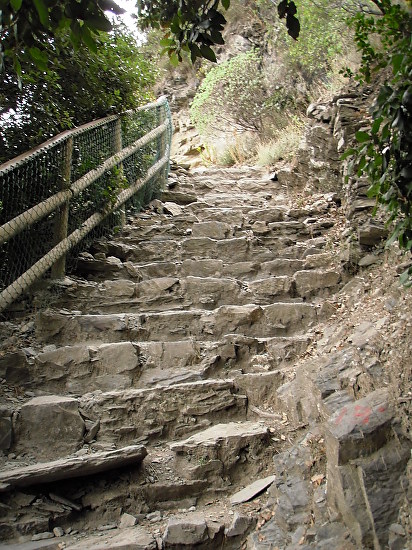 A punishing staircase on the Cinque Terre trail in Italy.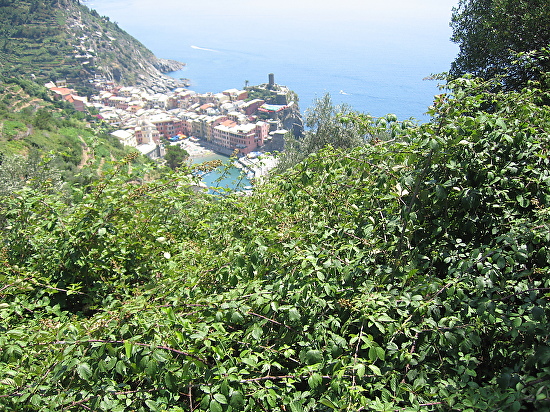 A rewarding view on the Cinque Terre trail in Italy.


Live Music - we love going out with friends, seeing local bands or acoustic guitarists. My wife even gets me to dance. I'm not any good, but who cares? Life is too short to be embarrassed. On occasion, if it's late enough and the crowd is small enough I've managed to convince an acoustic act to let me sit in for a song or two.
That takes a lot of courage! Ever sit in with anyone "famous"? And on that note (pun not intended), if you could sit in with anyone, living or dead, who?
Nobody famous. Although I got the guitarist on a cruise ship to turn over his guitar once, we did "Hotel California" (I played, he sang). I guess he was "famous" on the ship, at least. If I could sit in with anyone it would be Monte Montgomery, a local Texas guitarist who does things with acoustic playing that blow peoples' minds.
A little quiz for entertainment purposes:
coffee or tea?
Diet Coke.
mountains or beach?
Both - Amalfi Coast in Italy - the mountains come right down to the most beautiful coastline you've ever seen.
late sleeper or early riser?
Early riser.
Mac or PC?
PC for most development I need to do. Mac for media and mobile apps. Linux for servers.
sports car or eco-mobile?
Sports car - Infiniti G37S.
book or kindle?
Don't care. I love both. Kindle when travelling though for sure.
opera or rap?
Rap. I just can't get into opera as much as I want to appreciate it. I do love classical though, which I put in a different category from opera. Trivia: I rap for fun when I don't have access to a guitar. Raps I know: Bottoms Up (Nikki Manaj rap), Payphone (Wiz Khalifa rap), Work It (Nelly), Look at Me Now (Chris Brown, Busta Rhymes, Lil' Wayne), Gold Digger (Kanye West).
night out at the club or quiet night in?
Either one delights me as long as my wife, PJ, is with me.
free weights or machines?
Whichever one gets you to get off your butt. Free weights are better but machines are easier since you don't need a spotter. I use a machine with a few dumbells at home.
action/drama or scary?
I don't often watch movies, but when I do I prefer action.
Wine or Beer?
Wine, definitely. There's a reason it was Jesus' first miracle.


Clint, thank you so much for spending time with us today and we look forward to all the new developments that FASO has to share.
If you want to get more of Clint's musings, you can follow his blog here and sign up for his newsletter here.