Not too long ago, we published a post letting you guys know how to verify your FASO website with Pinterest. It was an easy process to follow and we thought the subject had been put to bed until we saw that Pinterest launched a new look (you can switch to it from your Pinterest drop down menu). The new look is sleeker and cleaner, however, it did change the look of the verification process so we wanted to give an update in case anyone was wondering why our screenshots don't match what they see in their Pinterest control panel. The verification instructions are basically the same, it's just the look of things that's different.
Note: If you've already gone through the process of verifying your site, you do not have to do this again. It's only for those that have not verified their FASO website with their Pinterest page.
First, you'll want to log into Pinterest and go to your home page. Before, there was an actual "Edit Settings" link but now you'll note the pencil in the lower right corner of your bio box. Click that.

The next thing you'll want to do is add your website URL to the website box. If you already see a checkmark with "Site Verified", you're all set. Nothing more for you to do but go back to the studio and finish that masterpiece. :-)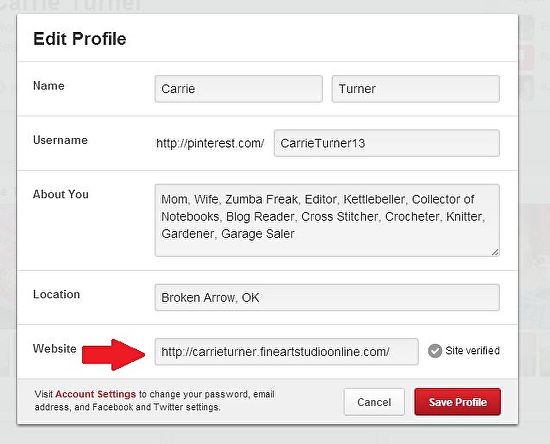 If you don't see the verified checkmark, forge ahead - add your website URL and click verify.
At the bottom is the link where you'll get your meta tag. Read this if you're wondering why you need a meta tag instead of downloading their verification file.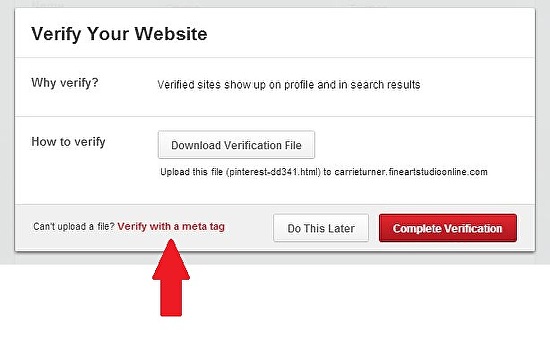 This is important: You'll want to be sure to copy the entire meta tag. The window they provide is not big enough to display the whole tag so make sure you scroll across to get the whole thing.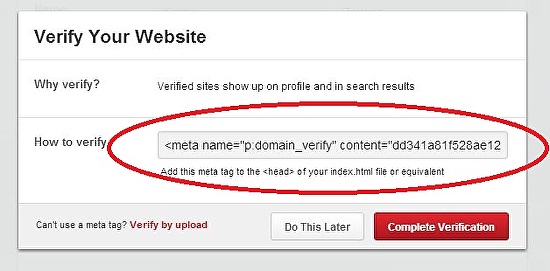 Once you have the meta tag code, do the following:

1. Login to the FASO Control Panel
2. Drop Down Menu (upper right by your avatar)
3. Account Settings
4. Set Google Verification/Extra Meta Tags
5. Extra Meta Tag Name = p:domain_verify
6. Extra Meta Tag Content = whatever is in the content portion of the meta tag - in my example it would be the part that starts with "dd341a81f528ae12" but again, make sure you get the entire code.
7. Save changes.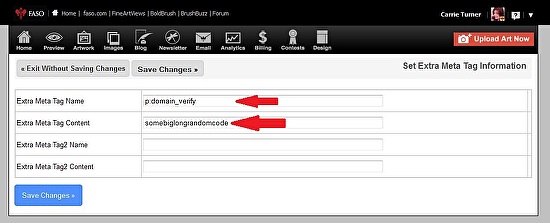 Once you've added the meta tag, give it a minute or two. Then, go back to Pinterest and click the link to verify your site. After you click the link, it will try to verify the site and let you know whether it was successful or not.
*****************************************************************
Pinterest has also added an analytics feature that allows you to see what people are pinning from your website. The new Pinterest analytics do NOT require anything different or extra to work. If the site is verified (in the old way or new), the analytics will work.
Pinterest put together a pretty informative video that spells out their new analytics program far better than I could, so if you're interested in learning more about this feature, you should take a quick look.
Pinterest Web Analytics Walkthrough Video