As you know, FASO has been steadily releasing new enhanced templates for your website. In reviewing the layout of some of these styles, our developers noticed that the sidebar area of these new templates tended to look rather "empty". After some thought, we realized the best use of this space would be to provide artists with an easily manageable feature that has great potential to allow even more personalization of your website. Thus, sidebar widgets were added.
Currently, the widgets include Recent Works, Latest Blog Posts, Join My Email List, and Upcoming Events. In the future, we'll likely have other options that can interface with third party sites but these four options can get you started for now. Read on to learn how to add this new component to your website.
1. First, you'll want to start at control panel home and then click on the Design Center links. We have two links - one at the top in the navigation header and one to the left of the control panel screen.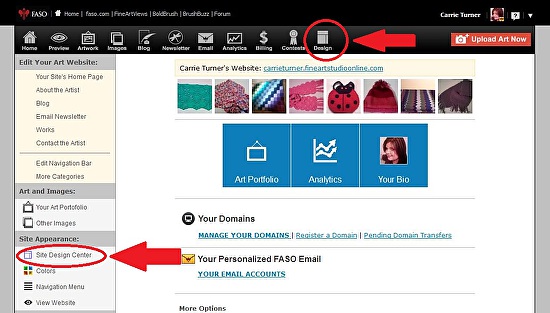 2. Once the design center opens, you'll see an Advanced link in the upper right corner of the screen. Click that.

3. Then, click on Sidebar Widgets (Beta).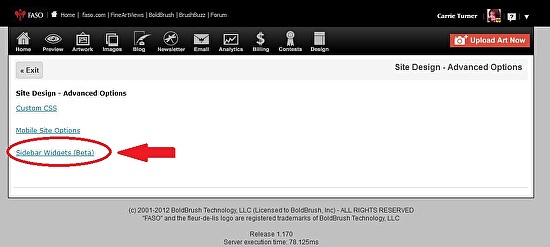 A screen will open, enabling you to manually edit the arrangement of the sidebar widgets. You can change the order in which they appear simply by clicking on the widget and then selecting Move Up or Move Down. You can also remove a widget by clicking on it and then clicking Remove Selected. Be sure to save all your changes before exiting the screen.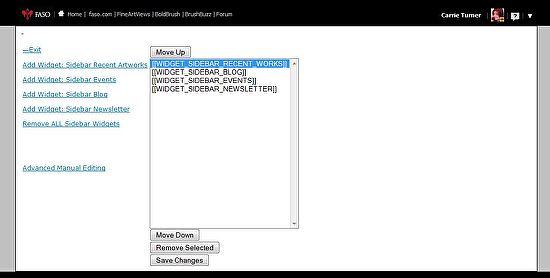 You can choose to use any many or as few of the widgets as you like. If you do not want to use any of the new sidebar widgets, simply select Remove ALL Sidebar Widgets and save your changes.

This was taken from Marian Fortunati's website. She has chosen to use all of the widgets. To see them in action, click this link to view her site.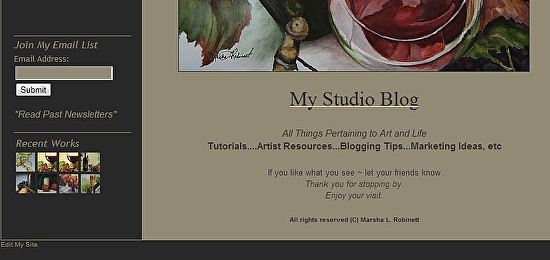 This screenshot is from Marsha Robinett's website. She has chosen to only use the email newsletter and recent works widgets. To get a feel for how this looks on a full screen, click here.
Things to note about the sidebar widgets
-The recent works feature shows up to 8 of the most recent artworks uploaded to your portfolio. You are unable to pick and choose which images show in this widget.
-The latest blog posts feature will show the 4 most recently published posts on your blog. As you publish newer posts, older ones will automatically be removed from the widget.
-The upcoming events feature shows the 4 most imminent events you've listed. Be sure to use the date function in the events category so that these stay current and old events can archive. If you have no upcoming events, this widget simply says "No upcoming events".
-The sidebar widgets only work on the Enhanced Site Styles. If you're wondering what else you're missing by not using one of the enhanced templates, read more about it here.
The sidebar widgets potentially give viewers a quick peek at what's going on with your art and if they like what they see, they're almost sure to take a more in-depth look at your site. Keeping viewers engaged can help strengthen their connection to you -- and to your art.