~ updated 12/24/2015
At long last we've beta launched a new "Site Design Center". The SDC is a more streamlined, visual way to choose templates, change colors and, in general, edit the look and feel of your site. During this beta phase, if you have issues with the Site Design Center, don't worry, we still have the old screens for choosing templates and colors in place while we work out any lingering "kinks" with the new system! Our goal is to evolve the site design center into a "one stop shop" for allowing you to influence the look and feel of your FASO website.
Ready to learn more about this new feature?
How to Use our New Site Template Selector
1. To get started, you'll need to either
a. click on the Design Icon ~ top row of your control panel home screen.

b. or click Site Design Center link on the left side.

2. There, you'll see your options and a preview of how your site currently looks.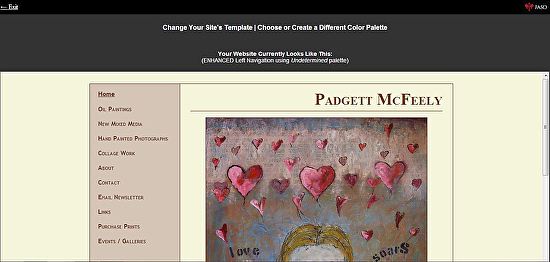 3. If you click on the link that says Change your site's template, you'll see the many template options that FASO offers.

If you take a closer look, we've even gone so far as to tell you if the new site style will work with your current color scheme.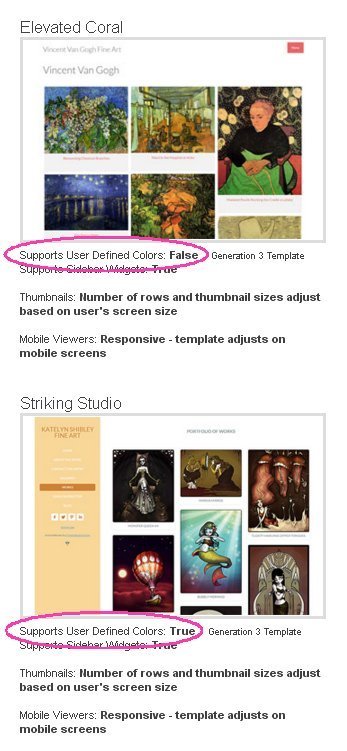 4. Once you decide you'd like to try out a template, click on it and you'll be presented with an option to make it your new style.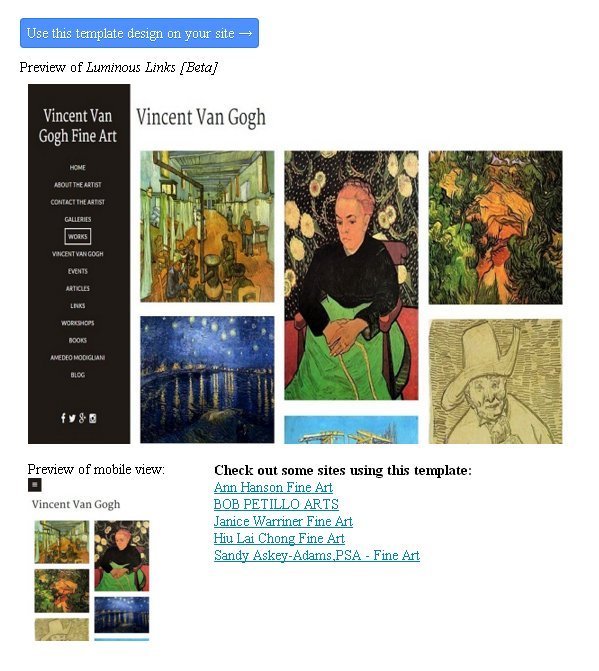 If you're not quite ready to commit and would like to see the style "in action", you'll see that we've included links to other artist websites that use the particular template style that you're considering. You'll be able to see how each artist adapts the style to make it their own.
If you've fallen in love with a style, Click the blue button that says Use This Template Design on your site and voila! You'll see the following screen (after a short delay during which we apply the style template to your site):
Click exit and you'll be returned to main screen of the site design center, at which point the screen will update and show you what your site looks like with its newly selected template.
How to Use Our New Site Color Palette System
We've also applied our new technology to your color scheme selection area - making it easy and quick to freshen up the colors on your website.
On the main page of the site design center, you'll see an option to "Choose or Create a Different Color Palette."
You'll be presented with all of the pre-made color palettes that we offer. Choose the palette you like most and apply it to your site.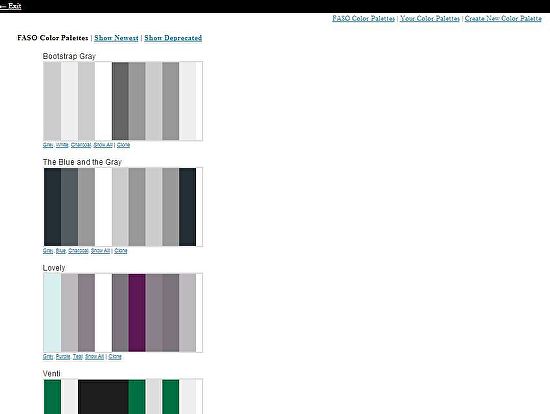 If you don't want to use a pre-made color palette, you can create your own. When you're on the page with the pre-made color schemes, if you look upper right of your screen, there are options to see your color schemes or to make a new one.
A view of your color schemes that you've designed.
If you've not designed a color palette in the new design center, it'll show as a blank page.
There are two ways to create your own color palette. If you like an existing FASO palette, you can click the "Clone" link underneath any given palette and our software will make an exact copy of the palette, which you can then "tweak" until you get it the way that you want it.
If you would rather create a new color palette from scratch, then click "Create a New Color Palette" and here's what you'll see: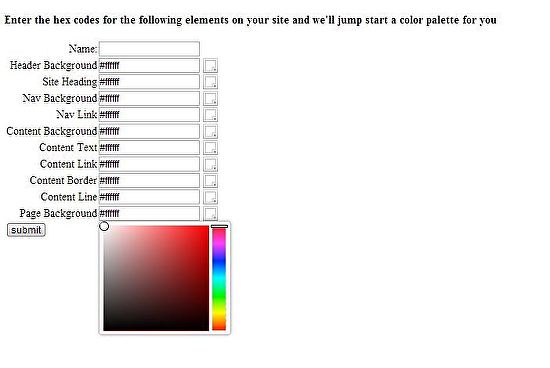 At this point, you can enter the 6 digit hexidecimal code for the color you want or you can click on the color picker and make your colors that way.
Once you've created your chosen palette, hit submit and the color palette will be created. During the creation phase, we've limited the number of fields to just a handful. However, once you've clicked "submit" you will be able to drill down and edit nearly 60 individual site elements, if you choose to get so detailed in your colors (please note that not all templates use every element).
Applying the color palette to your site is nearly identical to selecting a new template. You simply click on the color palette that you want and you'll see a little sample preview of what that color palette looks like. Then you simply click the blue button that says "Use this color palette on your site". Our system will apply the palette and take you back to the site design center home screen and update the screen to show you your site with the new colors.
Now that we've built this Site Design Center we anticipate being able to rapidly add additional templates and color palettes! (and actually have a few waiting in the wings to launch.....)
If you've been thinking about an update to your FASO website but have been putting it off, now's a great time to sit down, explore the new site design center and give your site a fresh look.
Remember, Sharing Art Enriches Life.
Sincerely,
The FASO Team