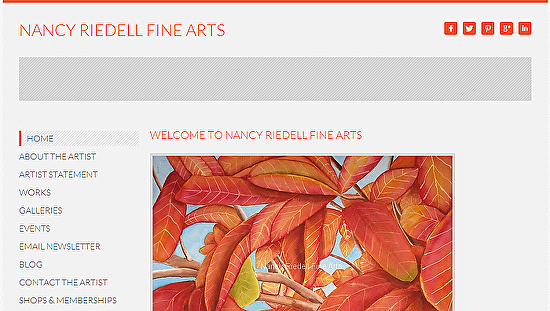 Nancy Riedell's home page - showcasing the New Slate Orange 2012 template
Today, we're happy to announce the release of our newest template - Slate Orange 2012. Slate Orange 2012 is the first in a new series of templates being released in the coming months and we're pleased with the sleek, modern look.
Nancy has already taken notice of the new style and is using it on her site. Click here to see it live.
Enhanced template highlights include:[1]
1. Enhanced Templates contain more updated code and work better on today's faster internet.
2. Some pages, such as Events and Workshops, have new 'fields' that only function on the new Enhanced Templates.
3. Supported networks are Facebook, Twitter, Pinterest, LinkedIn, Google+ and an RSS feed.
4. The 'buy now' system has been upgraded and includes a shopping cart.
5. The Enhanced Template allows your website to be viewed on mobile devices - which is a rapidly growing trend.
Here is Nancy's collection page with the new template...
and here is an example of a single artwork.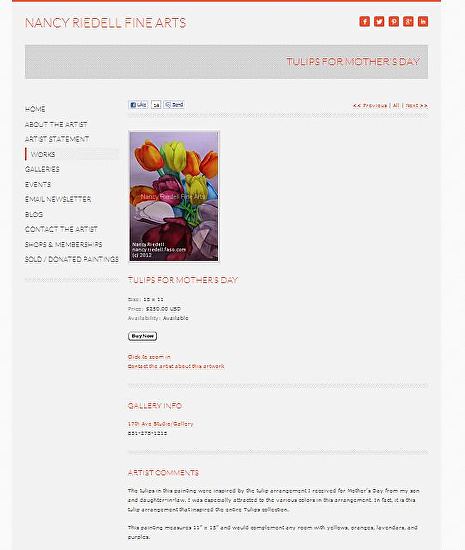 You know how important we feel an integrated newsletter sign up page is - here's a shot of Nancy's sign up page. Crisp, clean, simple to understand.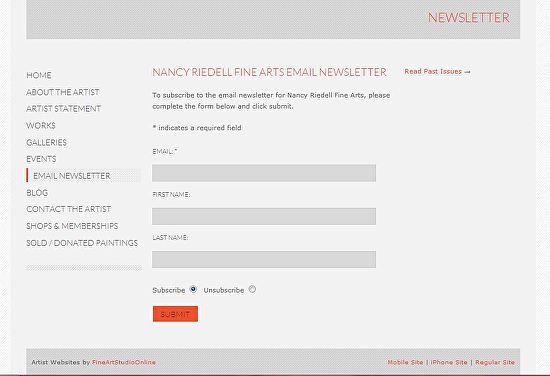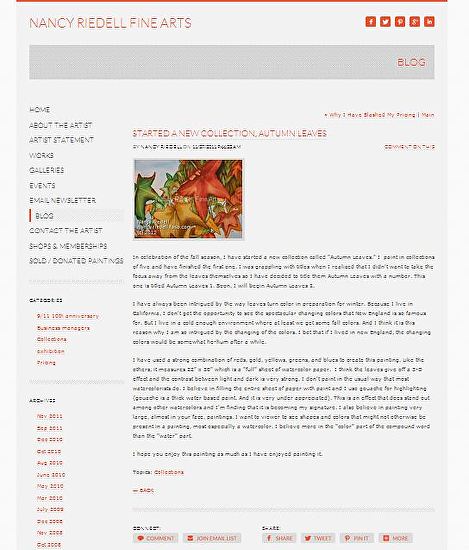 Note on Nancy's blog page, the social sharing buttons at the bottom of her blog post and the social media profile buttons at the top of her site are color coordinated to give it a very modern, 2012 look.
If you'd like to begin using the new Slate Orange 2012 template, it's only a few clicks away from happening.
1. Go to your control panel home
2. Click on Site Appearance
3. Click on Templates
4. Choose Slate Orange 2012
5. Save changes.
Note: You may need to hit refresh to see the changes reflected on your website.
FASO's Slate Orange 2012 template - leading artists one step further into the future of website design.
Footnotes:
[1] If you need a refresher course on why you should switch to any of our enhanced template styles, read this.