Remember this article about the recently improved FASO stats?
Our development team has been hard at it again and they've just deployed an awesome feature to an already cool stats page.
When you look at your summary page, note that, by default, it shows you a monthly view of the past 30 days.
See how each day has a little larger "point" where the line changes direction?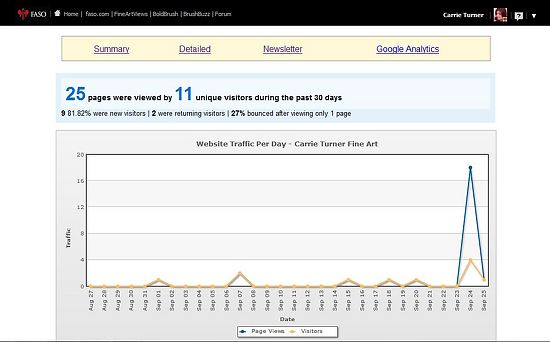 What do you suppose those points do? Click it on any "point" and you'll get a breakdown for that specific day. Below is the daily view that we got by clicking on the tip of the spike on September 24th: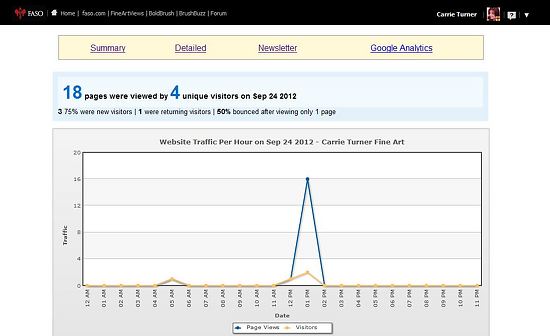 The Specifics
The info you'll get in each breakdown:
Top Referring Domains
Top Referring URLs
Top Referring Search Phrases
Most Popular Web Pages on Your Website
Traffic Sources
This information is particularly useful for investigating spikes in your traffic. You can now more easily match up increases in your visitor stats to your newsletters or blog posts and other marketing efforts.
It's also a great way to see if your marketing campaign is really effective - are you getting real traffic or just tire kickers? Knowing the difference is important.
Can You See Where We're Going With This?
We've been fairly vocal regarding how we feel about winding yourself into a frenzy over stats, keywords, and SEO. However, we know that it's useful to keep an eye on your numbers, so we decided we should make it simple, quick and easy, so you can get back where you belong: off the computer and back to the studio.