Last week, we discussed the benefits of switching over to one of our enhanced templates.
Today, specifically, we want to highlight the improved social sharing buttons on your FASO blog.
Supporting social media share buttons has been a popular request. And while we did provide some support for sharing, we've revamped the buttons that we automatically support on your blog to reflect the social media world of 2012.
After much thought about where to place our focus, we decided to support Facebook, Twitter, Google+, Pinterest, as well as Like, Send and +1 buttons. We've also thrown in an Email newsletter sign up button and a "More" button that gives your blog visitors even further options for sharing on nearly every social network (via the "addthis" service).
Here's a couple of examples of how it will look on your website: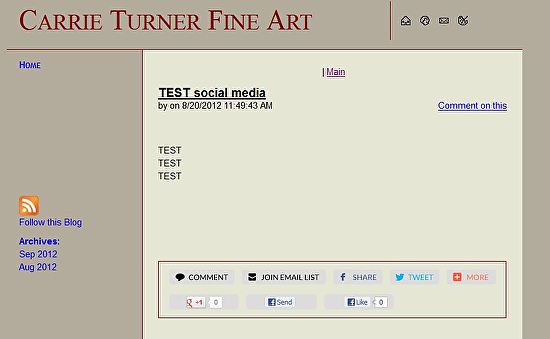 (blog page without an image)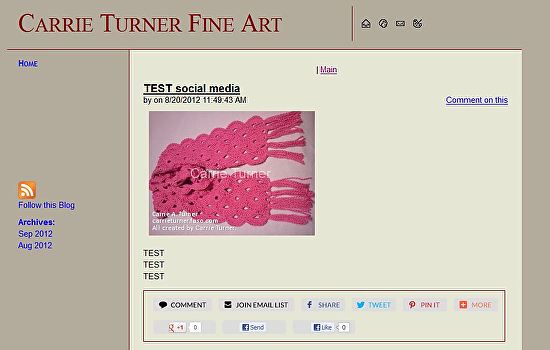 (blog page with an image)
Did you notice a difference after the image was added to the blog post? With the addition of an image to your posts, you'll also get a "Pin It" Pinterest button sharing option. We don't show the "Pin It" button on blog posts without images because an image is required by Pinterest to use the "Pin It" button. Consider this as a boost of encouragement to always include images of your art.
The addition of social sharing buttons will make it far easier for people to share your blog posts - which means your stories, your triumphs, and yes, your art - with their circle of friends.
There's nothing that you need to do to enable these new social sharing buttons...other than to start blogging! In fact, these buttons have been live for several months, we've just now finally had a bit of time to write this article.
Sharing Art Enriches Life is our number one mantra. With these buttons, we've made that easier for you to accomplish!