Have you seen this ad before?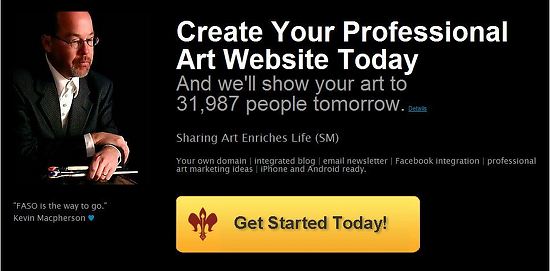 If so, you've probably noticed that number goes up each week. Intriguing...How could thousands of people see your art?
Simple. The FASO Daily Art Show.
Many of you have seen it in our newsletters and been excited by the spike in your visitors.
Since the FASO Daily Art Show is doing so well, we thought we'd put a little spit shine on it and make it more user friendly.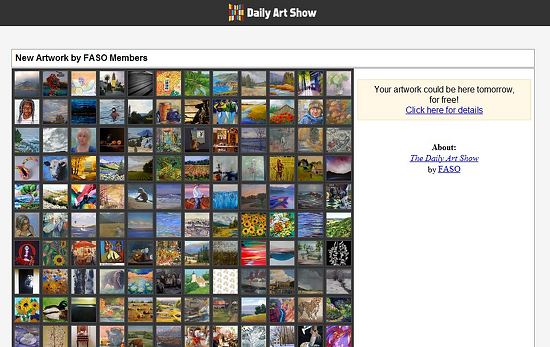 While the new design sure is more attractive, we strive to be more than just pretty faces! We've improved the functionality as well.
Previously, clicking an artwork exited the Daily Art Show site, creating a hassle for users as they had to click back and forth, resulting in fewer artworks seen.
We've rectified that problem, so now, when you click an artwork, it displays a larger view in the right sidebar, complete with an option to continue directly to the artist's site, if you want.[1]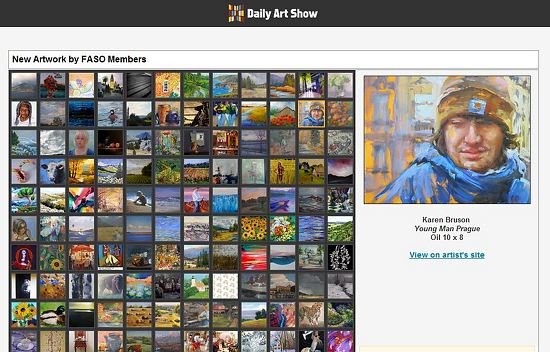 For further proof that we are, indeed, attempting to think of everything...try this:
Go to dailyartshow.faso.com. Well wait. Read all of this first and then go to dailyartshow.faso.com.
Once you visit the Daily Art Show, you'll notice that it has selected a random image. Click on that logo at the top of the page. You guessed it - it reloads the page with another random choice.[2] We're planning on adding a "shuffle" icon in the toolbar but for now, the logo works beautifully.
While the FASO Daily Art Show isn't out saving the world, it is one more way we're helping to enrich it.[3] Upload your art and be seen by thousands of fresh eyes daily. Your newest fan is ready to be spellbound by your extraordinary art.
------------------------------------
Footnotes:
[1] We've upgraded the FASO stats, so you will even be aware of viewers that are seeing your artwork on the Daily Art Show site
[2]We know you sat there clicking reload until your image was picked as the random choice. That's ok. We would, too.
[3]In case you don't know how important this is to us - read this.