At the request of many of our FASO artists, our developers have been hard at work on a new watermarking feature.
The feature is still in beta but we've had a few folks testing it out for us and if you'd like to add this feature to your website, it's a simple one-time set up.
Here's how:
First, you'll need to enable the watermarking feature in the labs section of your control panel.
1. Control panel home
2. My Admin Info
3. Labs (scroll down almost to the bottom)
4. Checkmark the box that says Image Watermarks and Attribution
5. Save changes
Then, you'll want to enter your watermark information.
1. Click on Art Portfolio.

2. click on Edit the Works Display.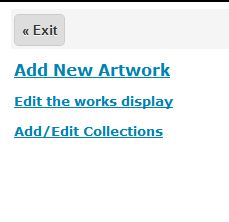 3. Next, you'll choose the option for Add Watermarks, Copyright Notices, and Attributions to your images.
(this link only displays if you have enabled watermarking in Labs)

4. Fill in your info...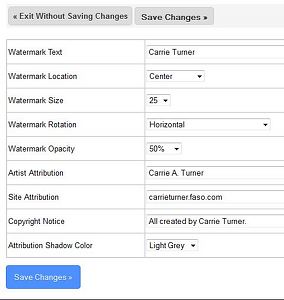 5. and then, all the images on your site will have your watermarking information on them.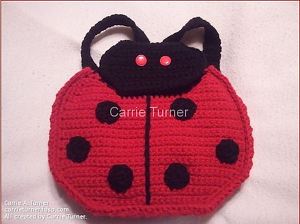 Once you've done these steps, the watermarks will apply themselves to all the images on your site that are larger than thumbnail size. It can take a few days to propagate to every single image but it's usually more like a few minutes. You might need to refresh your page and/or clear your cache if you're not seeing the watermarks.
Following along with our belief that Useful Now is Better Than Perfect Later, we also have a round about way of excluding certain images from being marked but we are working on a more polished way to go about it.
Voila! Easy and quick so you can get back to the studio. In a future post, we'll go over why you'd watermark the images on your website and provide some examples of how it's used properly.