A few weeks ago, we wrote about our new, greatly improved image uploader.
To recap, the new image uploader features does the following things:
Allows you to upload multiple images simulataneously
Uploads images much faster
Processes images in the background so you don't have to wait while they are processed and sized
Allows you to add images to a collection during the upload process
Allows you to add title, price and medium info during the upload process
Allows you to reorder your images during the upload process with a simple drag-and-drop interface
We've now moved the image uploader into our FASO Labs section, which means that all FASO members may start using it! Please bear in mind that while it is still in our "labs" section it is still in testing. In fact, if you should decide to try it, we would greatly welcome any feedback you can provide and/or reports of issues that you discover. Our support team can let our programmers know about any issues. If it's a programming issue, you can always use the current uploader if the new one doesn't work for you just yet.
Enabling the New Image Uploader
1. Login to your FASO control panel
2. Click on "account info"
3. Click on "labs", you'll see the screen below: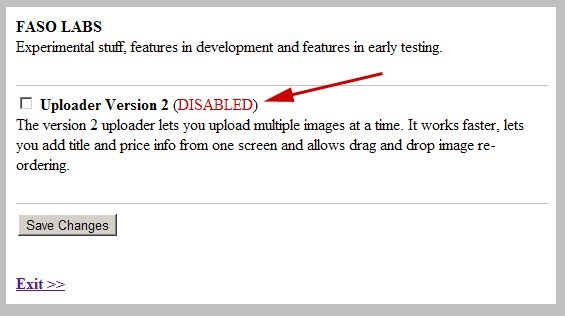 4. Check the box next to "Uploader Version 2"
5. Click "Save Changes", you should now see the following screen: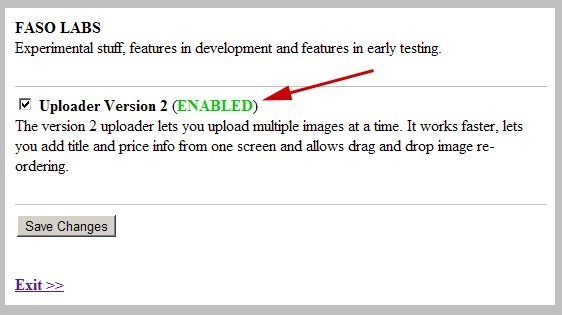 6. Click "Exit"
7. Go to your artwork portfolio ("My Artwork Portfolio" from the main FASO control panel screen).
8. You'll now see a link at the top reading "Try our new BETA Uploader!" - click it and begin uploading! Here's what that screen looks like: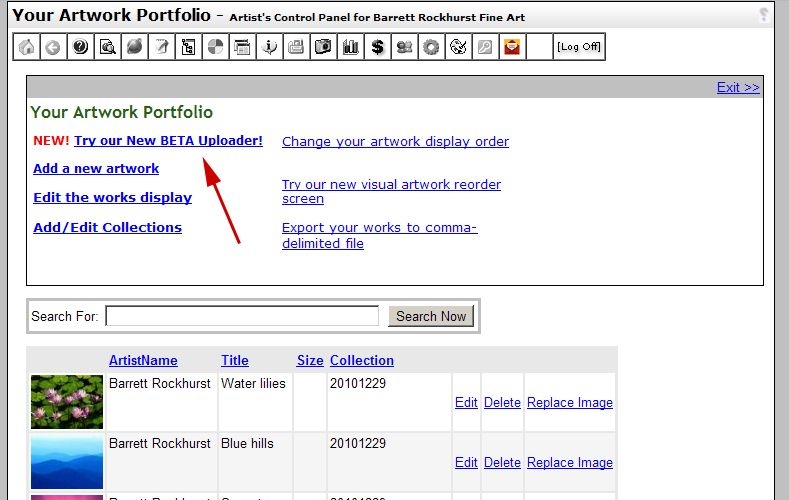 About the New Uploader
If you need a refresher on the new uploader, please re-read our previous post.
Have fun!
Sincerely,
Clint Watson
Software Craftsman and Art Fanatic