This article explains how to use Google Analytics with Your FASO Artist Website.
Short version for people who already understand Google Analytics: grab your Web Property ID from your analytics dashboard and skip to Part 4 of this document to install it in your FASO account. That's it!
Long version follows:
What is Google Analytics?
Google Analytics is a powerful analytics platform. It's probably the most widely used analytics platform around. It has many advantages - it's powerful, it's highly customizable, it's well-designed, and it's free. It also has some downsides: because it is so powerful, it can be complicated to learn the more advanced functions, it doesn't allow drilling down to an individual visitor level so you can see what specific pages a specific visitor viewed, it's not real-time as reports are delayed several hours, and they provide Google with even more data about your website (if you're worried about one company having too much power on the Internet).
Here's a screenshot of the intuitive and well-designed Google Analytics dashboard for one of our sites: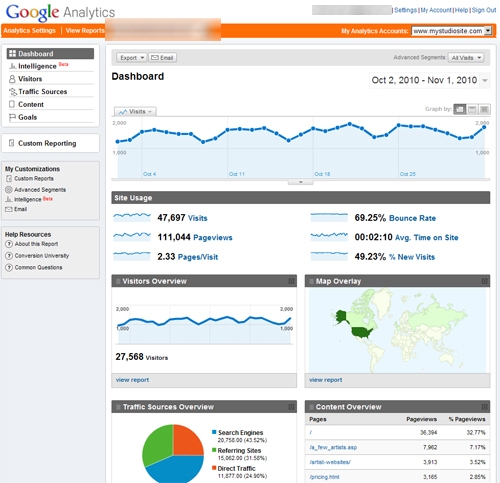 To get started, you'll have to have a Google Analytics Account.
Part 1: Create Your Google Account
If you don't have a Google Account, you'll need to create one. If you already have a Google Account (for example: if you use Gmail or Google Reader then you already have an account) you can skip to Part 2.

1. Go to https://www.google.com/accounts/NewAccount
2. Fill out all the information and click "I accept, create my account"
3. You will see a confirmation screen, which will tell you to check your email.
4. Check your email and look for the Google account creation confirmation.
5. Once you have the confirmation email, click the confirmation link inside the email, this will activate your Google Account.

Part 2: Create Your Google Analytics Account
1. Visit http://www.google.com/analytics/
2. Click "Sign Up Now" (shown below)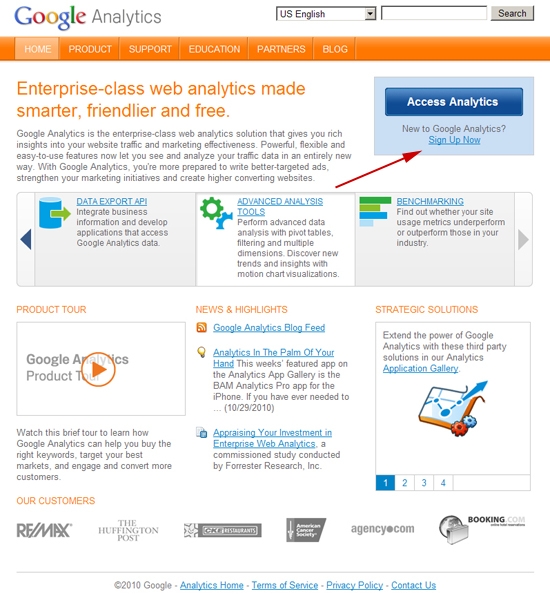 3. On the next screen, click "Sign Up"
4. You will now be asked information about your website: Fill in the information requested about your FASO website and click "continue"
5. Next you will be asked your name and country - enter that information and click "continue"
6. Accept the terms and conditions and click "create new account"
7. Now you will see a screen with some tracking code. You won't need to do anything with that code, as the FASO system will take care of all the code for you, so just save and continue at this point. (Power user tip: All FASO's system will is need the Web Property ID if you want to grab it here, or you can simply continue and grab if from the analytics settings screen.)
8. You should now be at the google analytics home screen
9. Your Google Analytics account is set up. But you still need to start sending data to it from your FASO website, so read on.
Part 3: Get Your Google Analytics Tracking ID
Now that you're at the Google Analytics home screen, you need to copy your "Website Property ID." We've highlighted it in the screenshot below: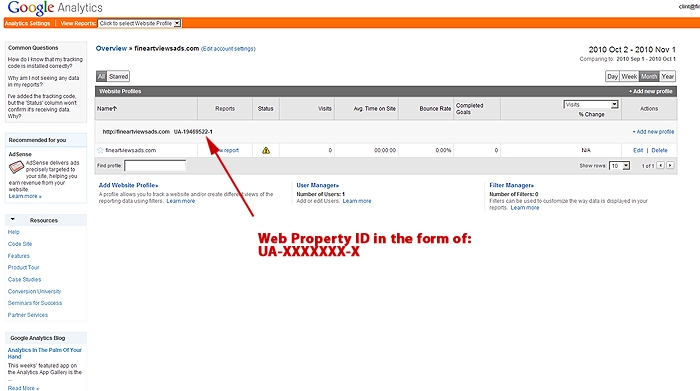 1. Either carefully write down the Website Property ID, or highlight it with your mouse and copy it so you can paste it into your FASO account in the next section.
Part 4: Install the Google Analytics Website Property ID on your FASO Account
1. Log in to your FASO Account

2. Click "Visitor Statistics"

3. Scroll down to the bottom and click "Use Google Analytics on Your FASO Website"

4. You'll now see a form with one field named "Google Analytics Web Property ID"

5. Paste in the Google Analytics Web Property ID that you copied from your Google Analytics account. It typically looks something like "UA-XXXXXX-YY"

6. Click "Save Changes"

Part 5: Verify that you've installed your Google Analytics Code

1. Go back to your Google Analytics Account

2. Next to your website click "Edit"

3. In the top right click "Check Status" (it may say tracking not installed)

4. You should see a message next to status that says "Analytics has been successfully installed and data is being gathered now."


Part 6: Viewing Your Google Analytics
1. Click "Analytics settings" to get back to the main analytics screen

2. Next to your website click "view report"

3. You'll now see the familiar google analytics dashboard. It probably won't have any data yet as Google analytics typically only shows data from the previous day and earlier.
Have fun! And remember, do not get obsessed with your analytics. Your art is your gift to the world, so get back to that studio!
Sincerely,
Clint Watson
Software Craftsman and Art Fanatic