We've launched enhanced FASO Analytics for Artists!
Our new analytics platform has everything the old dataplain power stats (our previous stats) provides and more.
Here's the home screen that you'll see when you enter the analytics: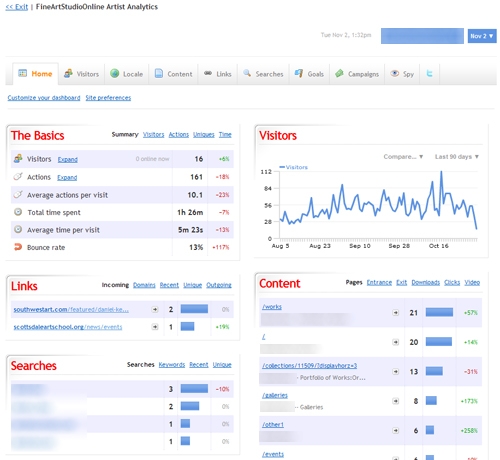 About FASO Analytics
From the home page of the FASO Analytics dashboard, you'll see the number of visitors that have come to your website, a graph of that traffic over time, which links on other websites are sending you traffic, what keywords people are using on search engines to find you, what pages on your site are the most popular, and more. One of the really cool features is the "spy" that lets you see what people are viewing on your site in real time. There's also an option to track mentions and links to your site on Twitter.
Each one of the sections on the dashboard allows you to "drill down" to see the data behind the summary report, including getting down to the actual pages a single visitor actually viewed. If you know who a particular visitor is, you can actually assign the person's name to their IP Address and see activity of individuals by name. (that's something you can't do with Google Analytics. Aside: If you prefer to use Google Analytics, it's dead-simple to install on a FASO website). Of course, you can always use both Google Analytics and FASO Analytics if you're some sort of analytics junkie.
How to Activate FASO Analytics
Due to the way our system communicates with the analytics servers, you have to activate your analytics before the reports will start collecting data. To activate your site perform the following steps:
1. Login to your FASO control panel
2. Click "Visitor Statistics"
3. Click "Click here to see your FASO Analytics"
4. If you see "activate your stats", then click the link. If you've already activated your stats, you'll see the analytics home screen at this point.
Have Fun.
Sincerely,
Clint Watson
Software Craftsman and Art Fanatic
PS - Our roadmap calls for these analytics to replace the Dataplain power stats, which we plan to phase out over the next few months. If you currently use the Dataplain stats, we encourage you to take advantage of the two analytics platforms we offer: either activate the new FASO analytics or alternatively, you may use Google Analytics....or both.