Launching New Text Editor and Full Screen Composer
We're launching a new Full Screen text editor.
We decided many months ago to move to the same text editor that Wordpress uses. It's been battle-tested on millions of sites and lets us configure things a bit more the way we'd like than our old text editor.
We've already changed all FASO text areas to use the new text editor. When you access a section of your control panel that allows you to enter large blocks of text, you'll now see a screen that looks similar to the following: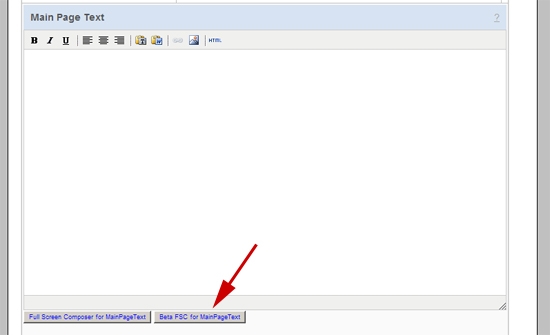 Update: The Full Screen Composer button and the Beta FSC buttons have now been switched. The new editor button is now on the left and says Full Screen Mode for Entry Text.
It doesn't look too different from the old editor. We cleaned up the way the text displays a bit, but other than that, it functions basically the same as the previous editor. You'll notice there are now two buttons that allow you to access the Full Screen Composer. The original one is on the left and the New Full Screen Composer button is on the right. We strongly encourage you to use the new full screen composer, as it is much more robust. Plus we're going to disable access to the old full screen composure sometime over the next 90 days.
Here's the New Full Screen Composer: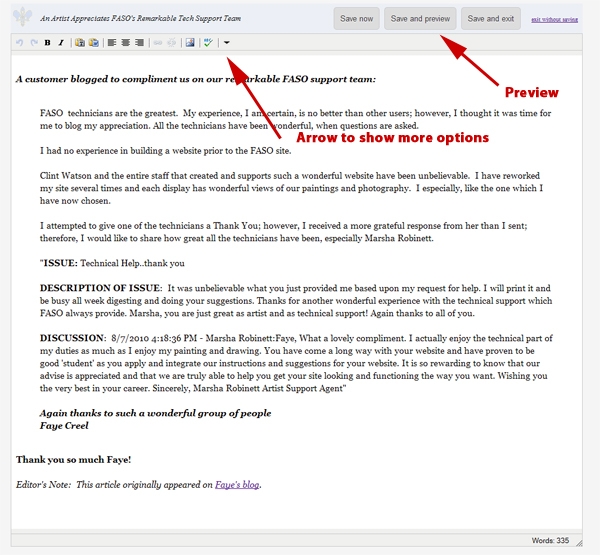 You'll see each much cleaner than the old Full Screen Composer. Since I use the FASO platform for all of our blogging, I designed a screen that helps me write: clean, simple, nice text formatting, maximizes screen real estate, has large buttons on the top right for saving and previews....yet if offers powerful functionality as well. I've gotten it to the point that I enjoy writing with this system so much, I really don't even use a word processor any more.
To access the more advanced functions, there is a little drop down arrow. If you click that it will show a second toolbar with more advanced options.
I also mentioned a preview mode. This has improved my workflow greatly. I bang out a draft and then, click "Save and Preview" in the upper right. That does two things: 1. It saves the draft (important in case my Internet goes down) and 2. It displays a nice, clean preview of the post. I use the preview screen to see the formatting, re-read what I've written and think about edits. There's something about having it presented as a "regular" web page (rather than in the editing window) that helps me spot areas that need editing.
Here's the brand-new "Preview" Function: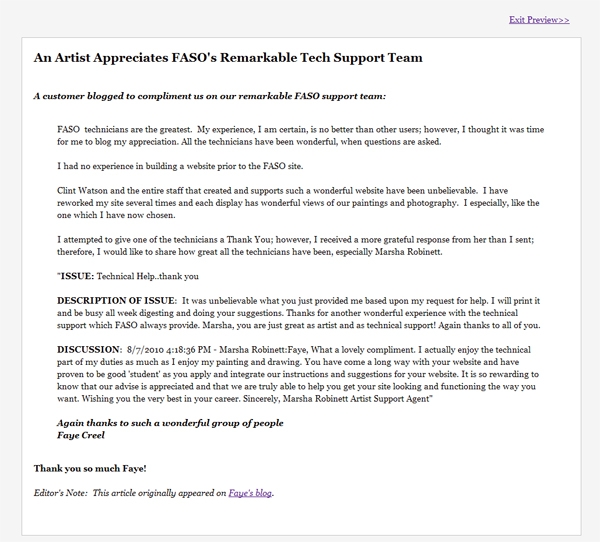 I sincerely hope you enjoy our new Full Screen Composer and I hope you'll use it during the Beta period. If you find any issues with it, please report them to FASO support! (and no, screwed up formatting when pasting from Microsoft word doesn't count as an "issue" - that's a problem EVERYONE has online because Microsoft seems to refuse to use standard html in word's copy and paste).
Have fun!
Sincerely,
Clint Watson
Software Craftsman and Art Fanatic
PS - Here's a tip that will save you hours of frustration: Don't try to copy and paste formatted text from Word (or any other program) into the full screen composer and expect the formatting to stay perfectly intact. HTML doesn't play nice with formatting done in offline programs.
What I find works best is to either simply compose from scratch right in the FASO full screen composer OR if you have to paste something in, click the "Paste as Plain Text" button (5th from the right) and the paste the text in. You will lose all the formatting, but it will be "clean" and then any formatting you apply in the full screen composer will be done correctly to display on the web. (There are, of course, times copy and paste does work but if you're having "weired" issues - it's probably due to what I've just outlined and you might try the "Paste as Plain Text" tip.)