We're socializing your email newsletters!
A couple of months ago, just for grins, we
added avatars to our users' control panels
for their FASO Email Newsletters.
We liked it so much that we've taken the concept to
a whole new level
and we're testing it now with all FASO customers. Assuming no unforeseen issues arise, we'll roll this out into our plans permanently once testing is completed.
How about full social media integration? Well that's what we've done. We released our
FASO Newsletter Facebook App
a couple of weeks ago. And now we've completely integrated your FASO email newsletter system with Facebook and Twitter, in addition to the avatar sources we were using previously. Adding the top two biggest social networks makes a
huge
difference. Here's before and after screen shots:
BEFORE (a few avatar goodies):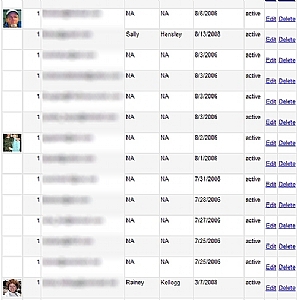 AFTER (avatar mania!):

There's a lot more on that after screen than just more avatars though.
We decided to "socialize" it! Let's take a closer look: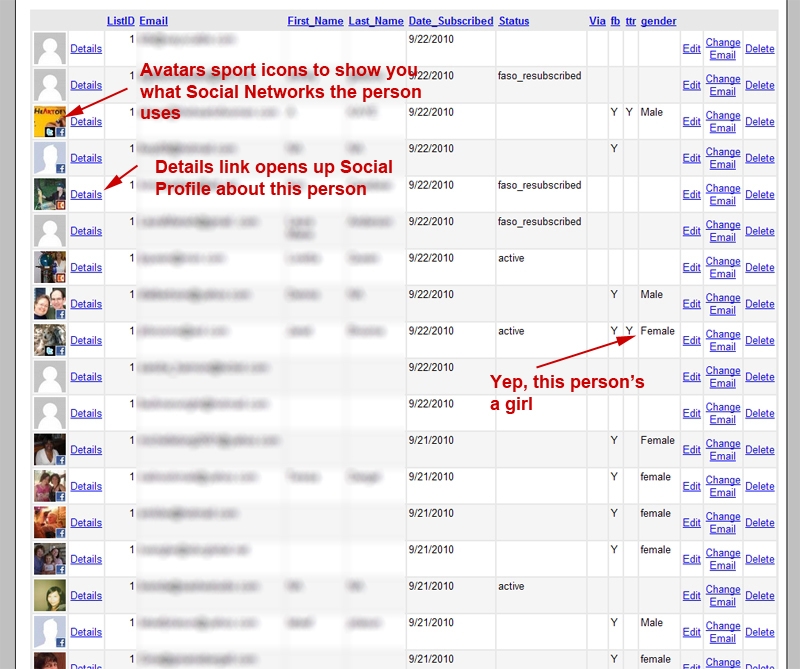 Reach out to your fans on their preferred social network
Now, when someone signs up for your email list, not only can you send email newsletters, but you can
personally reach out to that person on Facebook or Twitter or both. That's powerful.

Find Out Who Your Fans Really Are with FASO ArtistEdge Social Profile
You may have noticed the "Details" link that opens up a "social profile." You're probably wondering what, exactly is a "social profile." A picture is worth a thousand words. We'll pull up the profile of our regular
FineArtViews
contributor
Moshe Mikanovsky
(awww, she's cute Moshe):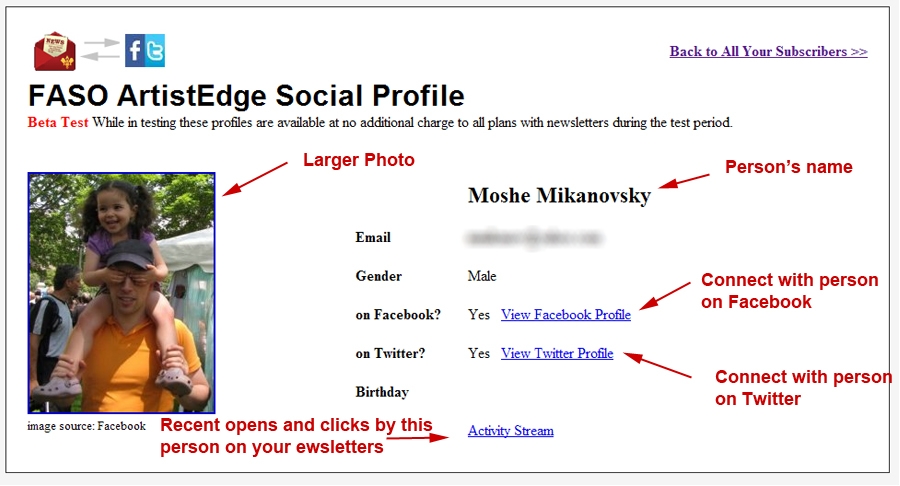 We'll pull whatever data the person has made public on their networks! Sometimes that includes birthday and a short bio as well. We're also experimenting with the other social networks out there (Orkut, Flickr, MySpace, LinkedIn etc) but we wanted to get everything working with the "big two" first.
Alyson Stanfield Says to Redefine Your Mailing List, So We Did
The leading art business "guru", Alyson Stanfield, recently wrote on her blog that it's time to
Redefine Your Mailing List
. She said:
"With the explosion of social media, it's time to expand this definition [of a mailing list]. Not only do you have contact with the people described in the mailing list definition above, you also have connections on LinkedIn, followers on your blog and Twitter, and fans on Facebook. These social media connections might not be included in a formal database, but they are waiting to hear from you." - Alsyon Stanfield
We agree, it is time to socialize your mailing list!
And we even fixed that last caveat Alyson mentioned for you. She said, "These social media connections might not be included in a formal database."
Now they are. At least if you host with FASO. And that's powerful
.
What about people on Facebook that you know, but who aren't yet on your FASO ArtistEdge mailing list?
No problem, just install our handy
Facebook Newsletter App
to your Facebook profile and your Facebook friends can read and signup for your newsletter all without ever leaving Facebook! Our newsletter system will even show you which subscribers signed up on Facebook.
Have fun.
Sincerely,
Clint Watson
Software Craftsman and Art Fanatic
PS - just got this tweet from
Lori Woodward Simons,
"being able to friend and follow my NL signups on FB&TW is very helpful. Thanks"