FASO has, for a long time, had a cool feature that lets each artist choose exactly how big they want their thumbnails to be if they don't like our default sizes.
However, it's always been a bit of a struggle for us, on the back end.
For a lot of artists, the variable thumbnails worked great. But for some artists, it tended to make the thumbnails look too "soft" (that's a common side-effect to reducing an image size). So, eventually, to combat the "softness" we added some sharpening to the thumbnails. And for some artists,
that
worked great. But for others, it made the previously great-looking thumbnails too "sharp." So, back and forth we went, trying to reach a happy medium.
Guess what? It's hard - there is no happy medium. So why not just let each artist decide?
That's what we did!
Introducing FASO Thumbnail Tuning.
It's simple, if you're using variable thumbnails - you can try it both ways. Simply follow these steps:
1. Login to your control panel
2. Click "My Artwork Portfolio"
3. Click "Edit the works display"
Now you'll see the following screen: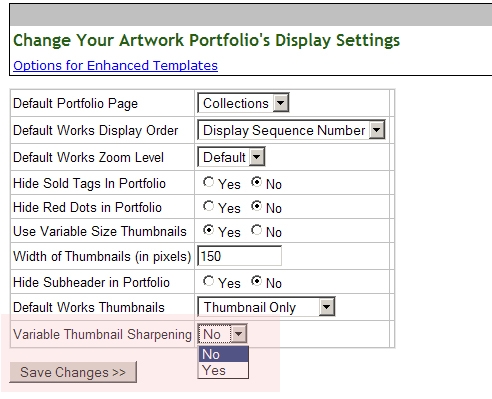 See the area highlighed in pink? That's what you want to experiment with.
If you want your thumbnails sharpened, click "Yes" and save changes, otherwise click "No" (the default) and save changes.
If necessary, we'll add multiple levels of tuning in the future but it hasn't seemed to be necessary so far.
Have fun!
Clint