Greg LaRock

Best of Show
February 2016 BoldBrush Painting Contest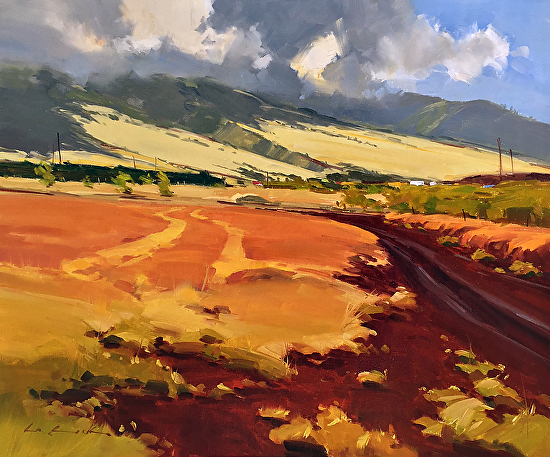 Roasted Reds
Oil 16 x 20
http://faso.com/boldbrush/winner/102384
Biography
"Making it look realistic, yet having a loose, painterly feel is my ultimate goal in a successful painting" - Greg LaRock
EDUCATION
Bachelor of Fine Arts, Drawing & Painting
Long Beach State University, Long Beach, California


PROFESSIONAL AFFILIATIONS
American Impressionist Society, Signature Member
American Society of Marine Artists, Signature Member
California Art Club, Artist Member
Laguna Plein-Air Painters Association, Signature Member
Oil Painters of America
Southern California Plein Air Painters Association


Greg LaRock's passion is to capture the outdoor landscape and its ever-changing light and beauty. The challenge of depicting the three-dimensional world onto ­canvas is a difficult pursuit, but when it all comes together, it is an extremely rewarding experience. "When the gap between believability and painterly expression is merged, I've done my job."

A signature member of LPAPA, AIS and ASMA plus an artist member of the CAC, Greg LaRock has won ­numerous awards for his painting ­excellence including Artist Choice at both the Maui Plein Air Painting Invitational and Florida's Forgotten Coast Invitational, first place at Door County Plein Air Invitational, the grand prize at Easton, Maryland and the Distinctive Merit Award in the Laguna Beach Plein Air Invitational. He was also awarded the Callaway Gardens Plein Air Purchase Prize in Georgia. Greg has been juried into four of the Oil Painters of America national shows, awarded a "Jury's Top 50" at the Greenhouse Gallery's Salon International twice, was an invited artist nine times to LPAPA's annual Plein Air Invitational. He has also been ­profiled in Plein Air Magazine with an article on "Ideas for Better Paintings", featured in Southwest Art's "Artist to Watch" ­column and included in a Jack Richeson Fine Art Series book "Plein Air New Mexico."

A sought-after instructor for plein air workshops, he resides with his wife in Newport Beach, California.
AWARDS
Best of Show: Bold Brush Painting Competition, February, 2016
Kaanapali Land Management Award: Maui Plein Air Invitational, 2016
Honorable Mention: LPAPA's "Sorolla Legacy" Show, 2016
Second Place: Los Gatos Plein Air, 2015
Award of Excellence: Paso Art Fest Invitational, 2015
Artist Choice: Florida's Forgotten Coast Plein Air Invitational, 2015
First Place: Painting the Light-Here, There and Everywhere, 2015
Artist Choice: Maui Plein Air Invitational, 2015
Makena-Aloha Foundation Award: Maui Plein Air Invitational, 2015
The Distinctive Merit Award: Laguna Plein Air Invitational, 2014
Honorable Mention: American Impressionist Society National Juried Exhibition, 2014
First Place: Door County Plein Air Invitational, 2014
First Place: LPAPA's Less is More Miniature Show, 2014
Second Place: Viewpoints: Orange County, 2014
RayMar Art's 7th Annual Painting Competition: Top 12 Finalist, 2014
Pacific'O Restaurant Award: Maui Plein Air Invitational, 2014
Honorable Mention: Sonoma Plein Air, 2013
First Place (Brush Off): Just Plein Fun, 2013
Best Marine Painting: Easton Plein Air, 2013
Honorable Mention (Quick Draw): Richmond Plein Air, 2013
Third Place: Paint San Clemente, 2012
Honorable Mention: Paint San Clemente, 2012
Third Place (Quick Draw): Callaway Gardens Plein Air, 2012
Third Place: LPAPA's Less is More Miniature Show, 2012
Purchase Prize: Callaway Gardens Plein Air, 2011
Second Place (Quick Draw): Easton Plein Air. 2011
Third Place: Just Plein Fun, 2010
Honorable Mention: Easton Plein Air, 2010
Best of Show: Bold Brush Painting Competition, April, 2010
Second Place: LPAPA's Less is More Miniature Show, 2010
First Place: Paint San Clemente - Quick Draw, 2009
First Place: Paint San Clemente, 2009
Jury's Top 50: Salon International, 2009
RayMar Art's 3rd Annual Painting Competition: Top 12 Finalist, 2009
Third Place: Newport Harbor Nautical Museum Plein Air Show, CA, 2008
First Place/Grand Prize: Easton Plein Air, 2008
Best Use of Light: Easton Plein Air, 2008
First Place: Newport Bay Mural Competition, 2008
Honorable Mention: LPAPA's The Best of Plein Air, 2008
Honorable Mention: CCA "Coastal Splendor" Plein Air Invitational, 2007
Second Place: Paint San Clemente - Quick Draw, 2007
Second Place: Paint San Clemente, 2007
Honorable Mention: LPAPA's The Best of Plein Air, 2007
Honorable Mention: Socalpapa's Painting the California Landscape, 2007
Honorable Mention: Borrego Springs Plein Air Invitational, 2007
Third Place: LPAPA's Less is More Miniature Show, 2006
Honorable Mention: Bower's Plein Air Invitational, 2006
First Place: Paint San Clemente - Quick Draw, 2006
Third Place: Paint San Clemente, 2006
Jury's Top Fifty: Salon International, 2006
Artist's Choice: Socalpapa's Painting the California Landscape, 2006
Honorable Mention: LPAPA's The Best of Plein Air, 2006
Second Place: Huntington Beach Plein Air Festival, 2005
Honorable Mention: Bower's Museum Plein Air Invitational, 2005
Honorable Mention: Paint San Clemente - Quick Draw, 2005
Honorable Mention: Paint San Clemente, 2005
Second Place: Spring Orange County Arts Exhibition, 2005
More art from Greg LaRock