We're happy to announce that we've upgraded our purchasing system. Formerly, it had buy now buttons that linked to paypal - which worked great if the buyer only wanted to purchase ONE artwork.
As of today, we've turned that system into a shopping cart that makes it easier for buyers to purchase multiple artworks in one transaction.
Below is a screenshot of me "purchasing" three paintings on
Denise Rich's
website: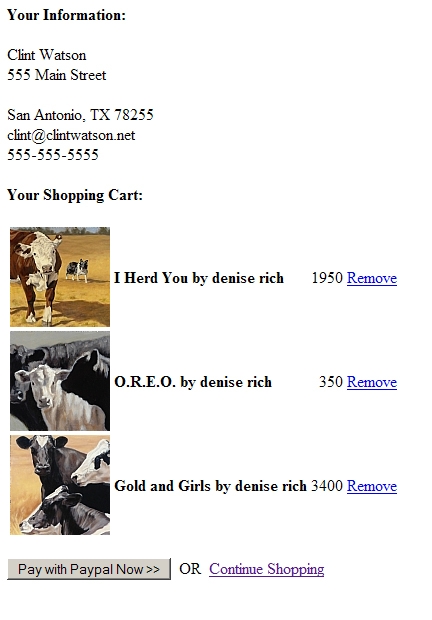 It still LOOKS very basic and we still have a bunch of other features to add to it, but it does work, it's been tested and we feel it's a huge step in the right direction. We will be adding a few more features over the next couple of week, a few other little "tweaks", and clean up the design too.
The great thing is, that the hard part of making it work is finished and the rest of the improvements should go pretty fast now.
Sincerely,
Clint Watson
Software Craftsman and Art Fanatic
4 Responses to Buy Now Upgraded to Shopping Cart